Why Fans Think Lorde Will Release A New Album Soon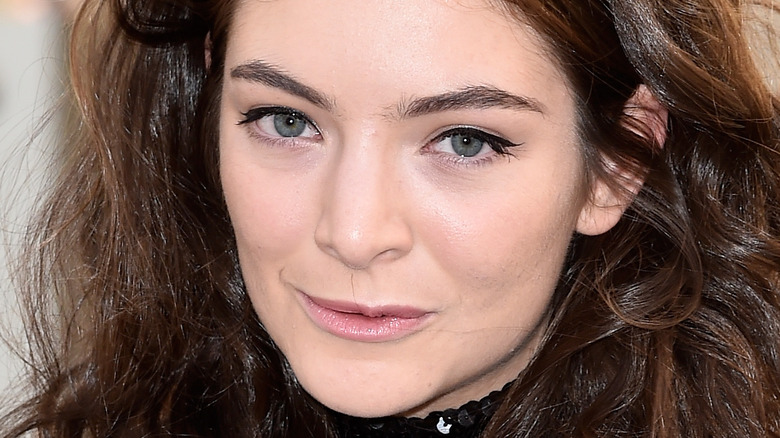 Pascal Le Segretain/Getty Images
Lorde has been up to a lot since first finding fame. For instance, the singer left social media behind, opened up about being body-shamed, and even distanced herself from Taylor Swift. On top of that, she apparently can't stand her song "Royals" anymore. Luckily for her, she may have new music on the horizon — if the buzz around the music industry star is to be believed, that is.
For those who need a little refresher, Lorde has established herself as a force to be reckoned with thanks to hit songs like "Perfect Places," "Green Light," and "Yellow Flicker Beat" while thrilling fans with her albums, 2013's "Pure Heroine" and 2017's "Melodrama." Thanks to her songwriting skills and on-point delivery, she has also earned two Grammy Awards: one for Best Pop Solo Performance and one for Song of the Year (both for "Royals"). However, following her super-popular 2017 release, the singer stepped back from the spotlight for a time, leaving her fans craving more tunes.
But now, there are a few very good reasons why Lorde's fans think that she's going to release new music soon. And we have to agree that the evidence seems to point towards not only a new single, but a new album from this star.
This major news has sparked buzz about a new Lorde album
Kevin Winter/Getty Images
While Lorde took a bit of a break following her initial string of successes, in May 2020, she surely made more than a few fans happy when she began to open up about returning to the studio, per AV Club. Fans were likely just as happy when, that October, NME reported that the singer had "hinted that she could be set to release new music next year while encouraging her fans in New Zealand to vote in the [then-]upcoming election." While hopping onto social media, she wrote, "Do it for our beautiful country and for me. And next year I'll give you something in return." Oh, really?
Now, thanks to a major announcement, there's even more reason to believe that Lorde will be releasing a new album soon. The lineup for the 2022 Primavera Sound festival has been announced and, according to AV Club, it includes a lengthy list of notable acts like Megan Thee Stallion, Dua Lipa, Kacey Musgraves, and Charli XCX, not to mention Pavement, Tame Impala, The Strokes, Gorillaz, Beck, Nick Cave & The Bad Seeds, M.I.A., Massive Attack, and many more. On top of that, Lorde will also be making an appearance on stage!
This could mean that she's planning on using her performance at the festival in Barcelona to introduce new music to the world and set fans up for the release of a brand new album. Fingers crossed!