Inside Emily Blunt And Meryl Streep's Friendship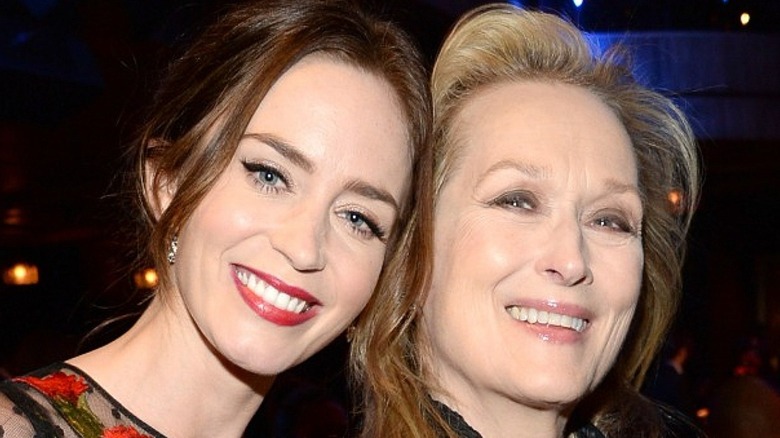 Kevin Mazur/Getty Images
John Krasinski and Emily Blunt are making the rounds promoting "A Quiet Place Part II." Early reviews for the sequel to "A Quiet Place" are off the charts; it looks like Blunt and Krasinski are a dynamic box office duo. In addition to her husband, Blunt works well with Meryl Streep. The actors have starred in three major films together. Plus, Stanley Tucci is Blunt's brother-in-law and Streep's dear friend. Blunt and Streep appear to have a friendship that transcends the big screen.
The two legendary actors began their professional relationship with 2006's "The Devil Wears Prada." The next film they teamed up to do was the 2014 musical "Into The Woods." The two actors then delivered box office gold in 2018's "Mary Poppins Returns."
Entertainment Weekly reported that Streep gushed about Blunt, telling the outlet, "She's divine. I think Emily's completely the same person that she was when I met her." According to EW, it's a mutual fan club between the two actors. Blunt shared her admiration for Streep: "She has, from the moment I met her, really been such a pinnacle for me to look up to. She's a friend. That's quite moving to me in some ways, that I've sort of grown up with Meryl being there."
Keep reading to learn more about the friendship between Blunt and Streep, two of the greatest actors of our time.
Emily Blunt admires Meryl Streep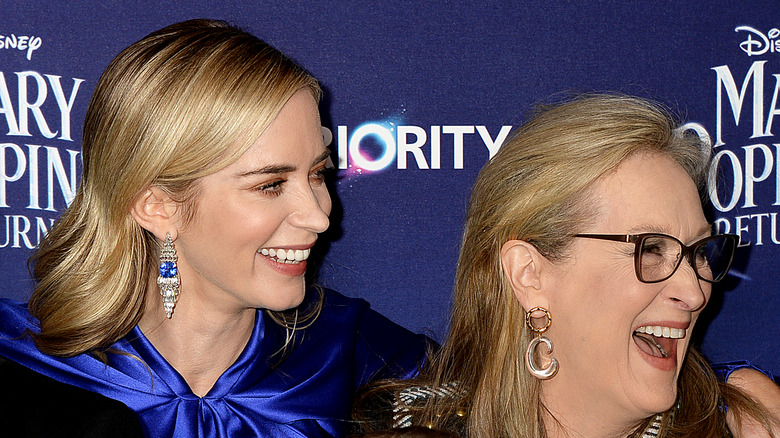 Dave J Hogan/Getty Images
Meryl Streep is known as one of the greatest modern actors, and Emily Blunt is a talented, respected actor who is often compared to the "Sophie's Choice" star. It's clear from interviews that Blunt and Streep are friends. They met while filming "The Devil Wears Prada," when Streep was a global star, and Blunt was a young unknown actor.
During a 2018 "Today" interview, Blunt said after "The Devil Wears Prada" wrapped, Streep complimented her performance, and it "made her cry the whole way home." Blunt also told Entertainment Weekly, "I think that it's been terribly exciting getting to know her. She is somebody who is an inspiration, I think to every actor. I certainly find her so inspiring. "
Streep bragged about Blunt to EW, too. Streep heaped praise on the "Mary Poppins Returns" star, saying, "You know, they wrote [Mary Poppins Returns] for her ... Because she's so smart, her wit informs everything she does. Even her tenderness is inflected with her smarts and her sense of humor and her, oh God, she just has a little curl of irony about her."
The two actors make great movies, and we can only hope to see Steep and Blunt on the big screen together again soon.