Marilyn Manson Is Wanted By The Police. Here's Why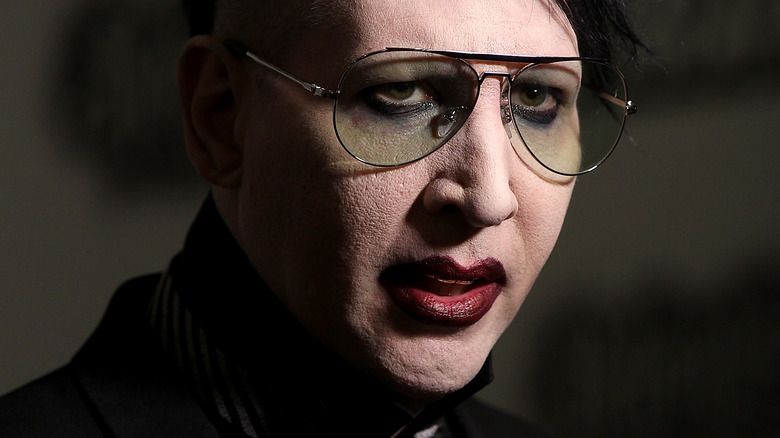 Danny E. Martindale/Getty Images
After Marilyn Manson faced allegations made by his ex-partner, "Westworld" actor Evan Rachel Wood, of repeated emotional and sexual abuse on Instagram, multiple other women began to step forward with their own stories. Manson was dropped by his record label and cut from TV guest roles after Esmé Bianco, an actress from "Game of Thrones," filed a lawsuit in April with her own allegations about the singer. There was an ensuing visit to Manson's home by law enforcement, and now the "God's Gonna Cut You Down" rocker is facing yet another headline-making chapter in his saga. This time, like the last, it involves the police. And this time, like the last, it also involves accusations of upsetting and strange purported assault. 
As The New York Times reported on May 25, authorities in New Hampshire announced that an arrest warrant is, at the time of this writing, currently out for Manson under his real name, Brian Warner, for an apparent assault that took place in August 2019. The warrant itself, according to NYT, was issued the following October, roughly two months after the incident took place. So what's the story behind the warrant out for Marilyn Manson? And what was the incident? Keep on scrolling to find out all the details.
New Hampshire police have an arrest warrant out for Marilyn Manson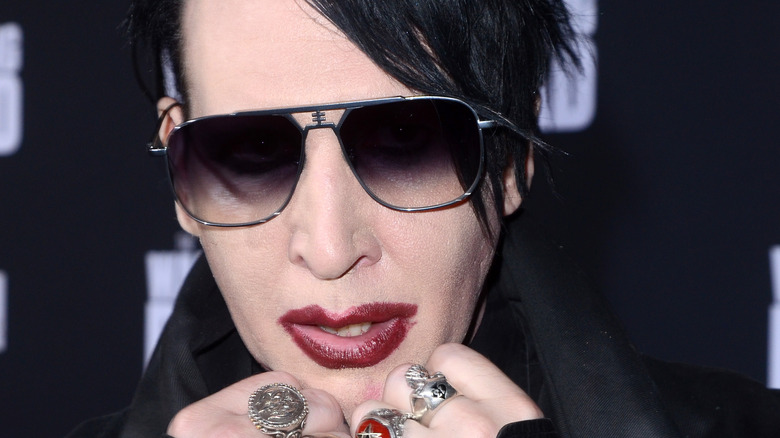 Shutterstock
According to a May report by The New York Times, rocker Marilyn Manson was issued an arrest warrant in New Hampshire following a 2019 show in the town of Gilford, N.H. Per NYT, the incident occurred at the Bank of New Hampshire Pavilion during a concert in which the singer purportedly assaulted a videographer. 
Gilford's chief of police said that town law enforcement has attempted to contact Manson through his team concerning the outstanding warrant, whose charges could include jail time with a maximum one-year sentence and a monetary fine of $2,000 at most. Though Manson was reportedly "notified several times of the warrant," he has reportedly not responded.
As NYT noted, there is no detailed information about the specifics of the alleged 2019 incident regarding Manson and the unnamed videographer, but Howard King, an attorney legally representing Manson, chalked it up to how Manson "likes to be provocative on stage, especially in front of a camera," and later claimed that the charge was filed by the other party "after we received a demand from a venue videographer for more than $35,000 after a small amount of spit came into contact with their arm." King also told NYT that they "[cooperated] with authorities" in New Hampshire previously, contrary to the statement made by police. It just seems like there is more news by the day about Manson.
If you or someone you know is dealing with domestic abuse, you can call the National Domestic Violence Hotline at 1−800−799−7233. You can also find more information, resources, and support at their website.