Inside Miles Teller And Aaron Rodgers' Friendship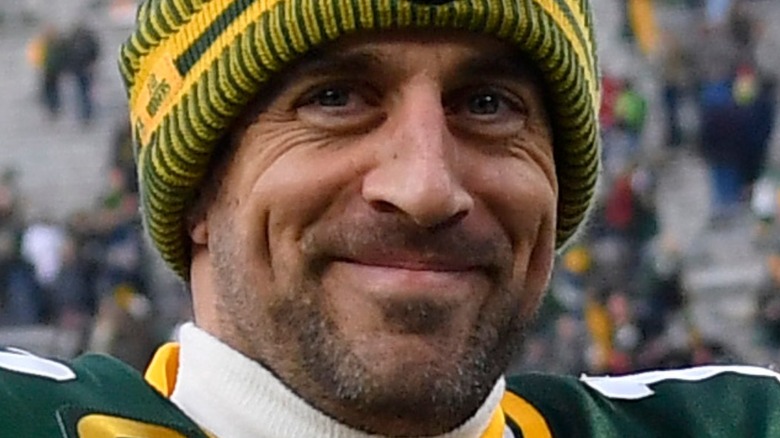 Quinn Harris/Getty Images
Aaron Rodgers is feuding with the Green Bay Packers while he vacations in Hawaii with his fiancée Shailene Woodley and solidifies his bromance with actor Miles Teller.
Rodgers and Woodley have been frolicking in Hawaii with the "Top Gun: Maverick" star and his wife, Keleigh. Page Six reported that the NFL MVP has been hiking and swimming in Hawaii and "singing Taylor Swift songs, enjoying a bottle of red, slow-dancing with Woodley, and even strumming on the guitar," per Audacy. It looks like Rodgers is living his best life while seemingly blowing off the Green Bay Packers. According to BroBible, Rodgers missed Packers OTA (Organized Team Activities) this week, where he could have picked up an extra $500,000.
On May 25, when asked on ESPN's "SportsCenter" how long he was planning to stay with the Packers, Rodgers stated, "Anything's on the table at this point," revealing that he and the team differ in "philosophy." 
Now, he seems to be taking his mind off his football career with a relaxing vacation with his new BFF. Keep reading to learn more about Teller and Rodger's friendship.
Shailene Woodley introduced Aaron Rodgers to Miles Teller
Aaron Rodgers may potentially be breaking up with the Green Bay Packers, but his new bestie, Miles Teller, is there for him. Always here with the "bro" news, BroBible, reports that Rodgers and Teller were introduced by Shailene Woodley, who co-starred with Teller in both "The Spectacular Now" and the "Divergent" film franchise. The future Mrs. Rodgers and the star of "Whiplash" remained friends after the movies.
As BroBible had to say about Rodgers and Teller's friendship, they noted that Teller is probably getting the inside scoop on Rodgers' feud with the Green Bay Packers. "Miles Teller has seemingly had a bird's eye view of Rodgers' ... bridge-burning as it unfolds," the outlet stated.
Interestingly enough, Rodgers and Teller's friendship has been cooking for a little while, as Hawaii is not the first time the two couples have vacationed together. According to Page Six, the four friends hit Churchill Downs for the Kentucky Derby on May 1. 
We look forward to learning all about Rodgers and Teller's bromance, but we have one question: Will they be able to maintain their friendship long-term, since Teller is a die-hard Philadelphia Eagles fan? Stay tuned.