Details About Chelsea Clinton's Lavish NYC Home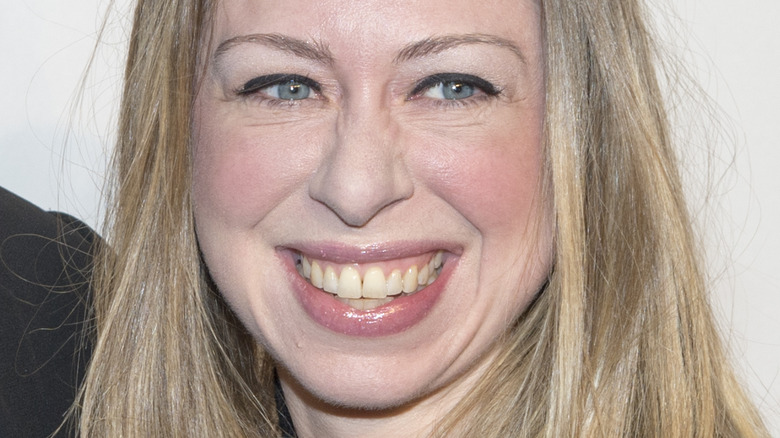 Shutterstock
Chelsea Clinton and husband Marc Mezvinsky raise their kids in the breathtaking Whitman building that sits between Fifth Avenue and Madison Avenue in Manhattan, New York, per City Realty. The New Georgian style building was built in 1924 and renovated into four condominium units in 2013. The exterior is limestone and brick, per the Observer, and the building itself used to be a showroom. It was purchased in 2011 from a plumber's union for $13 million and was transformed into luxurious condominiums overlooking Madison Square Park.
The condominiums stretch across one full floor a block long and three consist of nearly 5,000-square-feet of space. The fourth unit is a two-floor, 6,250-square-foot penthouse. When The Whitman opened to residents, Clinton had high-profile neighbors. The Real Deal noted Jennifer Lopez purchased the penthouse, while NASCAR driver Jeff Gordon acquired the second floor. The remaining unit was bought by hedge fund manager John Silvetz and his wife.
As Street Easy shared, The Whitman provides access to some of the best neighborhoods, is close to KoreaTown and Chelsea, and plenty of trendy shops and eateries are nearby. The setting seems the perfect fit for Clinton, who told Vogue, "It's important to me to walk down the street and hear what people are talking about or go for a run on the West Side Highway. Marc and I go to a movie every Sunday. We ride the subway. It's one of the great gifts of New York City. Why would I want to miss that?"
Chelsea Clinton's NYC condo features jaw-dropping lavish touches
The gorgeous fourth-floor condominium Chelsea Clinton and her family live in has full southern exposure for the large, open living room. High, beamed ceilings and loads of natural light, as well as numerous floor-to-ceiling windows, combine with what the New York Daily News noted was the longest residential corridor in New York City. The home stretches from 26th Street to 27th Street and it reportedly takes 30 seconds to walk from one end of the 250-foot corridor to the other. Clinton's condo has 13 rooms, including five-and-a-half bathrooms and four bedrooms (per Street Easy).
"The hallway is a wow factor," Douglas Elliman broker Dina Lewis raved to the Daily News. "One spouse can be fast asleep while the other has a huge dinner party. All on one floor," she continued.
Clinton isn't one to flaunt her wealth or speak much about her private family life. However, one brief snippet from an interview with Jill Smokler for Scary Mommy suggested Clinton's kids have fun in the luxurious space. Clinton noted her daughter Charlotte was home during the interview and could interrupt at some point. Smokler noted that Clinton "explained that Charlotte is currently fascinated with opening and closing doors, because it's like a 'great big existential game of hide-and-seek,'" an experience that is surely quite the adventure in The Whitman space. The building has a private gym in the lower level and there are storage units, as well as a refrigerated package room available to residents too. 
Chelsea Clinton's luxurious stunner was built for privacy
The Whitman was described as "a luxury fortress" by broker Melanie Lazenby in the New York Daily News, which was surely appealing to Chelsea Clinton and Marc Mezvinsky. The units were built as some of Manhattan's most secure with a full-time doorman, keyed elevator, private foyer, and Crestron smart home system, according to Trulia.
There's a chef's kitchen, home office, and media room in addition to a dining room and open-concept living room. The place has wide-plank rift-oak flooring throughout and the kitchen contains custom cabinetry along with a large island with eating space. The Arclinea countertops are marble and Sub-Zero and Miele stainless steel appliances complete the spacious cooking area.
The master suite in Clinton's Manhattan home sits at one end of the block-long condominium. There's a large bathroom in the suite with an oversized soaking tub and a walk-in shower for two. Clinton and her husband have separate powder rooms with vanities and enclosed toilets, as well as separate dressing rooms and expansive closets. "Wives eyes light up when they see the closest," teased Lazenby.
Each bedroom has its own bathroom, as does the private office. The Daily News detailed that each unit in The Whitman has two washer and dryer sets and two dishwashers. While the living room has southern exposure, the large condo also has western and northern exposure in other areas. The lavish Manhattan condominium seems like the perfect spot for a pair like Clinton and Mezvinsky to live and raise their kids in secure, private, and exceptional style.