The Real Meaning Behind BTS' 'DNA'
Shutterstock
Anything that K-Pop boy band BTS touches turns to gold, just ask McDonald's. However, "DNA" from the album "Love Yourself: Her" stands out as one of the group's most iconic songs. The single was released in 2017 and quickly climbed the charts. The funky, colorful music video and stellar choreography also had fans bopping along to the catchy tune.
In 2017, Entertainment Tonight reported that the boy band was fire when they performed "DNA" at the American Music Awards. The audience was blown away by BTS' energy and antics on stage. In fact, ET revealed that some audience members were even weeping. Jared Leto, who was presenting an award that night, was on after their act and confessed, "I need a moment to recover from that performance," before gushing, "That was incredible."
"DNA" was also special for another reason. In 2020, the song became the first K-Pop song by a boy band to reach a billion views on YouTube, per News 18. Of course, since then, "Dynamite" and "Boy with Luv" have also surpassed the 1 billion mark, with "Dynamite" also becoming the fastest K-Pop song to achieve the milestone, per Bandwagon. But why has "DNA" been such a record-breaker for the group? Perhaps the secret lies in the meaning behind "DNA." BTS group leader, RM, spilled the tea on the hot track that some hail as the GOAT.
RM weighs in on the romantic track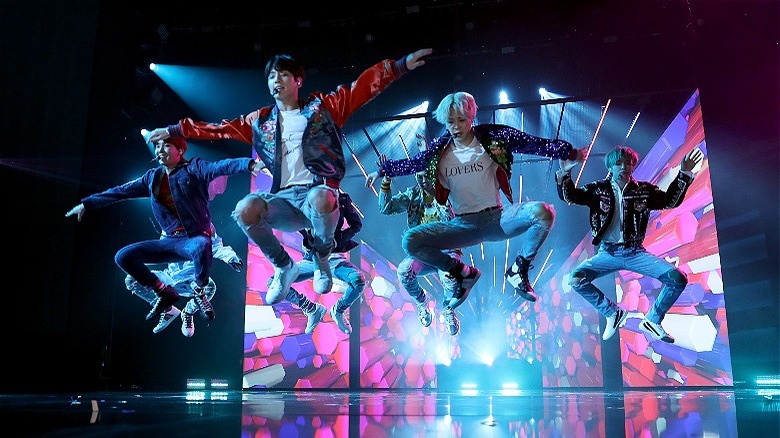 Chris Polk/Getty Images
RM, aka Kim Namjoon, is not only the band's leader; it seems he's also a bit of a philosopher. The Rap Monster spoke to Billboard in 2017 about the runaway success of "DNA." Namjoon first talked about the title of the track, saying, "When we're talking about our title tracks, 'DNA' is about the expression of a young, passionate love." He then went on to quote some of the song's words and recited, "The lyrics are like, 'The two of us are connected fatefully from the start, our DNA was just the one thing.'" How romantic!
Joonie also went on to explain how the song was like a catalyst for the boy band. He mentioned, "At the same time, 'DNA' is taking BTS to new ground." RM shared how the track changed the way that they collaborated and said, "We tried to apply new grammar and perspectives. If you listen to the song, you'll understand what I'm trying to say. It's very different from our previous music, technically and musically."
RM then prophesied about how "DNA" would influence their career, musing, "I believe it's going to be the starting point of a second chapter of our career; the beginning of our Chapter Two." We now know that he's correct. "DNA" positioned BTS on the world stage, and they're here to conquer.