Piers Morgan Just Compared Naomi Osaka To Harry And Meghan. Here's Why.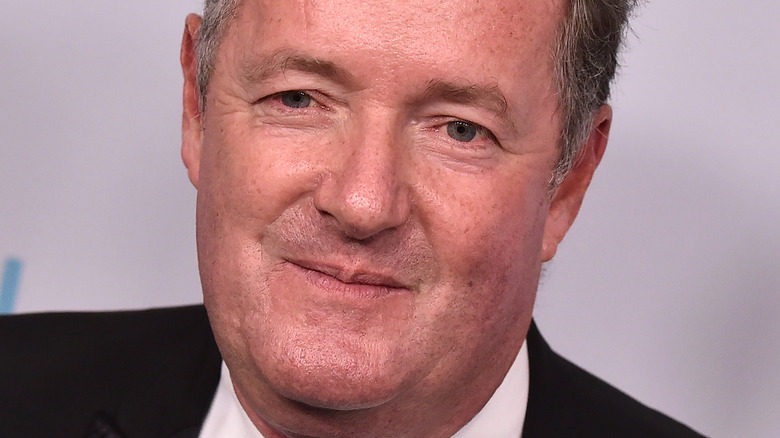 Shutterstock
Tennis champion Naomi Osaka has been causing a stir off the court, most notably for her recent decision not to engage in media interviews at the 2021 French Open. Osaka announced the controversial choice via Twitter, citing her mental health as the reason. "We're often sat there and asked questions that we've been asked multiple times before[,] or asked questions that bring doubt into our minds[,] and I'm just not going to subject myself to people that doubt me," she elaborated. 
When the star stuck to her guns and didn't turn up for the post-match press conference following her win on May 30, she was hit with a $15,000 fine (per People). The board of the Grand Slam tennis tournaments also issued a warning and outlined the fact that their efforts to "understand the specifics of her issue and what might be done to address it on site" had been unsuccessful.
Perhaps the backlash of her decision or the pressures of the tournament got to be too much, because Osaka officially withdrew from the French Open on May 31. In a statement on Instagram, she wrote that she believes "the best thing for the tournament, the other players and my well-being is that I withdraw so everyone can get back to focusing on the tennis going on in Paris." While other tennis players, like Venus Williams, supported her decision, other celebs were critical, including former "Good Morning Britain" host Piers Morgan. Here's what Morgan had to say about the drama and why he compared her to his most famous target.
Piers Morgan believes Naomi Osaka is 'exploiting the media'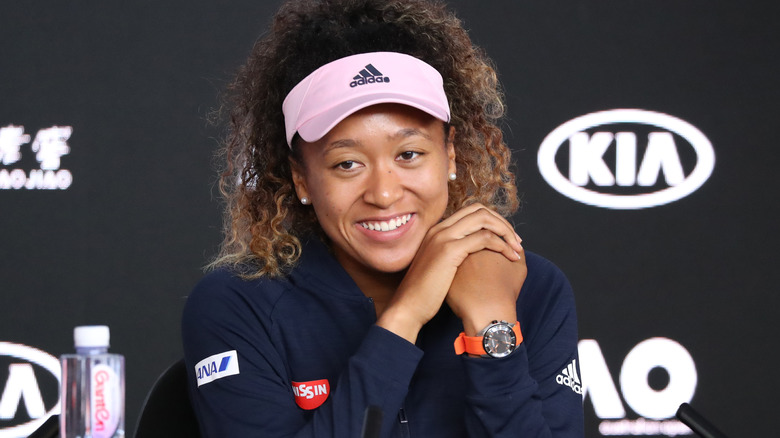 Shutterstock
Piers Morgan has never been shy to voice his opinion, and he proved this true by blasting Naomi Osaka in an op-ed for the Daily Mail. While Osaka had written in her Instagram statement that post-game press interviews can often be an opportunity for media to "kick a person while they're down," Morgan didn't buy it. "What Osaka really means is that she doesn't want to face the media if she hasn't played well, because the beastly journalists might actually dare to criticize her performance," he wrote (via Daily Mail). 
Calling the tennis champ "an arrogant spoiled brat whose fame and fortune appears to have inflated her ego," he likened Osaka to another of his least favorite people — Meghan Markle. "This is straight out of the Meghan and Harry playbook of wanting to have the world's largest cake and eating it, by exploiting the media for ruthlessly commercial self promotion, but using mental health to silence any media criticism," he said. 
Morgan has been one of the royal couple's most outspoken critics and even walked off the set of "Good Morning Britain" in March 2021 when his colleague defended the Duchess of Sussex. Of course, fans were quick to point out this hypocrisy. "The guy who stormed off [the] set [of] his own show is demanding someone else talks to the press. You can't make this sh** up," one user tweeted. Despite the backlash, Morgan remains unrepentant (at least so far).