Courtney Love Has Bad News For Hole Fans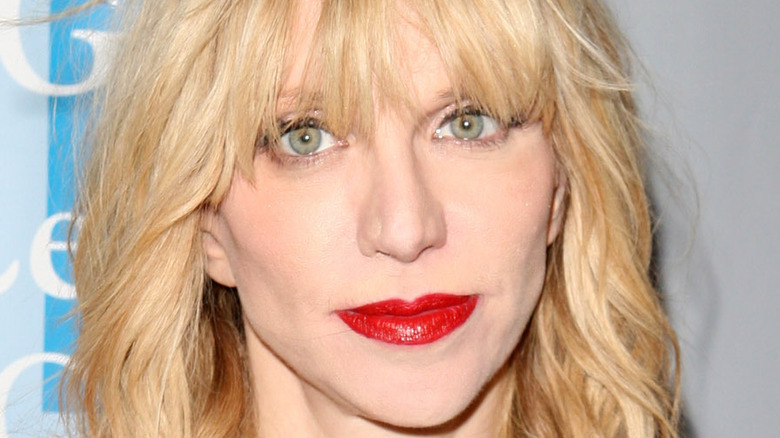 Shutterstock
In the 1990s, Courtney Love rose to fame by fronting grunge band Hole. While most people also know her as the widowed wife to the iconic Kurt Cobain, Love has also become an author and embarked on an acting career.
In a June 2 interview with Vogue, the "Celebrity Skin" hitmaker explained that she is now living in London after living in Los Angeles for 35 years. She stated she will return to L.A. "whenever Britney Spears is free."
While living in England, Love teamed up with fellow musician Juliette Jackson — who is from the indie-rock group Big Moon — to create "Bruises of Roses," an online video series where Love covers some of her favorite songs with Jackson. When picking what songs to cover, the "Man on the Moon" actor explained "It mostly had to do with the charm within the songs. I have really weird, specific taste in music." She added, "I make these playlists that are sadly on iTunes since I can't handle Spotify yet, but I'm trying. I just really love these songs, and they're all either tied to memories I have or just examples of great craftsmanship — or a wink at someone or whatever."
While Love is enjoying her new project, fans are curious about a Hole reunion, after she told The Guardian in 2019 about one potentially happening. However, that doesn't seem to be in the cards anymore.
Courtney Love insists fans will have to 'get over it'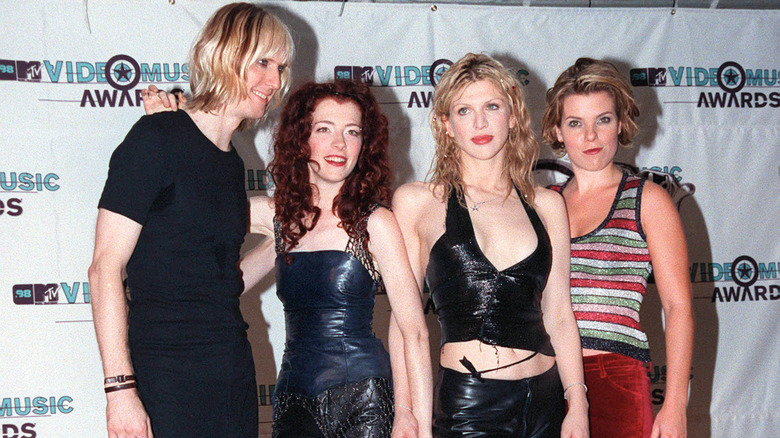 Shutterstock
Despite previously teasing a potential Hole reunion — and telling NME in 2020 that she "had a good session" at a rehearsal with band members Patty Schemel and Melissa Auf der Maur — Courtney Love is now letting everyone know that Hole is not getting back together.
When asked by Vogue in June whether there will be a "proper reunion," Love said "No, absolutely not," adding "And you guys have gotta get over it." She elaborated: "Our old manager Peter Mensch calls once a year to ask about a reunion: 'Hey, just doing my thing I do every year with you and Jimmy Page [of Led Zeppelin].' And I'm so honored to be in that company, but it's just not gonna happen."
But don't worry, there is no bad blood between any of the members. "We're all really good friends, and Melissa and I are especially close — we talk every day," the "Doll Parts" rocker revealed. "But Eric [Erlandson] is kinda off the grid right now — I think he's in Japan literally becoming a monk. I'm not even kidding. Melissa, Patty, and I think he's become a monk or something on that level of asceticism."
Outside of the band, Love has released music and toured as a solo artist, but doesn't seem keen to perform on her own either. "I love playing festivals, but I don't know about touring. ... Life's too short, and I'm not doing that bulls**t anymore," she stated.