The Role Selena Gomez Says Transformed Her Disney Image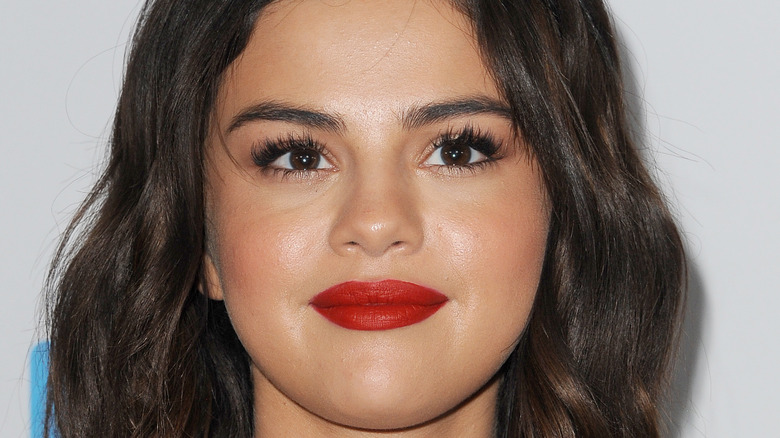 Shutterstock
Selena Gomez is opening up about her transition from Disney kid to serious actor and pop star. In a June 8 video with Vogue, the "A Rainy Day in New York" star reflected on various looks she wore between 2007 and 2021, and she revealed one outfit in particular was from a 2012 movie that helped her transform her Disney image.
"This was such a fun chapter of my life," Gomez smiled as she saw herself posing in a bikini next to Vanessa Hudgens and Ashley Benson. "I was shooting a movie called 'Spring Breakers.' What I loved so much about this era is that I really stepped into performance as far as an actress. I feel like it was so challenging," she reflected. 
"I really wasn't as scared as maybe I thought I was going to be stepping into something that was a bit ... a lot. ... It was a new chance for people to see that I'm capable of everything," she said. "Obviously there was nothing wrong with growing up on Disney, but it was a totally separate world and it just opened my eyes to so much," she revealed.
While her part in "Spring Breakers" helped Gomez move on from her days as a Disney star, she shared that another outfit helped her feel like a real pop star. Keep scrolling to learn what outfit helped her feel so special. 
One of Selena Gomez's early music videos helped her feel validated as a singer
In her candid video with Vogue, Selena Gomez opened up about a bedazzled outfit (shown above) she wore in her 2011 "Love You Like a Love Song" video and how it made her feel like a true pop star.
"I thought it was my time to cross over and become a pop star — whatever that was to me then. It just was really fun," Gomez revealed about creating the music video. She also mentioned that the hit is "still" one of her favorite songs in her catalog.
Despite feeling like she validated herself as a pop singer through "Love You Like a Love Song," Gomez laughed at herself for thinking the bright outfit was high fashion. "I think it was like the first time I tried to be 'high fashion.' And you can laugh at that because that's not high fashion," she chuckled. She also revealed that her best friend Taylor Swift inspired a lot of her stage outfits at the time — but said fans would never see her in an outfit like that again.