Inside Chris Tomlin's Marriage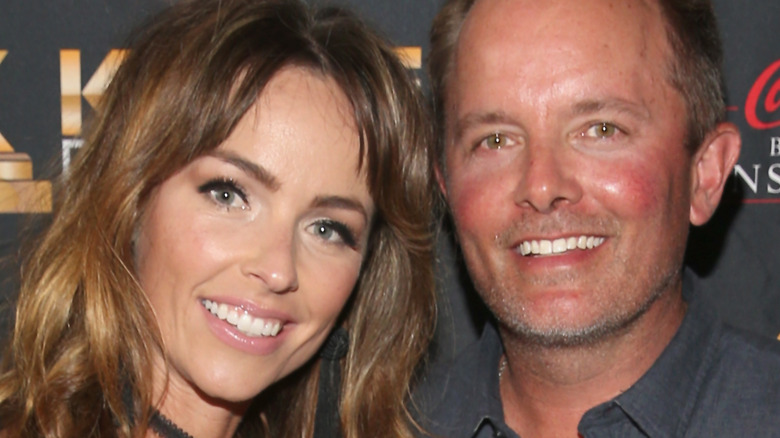 Terry Wyatt/Getty Images
Chris Tomlin has helped shape contemporary Christian music for the 21st century. He released his first album independently in 1995, followed by two more independent albums in 1998 – one of them in collaboration with Ross King.
Tomlin landed in the mainstream Christian market with his 2001 "The Noise We Make" album and has consistently released award-winning albums over the years. He won a 2011 Grammy for Best Contemporary Christian Album as well as multiple Billboard Music awards and 23 GMA Dove awards. Country music fans might recognize Tomlin for his "Chris Tomlin & Friends" album, produced by Florida Georgia Line. He also joined country music superstars Thomas Rhett, Reba McEntire, Keith Urban, and Lady Antebellum's Hillary Scott for the 2020 single "Be a Light."
Both in the Christian realm and the broader music industry, Tomlin maintains a professional image centered on worship and faith, but he is still a human being with a personal life. The artist told Called Magazine, "People look at me and think, 'Wow, you must have a red phone to God.' But I'm very ordinary, and struggle with the same things everyone else struggles with." Tomlin has been married to his wife, Lauren Tomlin, for over a decade, and she is extremely supportive of him. How do the Tomlins prioritize their relationship? Follow along as we go inside Chris Tomlin's marriage.
In the beginning, Chris Tomlin struggled to define his relationship with Lauren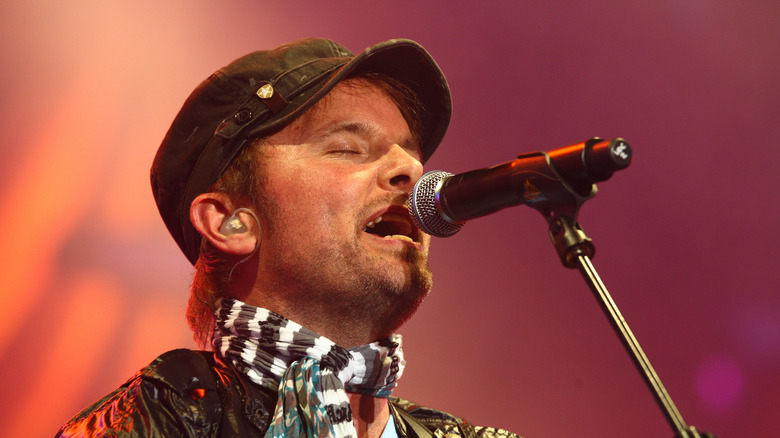 Shutterstock
Chris Tomlin made music for years before meeting his future wife. In 2008 — well into his career as a primetime worship artist — he relocated from Texas to Atlanta, Georgia, where he launched Passion City Church with friend Louie Giglio (via The Atlanta-Journal Constitution). It was in Atlanta that Chris met Lauren Tomlin through a mutual friend – though the two had a rocky start to their relationship. As Lauren explained to Called Magazine, Chris wasn't ready to commit.
Mutual friend Christy Nockels, however, felt strongly that the two were meant for each other. She explained on her podcast, "The Glorious in the Mundane," how she intervened. "Behind the scenes," Nockels said, "I became a little bit like Jiminy Cricket on Chris's shoulder, quietly and kindly suggesting, like his little conscience, that she was still the one for him."
Chris didn't have a great excuse for his part in stalling the relationship. He explained that when he met Lauren, he was still exploring his new surroundings. "Most men always want to keep their options open," he told Called Magazine. "I was dragging my feet a little bit. For a lot of guys, it takes losing something to appreciate what you had." Thankfully, Chris realized how important Lauren was to him. She recalled in the same interview, "A year later, we reconnected by divine circumstances. From there, it was a quick sprint to the altar!"
Before meeting Chris Tomlin, Lauren Tomlin found inner happiness through this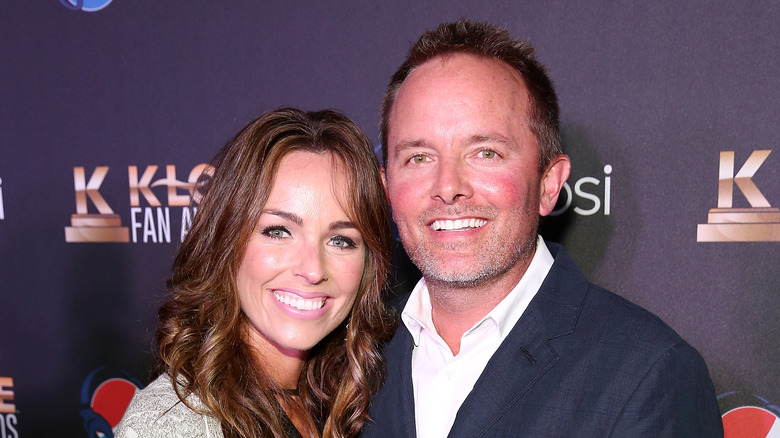 Terry Wyatt/Getty Images
Chris Tomlin's wife, Lauren Tomlin, isn't regularly in the public eye, but she spoke openly on friend Christy Nockels' "The Glorious in the Mundane" podcast about her state of mind before meeting her future husband. Nockels, also a musician, is a longtime friend of Chris Tomlin's who struck up her own friendship with Lauren before she met Chris. On the show, Lauren referred to herself as "a pastor's kid" and "perfectionist," noting, "If there was a goal or an achievement, I was going to go after it. ... That's pretty much how I lived my life."
Lauren explained that although she landed her "dream job" in marketing during her 20s, she realized she was "really not happy" with her personal life and called herself "the last woman standing" among her married friends. However, attending a retreat through her family's ministry made all the difference — she credits it for helping her heal before taking on a serious romantic relationship.
Lauren Tomlin married Chris Tomlin later in life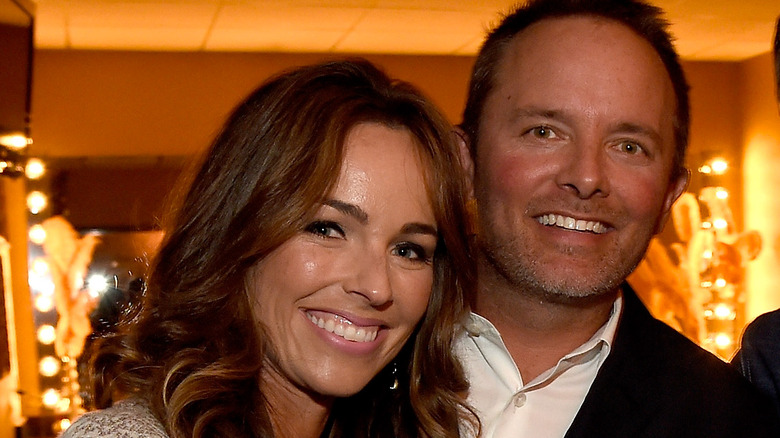 Rick Diamond/Getty Images
Evangelical Christians in some social circles have a bit of a reputation for marrying young, which means they might wed during their college years or shortly after high school. Lauren Tomlin told Christy Nockels on her "The Glorious in the Mundane" podcast that she was 30 years old, while Chris Tomlin was 38 when they married. Lauren emphasized that, for her, the event took place "later in life."
At that point, both she and Chris had "established" themselves, as Lauren shared on the podcast. She compared her husband to Mr. Darcy from "Pride and Prejudice": an "aloof, quiet, simple man, but there's so much to that man." On the flip side, Lauren called herself a "fiery...Keira Knightley," referring to Elizabeth Bennett from the 2005 film adaptation of Jane Austen's classic tale. Lauren carried that literary allusion a long way, referencing a "collision" between two characters who "both need each other, very much so" before explaining how the dramatic story acted as a real-life "foreshadowing" of the early years of their marriage.
Chris Tomlin received some controversial advice about marriage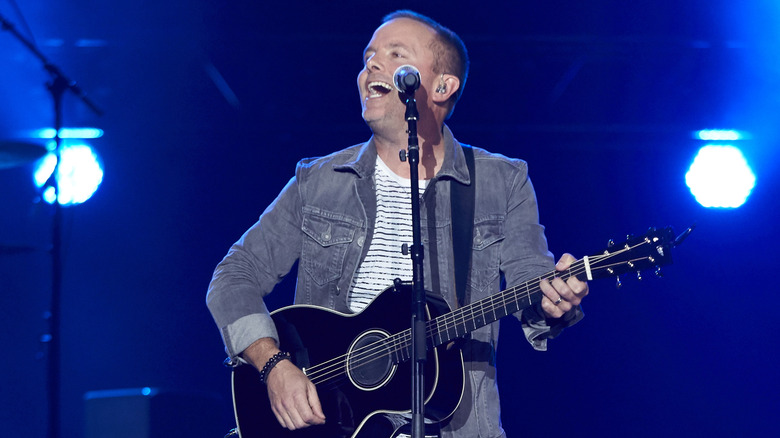 Adam Bettcher/Getty Images
What kind of philosophy did the Tomlins have as they prepared for marriage? In an interview with Awaken Generation, Chris Tomlin remembered some advice he'd been given from a worship leader he met in Brazil prior to marrying his wife, Lauren Tomlin. "We were talking about my upcoming wedding. I remember him looking at me and saying (through a translator), 'If you can't lead your own bride, you definitely can't lead the bride of Christ.' That's what it's about. Hopefully I can be the same to her as I would be on the stage."
Essentially, Chris subscribed to a contentious biblical interpretation whereby the husband is the spiritual leader of the household. Lauren is the bride, and the church (the group of people, not the building) represents the bride of Christ. Though it might sound like Chris thinks leading his wife is "the same" as leading a room full of worshippers from his place on the stage at a church service or concert, he added another layer in an interview with Called Magazine that clearly explains what he was trying to say. "Am I the same person off the stage as I am on the stage?" He continued, "For me, in a marriage, worship is reflecting Christ to my family. It's being the same person at home."
Chris and Lauren Tomlin were engaged in Guatemala and married in Hawaii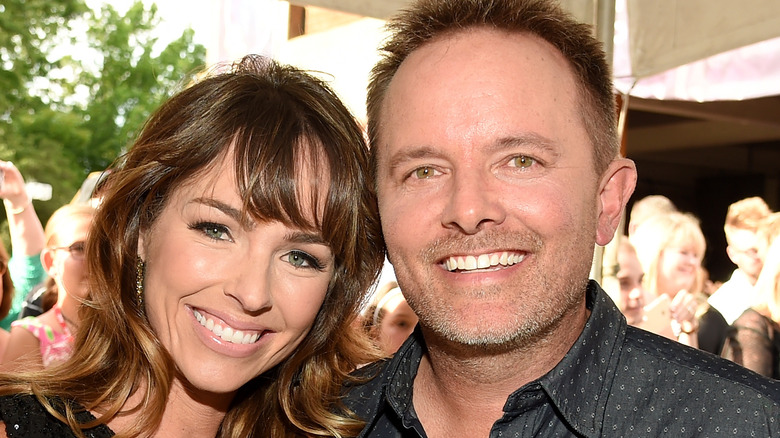 Rick Diamond/Getty Images
Chris Tomlin proposed to Lauren Tomlin in Guatemala after fabricating a "huge story" to get her there. Chris told the tale in an interview with MarriageTrac: "I said the President of Guatemala had contacted our management. They're doing this week of celebration and they want me to do 'God of the City.'" Chris got Lauren to join him for this "celebration" and surprised her with an intimate evening in the back room of a restaurant.
The couple later married in Hawaii, as she shared on "The Glorious in the Mundane" podcast. Lauren shared a special moment for her: While on the plane, she heard God say to her, "Chris is the greatest gift I will ever give you." Chris clearly felt the same way, since Lauren remembered him being "misty-eyed" on their special day (via Nashville Lifestyles).
Parachute Music revealed that Chris had announced the couple's engagement to Passion City Church in July 2010. The church must have been just as excited about the union as Chris and Lauren, since Pastor Louie Giglio tweeted after the November ceremony, "Wedding bells happily toll across the Pacific. Congratulations to friends Chris and Lauren Tomlin on an unforgettable day!"
The early years of Chris Tomlin's marriage were rocky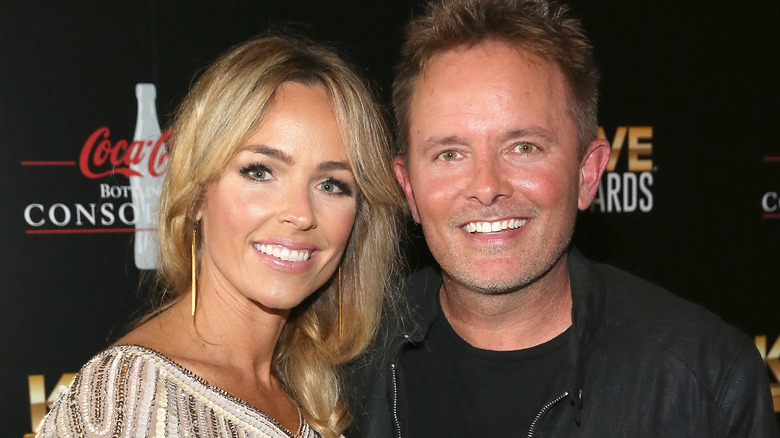 Terry Wyatt/Getty Images
Life as newlyweds is a little different when you're married to a famous musician. On Christy Nockels' podcast, Lauren Tomlin shared that she "tried" to tour with husband Chris Tomlin when they were newly married and that they tried to avoid getting pregnant. However, God had other plans for them. "It was one month, and then we got pregnant," Lauren said, revealing that her pregnancy "accelerated" the new couple's growth. This led to a "challenging" time early in their marriage because, as she admitted, the two "really didn't know each other that well." While Chris was touring, the couple felt the tension come to a head. Lauren described the marriage as "a holy war," where "things have to get worse before they get better."
During this trying time, the couple leaned on their friends and Lauren's parents and also sought counseling. Apparently, Chris didn't enjoy the counseling sessions much, but he and Lauren became stronger through hard work and honesty. Lauren said she was "thwarted" in her marriage. She tearfully explained on the podcast, "I had so many longings and hope ... and then what I found myself in was a real deep loneliness, and it was there that God said, and I knew it, he said, 'You wanted him to fill that place, and ... you're going to know me in that place.'"
Chris and Lauren Tomlin live by this Bible verse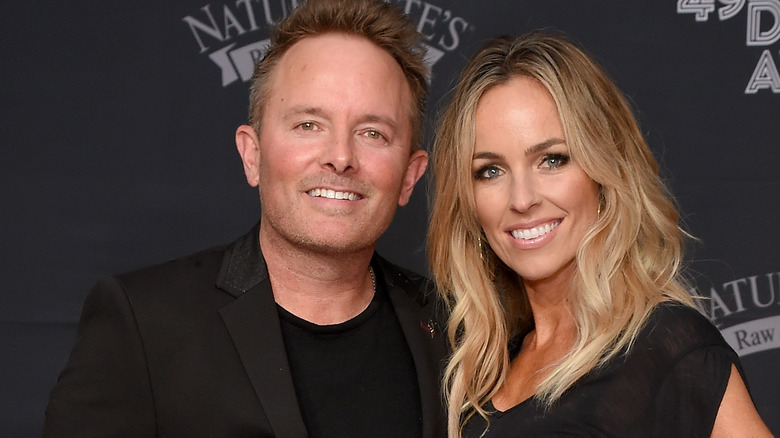 Jason Kempin/Getty Images
The lifestyle that Chris Tomlin and wife Lauren Tomlin described to Called Magazine reflects a Scripture passage from Ephesians in the New Testament of the Bible: "Wives, submit yourselves to your own husbands as you do to the Lord. For the husband is the head of the wife as Christ is the head of the church ... as the church submits to Christ, so also wives should submit to their husbands in everything. Husbands, love your wives, just as Christ loved the church and gave himself up for her." 
Lauren connected the idea of honoring Chris with the power of her words: "God basically said to me, 'Shut your mouth. Follow Me, and I'll show you what to say and how to say it.'" Words can hurt, as we all know, but Lauren learned how to speak to her husband in an uplifting way. 
Of course, communication is a two-way street, so how does Chris interpret this Bible verse when it comes to loving his wife? His answer is this: "The way a man loves his wife is to recognize her ... with your eyes open, your mind open, and your heart open." As biblical scholars contemplate the New Testament letter to the Ephesians, Lauren and Chris are doing something valuable in their marriage — paying attention to one another. Over a decade into their life together, their methods seem to be working well for them.
The Tomlin family has expanded over the years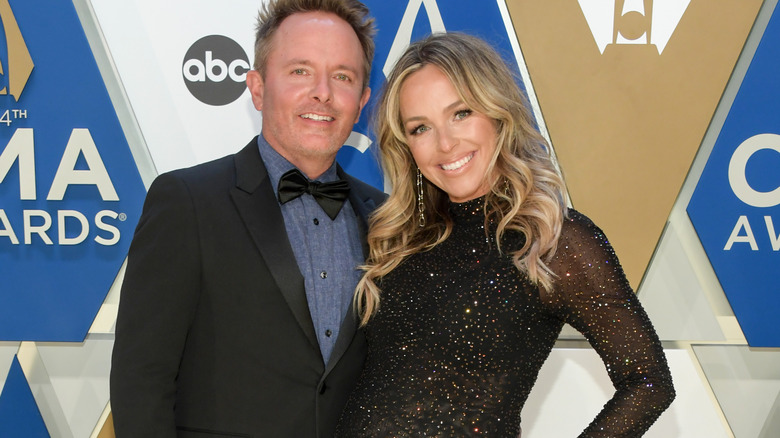 Jason Kempin/Getty Images
Today, the Tomlins are a family of five — with Chris Tomlin being the sole man of the house. They have three daughters together and welcomed youngest daughter Elle Grace in December 2020. Being the proud dad that he is, Chris was happy to share their newest miracle with the world. "Elle Grace Tomlin has arrived to our world and we couldn't be more grateful. She is precious and beautiful," he shared with People. "Lauren and I are counting our blessings and soaking up our little 'miracle of love.' Time seems to stand still at the moment." The interview noted that before her birth, Elle Grace inspired her dad to pen a new Christmas song called "Miracle of Love" about his own baby and "about 'the baby,' Jesus, being born at Christmas" (via People).
On the podcast "The Glorious in the Mundane," Lauren Tomlin talked about what it's like for Chris to live in a female-dominated household. Lauren said that it was "so fun" watching Chris "revel" in the Tomlin women. The dad loves to gush about his wife and kids on social media. He was featured on the cover of For Girls Like You magazine with his older daughters, Ashlyn and Madison. The magazine splashed the words "Good Good Father" across the cover, referencing one of Tomlin's biggest hits.
The Tomlins are making a house a home in Franklin, Tennessee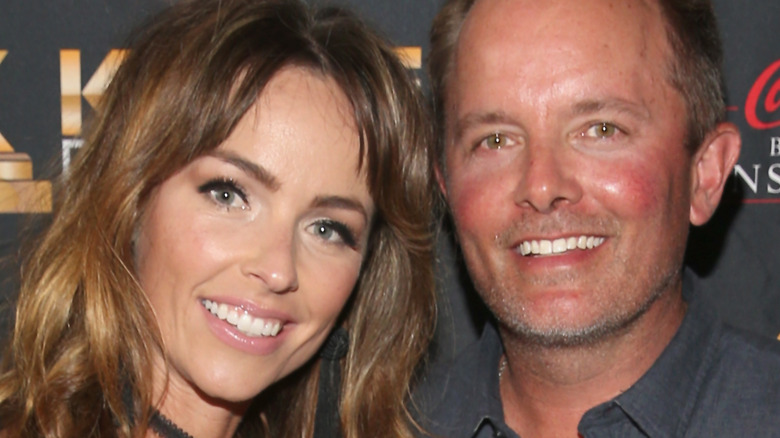 Terry Wyatt/Getty Images
Chris Tomlin and wife Lauren Tomlin are based in Franklin, Tennessee, close to many of Chris's worship leader colleagues in Nashville. The couple purchased a sprawling estate on 25 acres, featuring a main house that can best be described as a cabin from the pre-Civil War era. Chris told Nashville Lifestyles, "There's a tranquility to the place, so we named it Peacefield." Peacefield also happens to be the name of former U.S. President John Adams' farm. The home has all the touches the Tomlins love, including "an upright 1901 Steinway" piano for Chris. Lauren shared with Milieu Magazine, "Chris and I wanted a place where we could tell our girls, 'Go play outside,' and they're out there picking flowers in the meadow." 
So, how did they find the place? As Lauren told Milieu Magazine, Chris "stumbled on" the property while searching on Zillow. Unfortunately, the property was not for sale, so the couple left a note for the owners indicating their interest. The Tomlins were serious about this place — they even paused their other plans to build a home while the owners went back and forth about selling. Finally, Chris and Lauren nabbed their dream house and made it their own through structural changes and decorative updates. Wow, talk about persistence!
Chris Tomlin and wife Lauren Tomlin can afford a nice lifestyle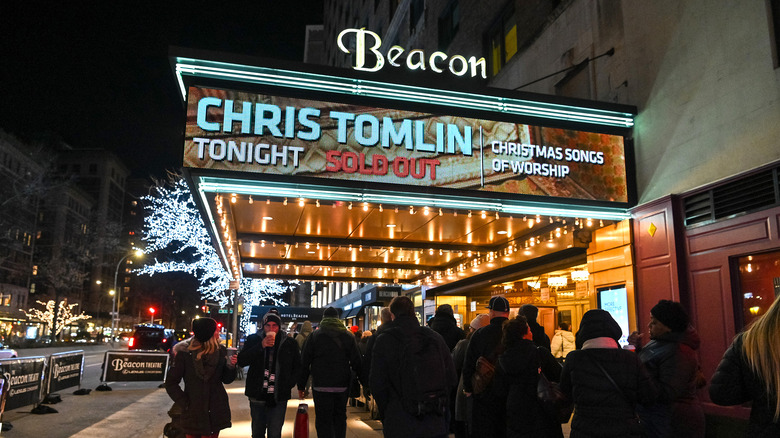 Dia Dipasupil/Getty Images
The Tomlins needn't worry too much about securing all the comforts of home — Chris Tomlin has a net worth of $2 million, per Celebrity Net Worth. Where did the wealth come from? After two solid decades successfully selling CDs and concert tickets, the musician can afford a nice life. Plus, the Christian music industry provides multiple avenues for income, including physical and digital music sales, merchandise, tours, and licensing for churches across the globe to use an artist's songs (which necessitates sheet music, chord charts, and permission to display lyrics on a projection screen).
Though it might sound oxymoronic for faith-based goods and services to be so lucrative, Chris has reached countless individuals who buy his albums and look for opportunities to worship with him in person. From the couple's faith-based lifestyle, Chris and wife Lauren Tomlin don't seem all that concerned with the money; they stay focused on their missions and their purpose as a Christian family.
Chris Tomlin gave wife Lauren a special shoutout in this movie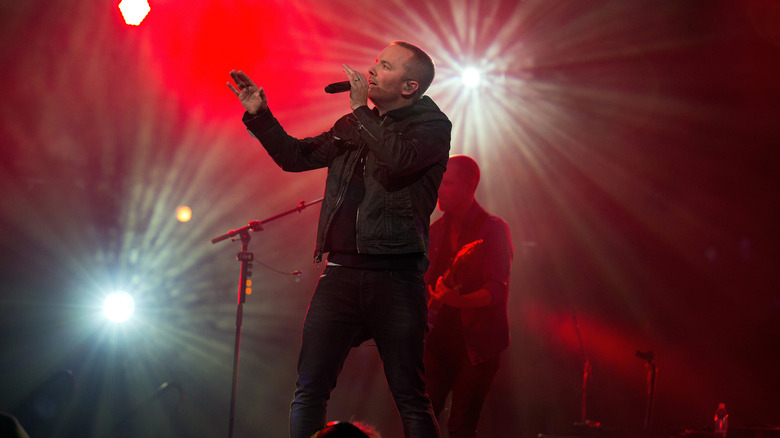 Joey Foley/Getty Images
Chris Tomlin played himself in the 2013 movie "Grace Unplugged," which starred AJ Michalka. In keeping with Michalka's musical talent, her character is the opening act for Tomlin in the Christian film. The film features Tomlin in a scene chatting with Michalka's character, Grace, backstage before the worship concert begins. Grace is getting married and asks Chris what he and his wife did for their wedding. "For our wedding ... we wanted something small and so, you know, it was just our friends and family, just all those people closest to you," Tomlin said. One of his most celebrated songs, "Our God," was featured in the movie's soundtrack.
Tomlin's cameo in the film shows how popular he had become with the crowds of Christian viewers who couldn't wait to see the movie — which raked in more than $2.5 million, according to Box Office Mojo. Not too shabby.
The Tomlins run a nonprofit organization together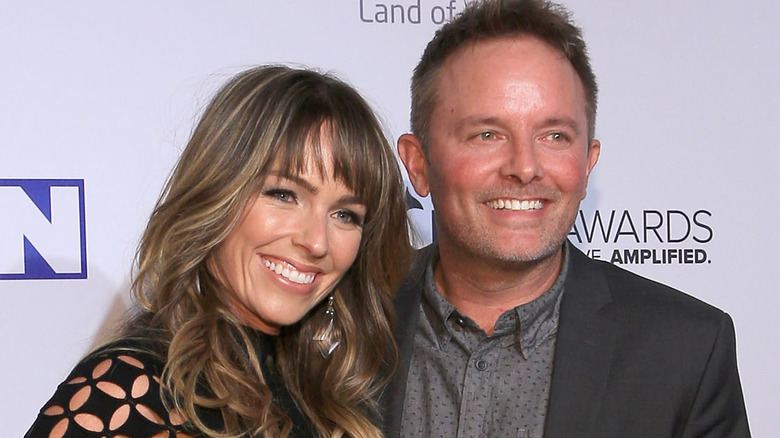 Anna Webber/Getty Images
With all the Tomlins have going on, they found the time to start a nonprofit organization called Angel Armies – a title which comes from one of Chris Tomlin's songs — to "provide children with hope and a future." The note from the Tomlins on the Angel Armies website says, "Just as music gives us a voice for worship, we want to be a Voice for the Vulnerable. Through Angel Armies, churches can become powerful allies to children and families in need by helping strengthen families in crisis, support the heroic work of foster families and ultimately shepherd every child to a safe and permanent home."
At a Liberty University Convocation, Tomlin led worship and talked about using his platform for Angel Armies: "City after city, tour after tour...what's going on in our own backyard with kids, with families, with kids who don't have homes? It just started breaking my heart like crazy, and God kept bringing this dream back to me, and I went to my wife ... 'I think we're supposed to do something here.'" Even as the Tomlins become famous beyond the Christian fold, they continue to be transparent about their faith. Love to see it.