The True Meaning Behind 'Killer (Remix)' By Eminem Ft. Jack Harlow & Cordae
Shutterstock
It's always exciting when rap legend Eminem releases a song, but it's an even bigger deal when he teams up with other talented rappers. That's the case for "Killer (Remix)," which not only features Slim Shady but also Jack Harlow and Cordae. The original "Killer" was released in December 2020 on Eminem's album "Music to Be Murdered By." The "Lose Yourself" rapper announced the remix in May, tweeting, "You know we had to do a remix, right?"
As for Harlow and Cordae, they were thrilled to collaborate with an artist they both admire. Harlow tweeted, "This is some real bucket list sh** right here...something I fantasized about as a kid." He even praises Eminem on his verse of the song, rapping, "I used to rock a toboggan, headphones around my neck, tryna be like Shady," which references Eminem's look in "8 Mile." He also raps, "I'm on a song with my idol." Harlow previously told GQ, "I grew up listening to Eminem. I idolized Eminem, big influence of mine growing up. I mean, he's so dope."
Cordae feels the same way, calling Eminem the G.O.A.T. (Greatest Of All Time) in a tweet promoting the song. He also shared an Instagram video of Eminem mentioning him in an interview. He captioned it, "It's always dope when a G.O.A.T. shows you love...". While Slim Shady may be one of the best rappers of all time, Harlow and Cordae definitely hold their own on the track. What is the meaning behind the collab?
'Killer (Remix)' is about killing the rap game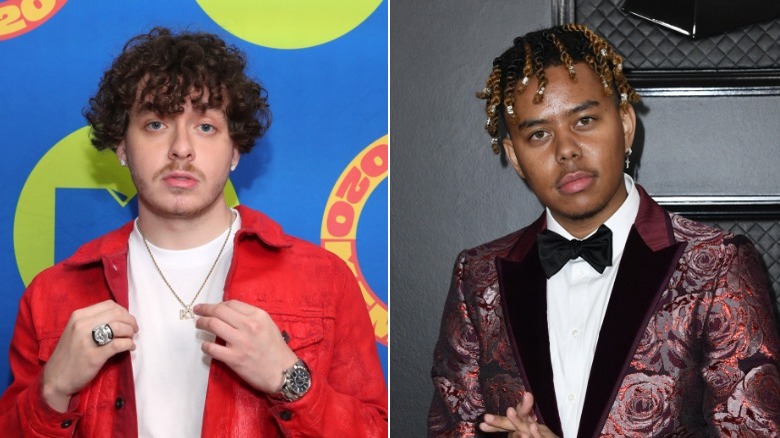 Rich Fury, Frazer Harrison/Getty Images
In the song "Killer (Remix)," Eminem, Jack Harlow, and Cordae rap about how they are at the top of the rap game and can't be beat. So much so that Eminem raps in the hook, "Earn it just to burn it," depicting how at this point in his successful career, he can literally burn money. Harlow also touches on this in his verse, "I'm eatin' pizza in Little Italy, damn, I used to hit Caesars," indicating how he can afford fancy restaurants now instead of fast food.
Cordae also raps about being in a good place in his career: "Rich as hell and it's feelin' tremendous." He reiterates it by rapping, "I'm in this moment of my life where s*** is fallin' in line." He continues: "I manifest nothing less than the best outcome / Just watch my moves with this next album."
As for Eminem, it's safe to say there's no one more skilled lyrically. He's well aware that he's killing it, rapping, "My sentences are harsh, every single's bar's like a verdict... / As soon as I read it, you know that you're about to get murdered." He also reinforces that he's better than most rappers: "We ain't battled, either that or they won't collaborate 'cause pad or paper freestyle will settle that debate." Eminem even mentions his long-lasting career with the line, "Twenty more years, I could probably go for," which fans, of course, are hoping is true.