How Karamo Brown Really Felt About Filming Queer Eye In Texas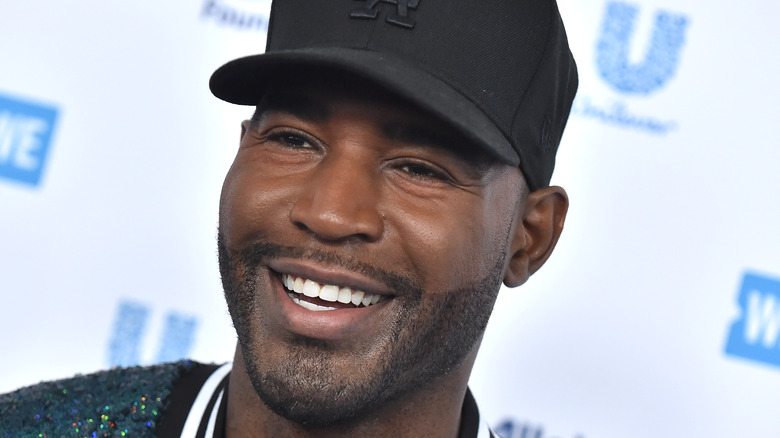 Shutterstock
After a somewhat tumultuous hiatus after Season 5 of Netflix's "Queer Eye" due to the ongoing coronavirus epidemic, it looks like Fab Five members Antoni Porowski, Jonathan Van Ness, Bobby Berk, Tan France, and Karamo Brown have finally wrapped their Season 6 shoot, set in none other than Texas. Fans of the show, which is known for its focus on mental health, self-acceptance, and communication, are anticipating the day when the latest season drops in their feeds. But it seems the experience of filming in Texas was a struggle for at least one of the show's standout stars.
As People reported on June 9, "Queer Eye" culture expert Karamo spoke exclusively with the magazine in an appearance on the publication's podcast "People Every Day." Throughout the interview, the 40-year-old media personality, activist, and former social worker disclosed that the lengthy shoot in Texas, which was at first postponed due to COVID-19, proved to be a lot more difficult than he had first anticipated. Though Karamo clarified that he had found the shoot a necessary one due to "the political climate in the state," as People put it, it didn't make the task at hand any easier. 
So, why does Karamo Brown consider the time "Queer Eye" filmed in Texas a difficult, albeit closed, chapter in his life? Read on below to find out more.
Karamo Brown confessed his time in Texas was the first time he experienced 'hatred' while filming 'Queer Eye'
Shutterstock
As Karamo Brown recounted on a recent podcast episode with People, the "Queer Eye" star already had a pretty good idea of what he and his costars were getting into while filming the Netflix series' sixth season in Texas, a state known widely as a conservative oasis. But as the television personality later revealed, he wasn't as prepared as he initially thought. As Brown recalled, he encountered an inordinate amount of people "who are very blatant about like, 'I don't interact with Black folks. I don't interact with brown folks. I don't interact with y'all gays. You're in a dress. I don't understand this.'" 
Karamo, who has been public about his experiences as an openly gay Black man, further extrapolated that despite his lived-in-knowledge of life as a member of multiple marginalized communities, it was in Texas that for "the first time" people simply said, "I hated you." Not only that, but it happened to him twice.
It seems, however, Karamo was ultimately able to get through to them. The reason? "No one has ever challenged them when it comes to their emotional or mental health," he explained. "I think that a lot of times these individuals have never been challenged by someone who is Black. And so you now have someone who's Black making you open up and talk about your feelings."