The Big-Time Rapper Drake Has Tattooed On His Arm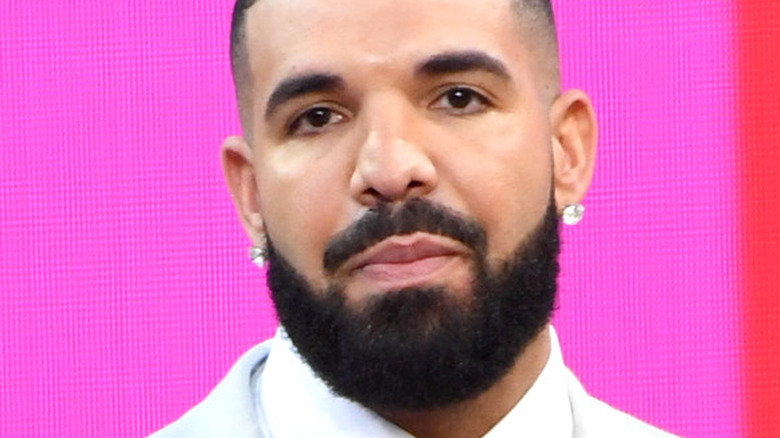 Kevin Mazur/Getty Images
When you're "25 sitting on 25 mill," you pick up some over-the-top habits. And for rapper Drake, that meant investing in a few music-inspired tattoos.
The artist was named Billboard's Artist of the Decade in 2021 thanks to his nine No. 1 albums and six No. 1 singles. In celebration of Drake's success over the years, the artist has bought himself some pretty luxurious gifts, including renting out a stadium after his big Billboard win. In 2017, after the release of the rapper's mixtape "More Life," Drake honored the accomplishment with a tattoo of a hibiscus flower and bee, according to NME. But not all of Drake's tattoos were celebrations of his accomplishments — some are dedications to those that inspired his career.
According to The Fader, Drake inked a few tattoos dedicated to R&B singer Sade, and has the late Aaliyah tattooed on his body. The "God's Plan" artist reportedly also has matching shark tattoos with his ex, Rihanna. And the A-list rapper Drake has tattooed on his arm is the one artist who had a huge impact on Drake's career.
Drake's tattoo is of a rapper who changed his life
A report in The Fader in 2017 revealed Drake inked a portrait of rapper Lil Wayne on his upper left arm, the ultimate dedication to his fellow Young Money star. In an Instagram photo Drake posted in the summer of 2017, fans can catch a glimpse of the large tattoo of Wayne's face right next to a skull and Drakkar Noir bottle.
Drake and Lil Wayne's relationship tracks back to 2009, when Wayne signed the Canadian rapper (and then actor) to his music label Young Money. The two went on to collab on plenty of hit singles, including DJ Khaled's "I'm On One," French Montana's "Pop That," Drake's own "HYFR," and Young Money's "Bed Rock." Lil Wayne also notably signed Nicki Minaj to Young Money, making the two rappers into music's biggest stars. 
So how did Lil Wayne feel about the tattoo honor? According to TMZ, Drake did send Wayne a photo of the completed portrait to see how he liked it, and the "Lollipop" artist approved. The outlet reports Wayne was "honored" by Drake's dedication.