Casey Anthony's Friend From Prison Reveals The 'Red Flags' About Her Behavior During Her Murder Trial - Exclusive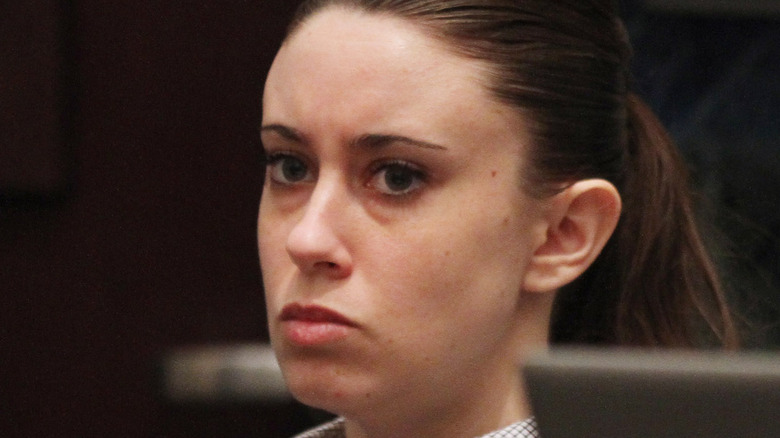 Pool/Getty Images
Casey Anthony might be one of the most infamous women in America. When her two-year-old daughter Caylee Anthony disappeared in 2008, the plight of this missing toddler captured the attention of the nation. But it was Casey's suspicious behavior that had detectives, and even her own family, suspicious from the start. "She has shown no emotion," a lead investigator on the case told ABC News after Casey's interrogation. "That's unusual. At the time of the interviews ... she didn't seem concerned and that made this case much stranger. She spoke to deputies like she was talking about baseball."
Casey Anthony was always considered a person of interest, but particularly after her family discovered her vehicle at an impound and told 9-11, "it smells like there's been a dead body in the damn car." Forensics indicated there was. Later that year, Caylee's decomposed body was found wrapped in a bag in a wooded area near the family home. Casey was eventually acquitted of the murder, to immense public outcry. But Casey made one ally in a Florida prison on 23-hour lockdown — fellow inmate Robyn Adams, a former nurse caught up in a drug scheme. Now, the unlikely jailhouse friendship is the subject of a new Lifetime series, "Cellmate Secrets." Adams has supported Casey but told Nicki Swift about the moment she was suspicious of her only friend on the inside.
The moment Casey Anthony's best friend in prison got suspicious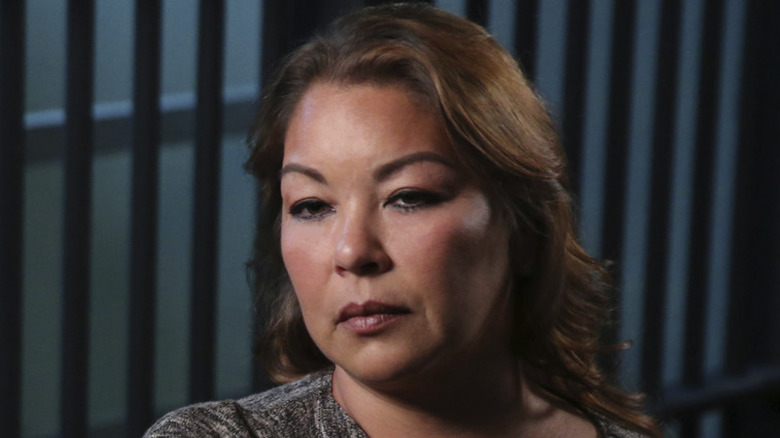 Casey Anthony and Robyn Adams, also a mother, were immediately drawn to each other. "We had a lot of common ground to share," she told Nicki Swift. The two also had similar taste in books, and Anthony and Adams developed a strong bond as they began passing notes through the prison book cart, like something out of the "Shawshank Redemption." Adams hadn't even heard of Anthony or her case when the two met. She had no priors about her famous friend, and so gave her the benefit of the doubt, like anyone else. But that didn't mean Adams didn't develop her own suspicions, even as what she insists was a genuine friendship bloomed.
During most of the two women's time inside, Caylee was, officially, a missing person. But Adams describes an incident where she broke news to Casey that a bag of bones was discovered at a local park. And the mother of a supposedly missing toddler's reaction? "There wasn't much of one," Adams admits. "Oh, she definitely knew it wasn't Caylee ... She said that immediately, that it wasn't Caylee in the bag, just that they weren't looking in the right place. And, I mean, so, having that reaction, that was really the only red flag that stood out to me during our friendship."
Robyn Adams believes Caylee's death was an accident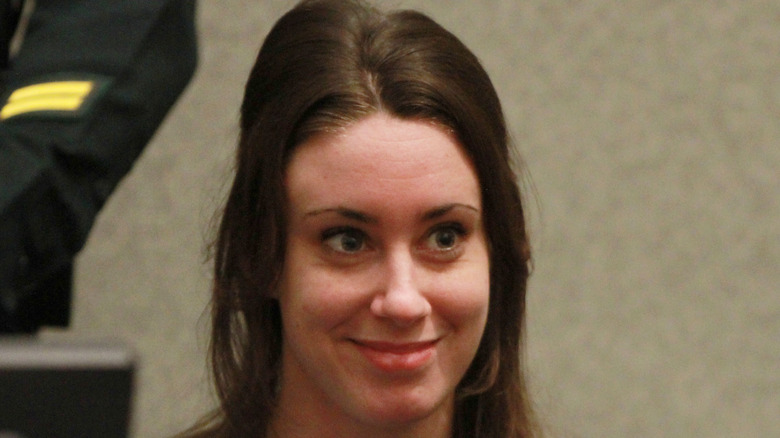 Pool/Getty Images
This point is worth reiterating. If Casey Anthony wasn't involved in Caylee's death, how could she have any insight into the contents of a random bag of human remains? "So you just saw the same red flag I did," Adams admitted to Nicki Swift.
But that's not the end of this story, or this friendship. In December of 2008, police did find Caylee's body. Forensics confirmed the tiny skull and smattering of decomposed bones were indeed the missing toddler. Adams was there as Casey got this news too, and this time, Casey's reaction was intense. "She was completely hysterical," Adams recalled. "And again, like any parent or mother should be. And that's how I interpreted that reaction from her."
Casey's attorneys eventually contended two-year-old Caylee had accidentally drowned in the family pool and Casey had merely covered up the death. Adams came to believe her prison pal's version of events: "I mean, I think everyone has their suspicions and I do believe that she did it, but I do very much believe that it was an accident. It definitely was not intentional." Detectives insinuated Casey was emotionless, but ultimately, it was her "hysterical" outburst upon police discovering Caylee's corpse — something Casey could've potentially assisted with all along — which convinced Adams that Casey wasn't a murderer. "When they actually found Caylee and I saw her reaction," Adams said, "that was just an affirmation [of her innocence] I felt."
"Cellmate Secrets," narrated by Angie Harmon, continues on June 18th and 25th at 10pm/9c on Lifetime.