Why Donald Trump Jr.'s Father's Day Message Has People Buzzing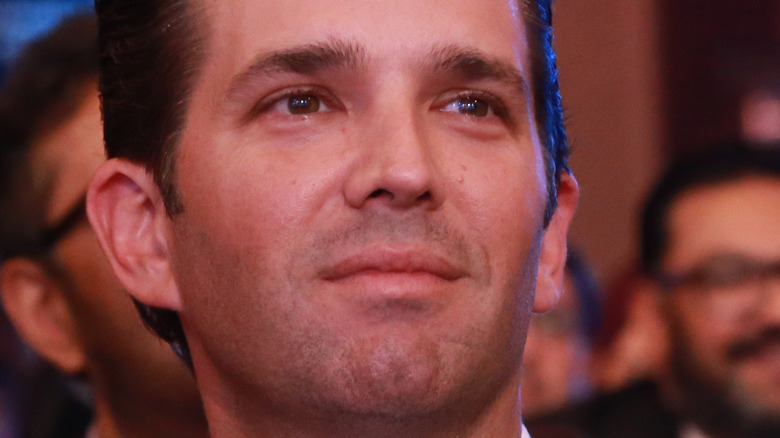 Shutterstock
Twitter has been a lot quieter since former president Donald Trump was banned from the platform back in January. From calling North Korean leader Kim Jong-un "short and fat" to calling former porn star Stormy Daniels "Horseface," Trump's lightning rod tweets made him the center of the Twitter universe. Although he wasn't on Twitter this year to wish everyone — including the haters and losers — a happy Father's Day, his son stepped in to fill the void.
"Happy Father's Day!!!" Donald Trump, Jr. tweeted at 6:26 am. "To all the good dads out there you're amazing. Keep it up and have an awesome day with your families." A short, sweet, simple, some might even say heartwarming tweet. Nothing to see here, right?
As it turned out, there was one specific thing that was not seen in the tweet: a shoutout to Don Jr.'s own father, the former president. Avid tweeters took notice. "Guess that leaves your father out," replied one user, referencing the shoutout to "good dads." Another wrote, "Can you capitalise 'good' please.... just Incase [sic] your dad deluded himself into thinking you were referring to him ... oh wait, he can't see it anyway."
Donald Trump, Jr. honored his dad with a video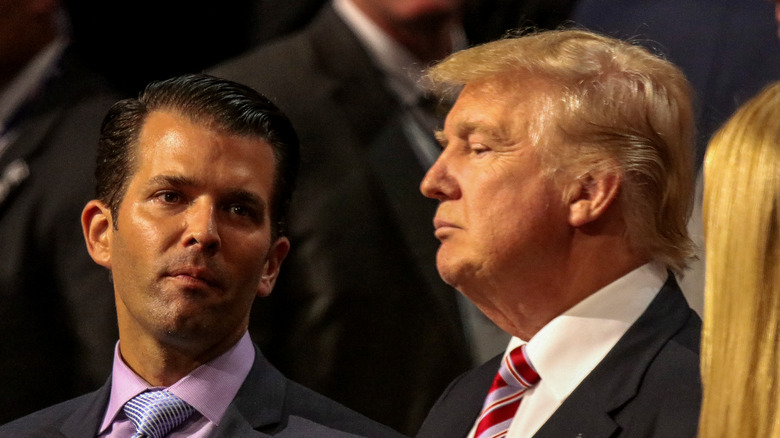 Shutterstock
About five and a half hours later, Donald Trump, Jr. took to Twitter again with another Father's Day message, this time in video form. The tweet read, "Happy Father's Day to all the great dads out there. Here's my message to you with a bunch of pic too," with a link to a video message from the former first son. "I know my dad's incredible," he said in the video, "I hope your dad's incredible, and I'm trying to be an incredible dad myself." 
Trump went on about the importance of fathers while sharing family photos. "I sort of wish I had more pictures with my grandfather ..." he said in the video, "but back when you didn't have cell phones in your pocket all the time, you just didn't think to take them."
Tweeters, however, were still not letting him off the hook. "Can [your father] even name your children?" one user asked. "Why do you always look constipated?" asked another.
Former President Donald Trump shared a Father's Day message via email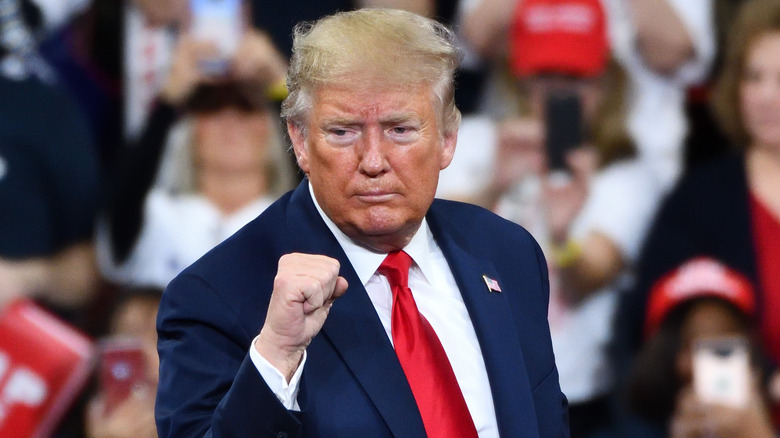 Shutterstock
Although former president Donald Trump is banned from Twitter and Facebook, he still found a way to get his own Father's Day message out. In an email to supporters that was later shared on Twitter, he issued one of his signature holiday messages in true Trump fashion. "Happy Father's Day to all, including the Radical Left, RINOs [Republicans in name only], and other Losers of the world," he wrote. "Hopefully, eventually, everyone will come together!"
The message was reminiscent of Trump's Father's Day tweet from 2019, which read, "Happy Father's Day to all, including my worst and most vicious critics, of which there are fewer and fewer. This is a FANTASTIC time to be an American! KEEP AMERICA GREAT!" (via Newsweek). Trump's New Year's tweets also kept the tradition of giving a shoutout to his enemies, even before he was president. In 2017, Trump rang in the new year tweeting, "I want to wish all of my friends, supporters, enemies, haters, and even the very dishonest Fake News Media, a Happy and Healthy New Year," per Insider. Sounds like somebody's a little bothered.
The Trump Organization also tweeted a more professional Father's Day message. "Today we celebrate the many incredible fathers throughout our Trump Organization family," it read. "Happy Father's Day to you!" Attached to the tweet was a picture of the former president walking through part of the White House with his sons Eric and Donald, Jr.