The Real Meaning Behind Doja Cat's 'You Right' With The Weeknd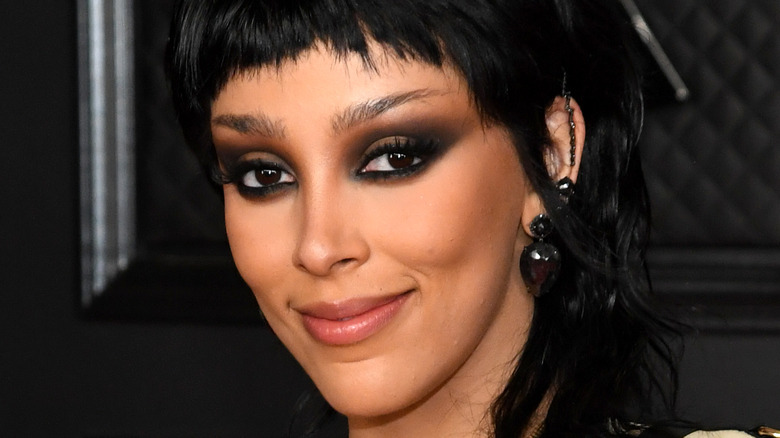 Kevin Mazur/Getty Images
Doja Cat's long-awaited second album, "Planet Her," is finally here. While Doja Cat has been in the music industry for a while, her third LP feels a bit different than the ones that came before it. Her first two albums saw Doja as a rising star, making a case for herself as a force to be reckoned with. Now, with three Grammy nominations, a Hot 100 topper, and a slew of unforgettable performances under her belt, she has far more fans and collaborators than doubters.
Someone who falls into both the "fan" and "collaborator" category is The Weeknd. The two had previously joined forces on the remix to his 2020 single "In Your Eyes." The experience was apparently enough to turn The Weeknd into a fan. "Doja is a star, and has created a unique universe you just want to lose yourself in," he told Billboard in April. "She's got such drive and vast creative vision that we will be seeing her impact for a very long time to come."
The flattery doesn't stop there — the two sing each other's praises on the steamy duet "You Right," the second official single from "Planet Her." Here's what you should know about the track.
Doja Cat and The Weeknd tease each other on "You Right"
Kevin Mazur/Getty Images
Doja Cat sees her wandering eye get the better of her on her The Weeknd-assisted song, "You Right." "I got a man, but I want you," she sings. Meanwhile, the other man, is apparently gently discouraging her. "You right, I got my guy," she continues, "But I, I can't help it, I want you."
The verse sees Doja getting a bit cocky, extolling her skill as a lover and attempting to get the object of her affection to change his mind: "'Cause I know it could be, babe, and you never feel the same/You be thinkin' 'bout it every day." Deep down, she knows it can't happen, but that doesn't mean she can't want it. "Don't believe in fairytales, but we got our fantasies/And it's me and you," she sings.
In his verse, The Weeknd stops being the voice of reason that he was in the chorus and starts reciprocating Doja's come-ons. "Girl, I want you like you want me too," he replies in his trademark falsetto, lifting her up while subtly putting her main squeeze down. "You chose loyalty/But I know your history/met him before your peak," he teases, implying that Doja and her man were perhaps in the same league once upon a time, but she has since surpassed him. The song has an ambiguous ending, but the abrupt conclusion suggests Doja might have woken up from her fantasy just in time.