What Big Honor Did Queen Latifah Just Receive?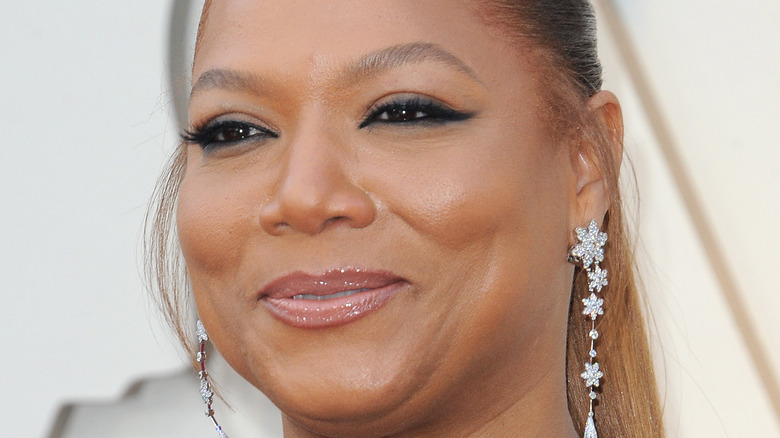 Shutterstock
Dana Elaine Owens, known professionally as Queen Latifah, has been a prominent hip-hop songstress and actor since the '80s. According to Vibe, the 51-year-old has "one of the most powerful voices in hip-hop." On top of her music career, Vibe also reports that she's "the first female rapper to cross over into TV and film." 
So, naturally, she was awarded the Lifetime Achievement Award at the 2021 BET awards on June 27, 2021. Per Entertainment Tonight, before Latifah was given the accolade, singers Rapsody and Lil' Kim performed a tribute rendition of Latifah's hit "Ladies First." They also note that Kim and MC Lyte also "belted out 'U.N.I.T.Y.'" during the performance. Along with a touching cover of Latifah's hits, there was also a video montage of her accomplishments across the entertainment industry. Fellow celebs, such as Jada Pinkett Smith and Megan Thee Stallion, paid tribute to Latifah too, according to ET.
However, what really made headlines was Latifah's speech. Want to know what the musician and actor shared during her acceptance speech at the 2021 BET Awards? From who joined her on stage to what she said to the audience, here's everything we know about Latifah accepting the Lifetime Achievement Award.
Queen Latifah gave an emotional speech when accepting her award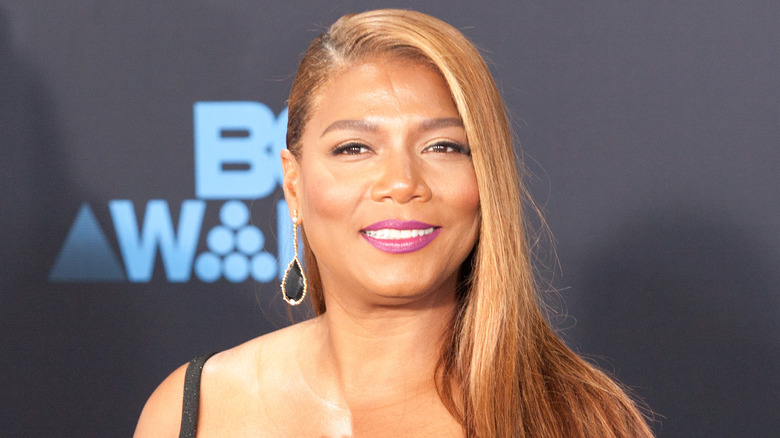 Shutterstock
On June 27, 2021, Queen Latifah was honored at the BET Awards by being given the prestigious Lifetime Achievement Award. During her acceptance speech, per Entertainment Tonight, Latifah had her father Lancelot Owens, Sr. join her on stage and also carried a photo of her late mother, Rita Owens.
She told the audience, "I'm so extremely moved, I don't even know what to say." But of course, she did manage to figure out the perfect things to say. "Let me just say that I want to thank God, because God designed this whole thing to be this way," Queen Latifah said. "There is no way that I could have had the parents that I was born to, my father, my mother, who instilled so much in me. My family, I love you. My siblings, my best friends who ride or die with me. Whether my face is on the dirt or flying in the sky, they know me and they are there for me."
Not only did she shout out her family, but also the network hosting the event. She continued, "I want to thank BET for creating an outlet for beautiful Blackness to thrive, to shine. When we couldn't get played on the radio and other places, we couldn't get our videos played in other places, there was BET, that allowed us to be in our fullness and to shine to this night right now, right here. Bless everybody that graced the stage tonight and everyone in the audience for all your support." She added, "Be Black. Black is beautiful."
Queen Latifah ended her speech in a special way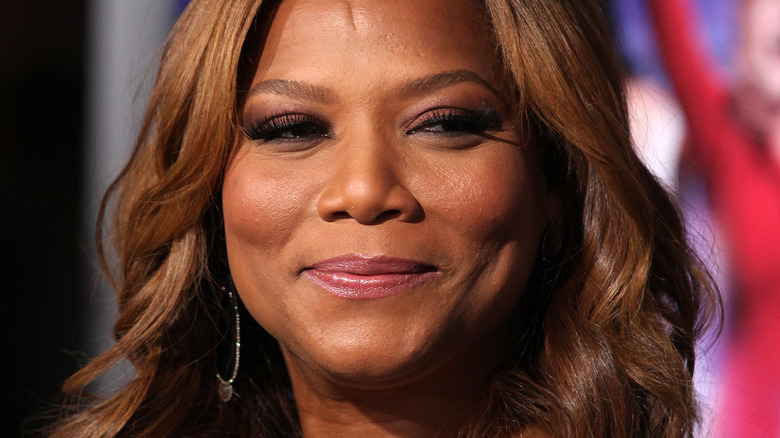 Shutterstock
Along with thanking her family, God, and BET, Queen Latifah also celebrated the fact that she was a Black woman and gave a special call out to other ladies at the event. She went on to say, "We can't live without each other. I wan[t] to celebrate us because I know together, we stand stronger." Adding, "So respect to all the females on the stage tonight," via Entertainment Tonight. 
In addition, Latifah made sure to include a thank you to her team and her longtime business partner Shakim Compere. She ended the speech by then thanking her fans and wishing everyone a happy Pride month. She shared, "I thank you so much, all of you, the fans, for supporting every crazy thing I've done through the years. Peace and happy Pride!" 
So, here's to Latifah! Based off of her emotional and inspiring speech, there's no one more deserving of BET's Lifetime Achievement Award than the queen herself.