Fans Are Showing Their Support For Johnny Depp. Here's Why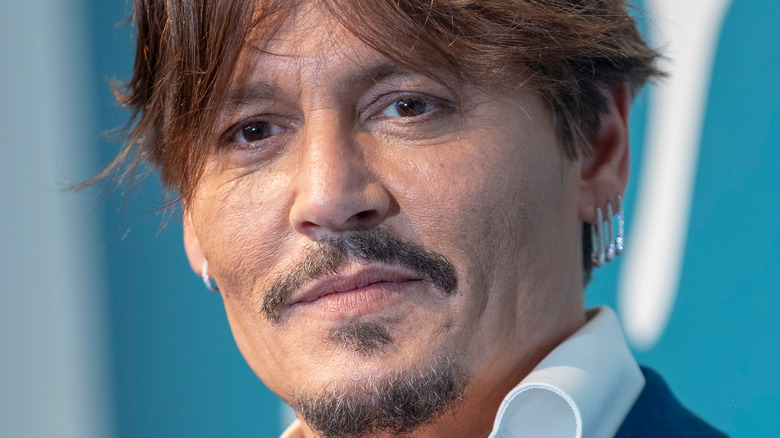 Shutterstock
The following article contains discussion of domestic violence.
When the poop hit the bed, Johnny Depp and Amber Heard's marriage was truly over. The "Pirates of the Caribbean" star and his ex-wife married from 2015 to 2017, before they decided to call it quits. Of course, their divorce played out like a dramatic thriller with accusations of physical abuse, three-way affairs, and substance abuse leading the headlines. And even after they were no longer married, the legal battles continued. Variety reported Depp failed in his bid to overturn a ruling that he may not appeal a case for libel against The Sun newspaper for calling him a "wife beater." As a result, Depp will no longer be appearing in the "Fantastic Beasts" series.
However, Depp has always maintained that Heard had been abusive toward him. These claims were substantiated when the Daily Mail exclusively obtained an audio confession where Heard admits to hitting her former husband in January 2020. "I'm sorry that I didn't, uh, uh, hit you across the face in a proper slap," she apologized before adding, "But I was hitting you, it was not punching you. Babe, you're not punched." She got specific and revealed how she hurt him too and said, "I don't know what the motion of my actual hand was, but you're fine, I did not hurt you, I did not punch you, I was hitting you." 
Now that Heard has begun filming "Aquaman 2," Depp's fans are clapping back. Read on to discover why they have had enough.
Johnny Depp's fans strike back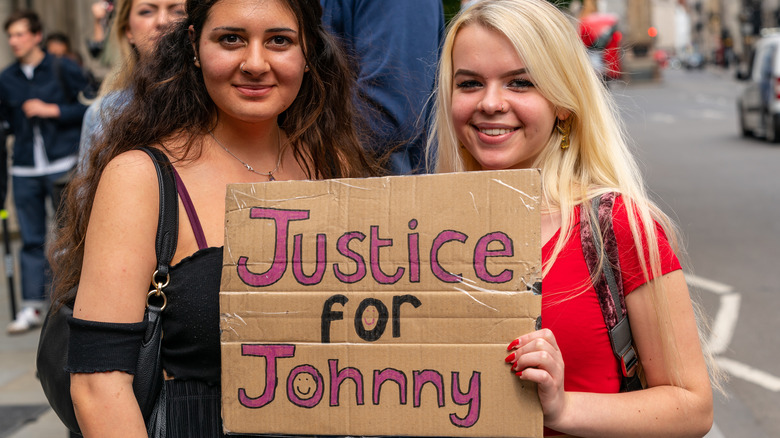 Shutterstock
Johnny Depp was asked to step down from his role in the "Fantastic Beasts" series. In November 2020, he shared on Instagram, "I wish to let you know that I have been asked to resign by Warner Bros. from my role as Grindelwald in 'Fantastic Beasts' and I have respected and agreed to that request." The decision came soon after he lost his libel case, per Variety. 
But now that Amber Heard is currently shooting "Aquaman 2," per People, Depp's fans are furious. #JusticeForJohnnyDepp is trending as fans protest the fact that Heard is working after she admitted to hitting Depp in an audiotape, via Daily Mail. They believe that Hollywood's treatment of the "Edward Scissorhands" actor is unfair. One Depp fan penned on Twitter, "The reality of the judiciary worldwide, where a woman is always innocent until proven guilty & a man is always guilty until proven innocent. Justice shouldn't be dependant on gender, it's a basic fundamental human right & everyone deserves it. #JusticeForJohnnyDepp"  Another tweeted, "Amber Heard is still in Aquaman 2when she physically and mentally abused her husband? And it's on tape??? I'll pass. #JusticeForJohnnyDepp." A third person raged, "#justiceforjohnnydepp because amber heard admits to hitting him, multiple times, & he's still the one who gets fired, ridiculed, mocked & smeared in the press."
As of this writing, neither Depp nor Heard have weighed in on the campaign.
If you or someone you know is dealing with domestic abuse, you can call the National Domestic Violence Hotline at 1−800−799−7233 or TTY 1−800−787−3224. You can also find more information, resources, and support at www.thehotline.org.