The Real Reason The Queen Rarely Cries In Public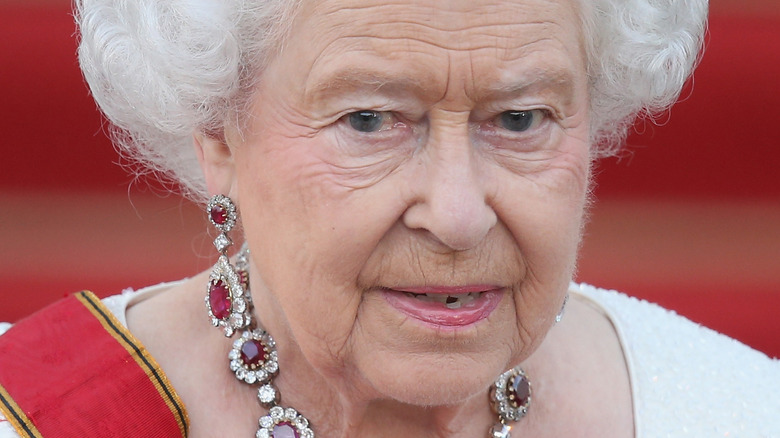 Sean Gallup/Getty Images
No one's public image is more tightly guarded than that of the royal family. If you need proof of just how guarded they are, look no further than Prince Harry and Meghan Markle's tell-all interview with Oprah Winfrey. They take the British concept of "stiff upper lip" to a whole new level.
Among the many bombshells dropped in the 90-minute exclusive, Meghan told the storied talk show host that she became suicidal after dealing with racist and unfair treatment by the British press. When she approached palace officials for help, Meghan claimed they denied her request to enter an inpatient facility for fear of how it would reflect on the institution. Even more shocking were the couple's claims that senior members of the royal family had multiple conversations about the potential color of Archie's skin. The implication being that if his skin was too dark, it would be problematic for the royal family, per CNN.
Another example shared is that when Princess Diana died, young Prince Harry and Prince William were forced to walk behind her coffin in a funeral procession broadcast to the world. Neither cried or showed any emotion at all. That being said, the queen of emotionless living is, well, the queen. It's rare to see Queen Elizabeth shed a tear in public. In fact, you probably could count on your hand the number of times she's cried in the open (and may not get very far). Why is that?
Queen Elizabeth has only publicly cried a few times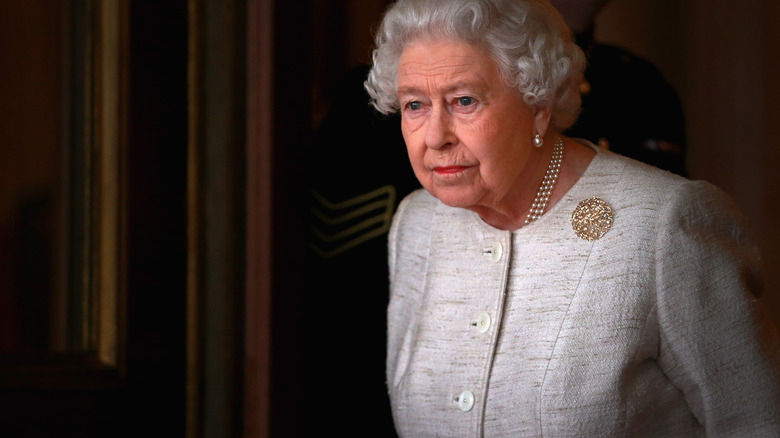 Chris Jackson/Getty Images
The real reason the queen never cries in public is that it just isn't that ... queenly. "She is a woman of deep feeling, but she works very hard to present an impassive face," Bedell Smith, a royal expert, explained to USA Today. "It's partly due to her role, and partly her temperament and the way she was brought up."
Despite her "stoic temperament," the queen has been known to cry at military events. She was visibly moved in 2019 at the Remembrance Day celebration when she had to lay a wreath for fallen soldiers. She also discreetly wiped away her tears in 2016 at service for fallen soldiers of the Duke of Lancaster. Queen Elizabeth is especially connected to the Duke of Lancaster regiment as it's named for one of her ceremonial titles. She also left a simple but powerful note "In memory of the glorious dead. Elizabeth R," per Hell! Magazine.
Military services are likely particularly emotional for Elizabeth as she herself has spent her life in service to the country (and, briefly, in the army), so she has a unique understanding of it all. Before you go thinking she's only has a soft spot for the military, don't. Elizabeth broke down and wept at her sister Princess Margaret's 2002 funeral, per USA Today. Though she didn't publicly cry at Prince Philip's funeral, Badell assured the outlet it one undoubtedly one of the most difficult days of her life.
If you or anyone you know is having suicidal thoughts, please call the National Suicide Prevention Lifeline​ at​ 1-800-273-TALK (8255)​.