Has Kate Middleton Really Been Reaching Out To Meghan Markle?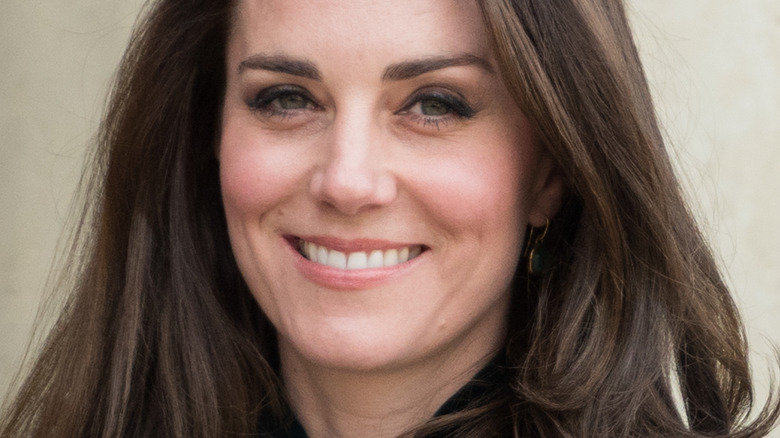 Shutterstock
A sub-story of the friction Prince Harry and Meghan Markle have with the royals has been the reports of brewing tension between Meghan and Kate Middleton. Meghan was upset that a story circulated in the British press that she made Kate cry. This led the Duchess of Sussex to write an email in January 2020 to a royal aide to clarify the story with the press. "Well, if we're just throwing any statement out there now, then perhaps KP can finally set the record straight about me [not making Kate cry]," Meghan wrote, according to a source at Harper's Bazaar.
During Harry and Meghan's landmark interview with Oprah Winfrey, Meghan claimed she never made Kate cry. The Duchess of Sussex said it was Kate who drove her to tears after they disagreed over the flower girl's dress. "What was hard to get over was being blamed for something that not only I didn't do but that happened to me," she told Oprah (via Elle). The Duchess of Cambridge was upset that Meghan went public with their falling out, especially because the two had made amends. "Kate felt it was all sorted, so to have it brought up again was mortifying," royal author Katie Nicholl told OK! Magazine in March (via Fox News). "Kate has never wanted any suggestion of a rift with Meghan to come out in the press," Nicholl added. 
Keep reading to find out if Kate and Meghan have started talking again.
Meghan Markle's daughter reportedly strengthened her relationship with Kate Middleton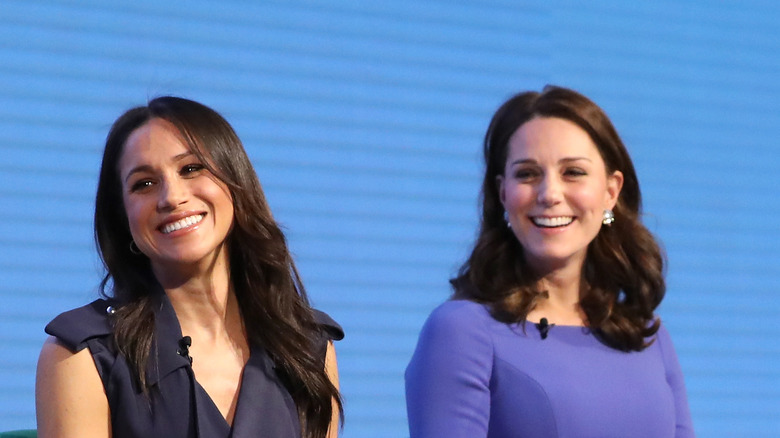 Chris Jackson/Getty Images
Reportedly, Meghan Markle extended an olive branch to Kate Middleton in hopes of repairing her and Prince Harry's relationship with the royals. "She's secretly reached out to Kate, as she knows that the only hope they can have of smoothing things over with the family is to get Kate on their side," a source told the Mirror on June 8. According to that source, Kate would prefer to not have secretive conversations, "but she wants peace and civility." 
Apparently, Kate used the birth of Meghan's daughter Lilibet Diana Mountbatten-Windsor as an opportunity to mend their relationship. "Kate has been reaching out to Meghan a lot more since [Lilibet] was born, she's sending [notes and] gifts and trying to build up a relationship," a source told Us Magazine on June 30. This could lead to the Sussexes reintegrating with the royals. "The firm has been instructing staffers to reach out more to Harry and Meghan to get them to soften a bit," the source added.
Harry traveled to the U.K. for the unveiling of Princess Diana's statue while Meghan stayed in California with their children. Kate will also be absent from the event, officially to keep numbers low to comply with COVID-19 protocol. But a source told the U.K. Times that Kate supposedly used this as an "excuse" to evade potential "drama" between Harry and Prince William (via Page Six). They may be talking more, but Kate and Meghan's relationship isn't completely healed just yet.