The Truth About Faith Evans And Stevie J's Marriage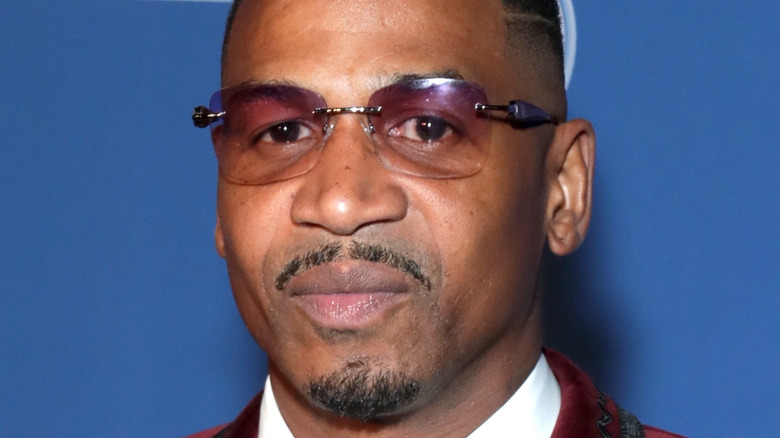 Leon Bennett/Getty Images
Producer Stevie J and Faith Evans go way back — 25 years to be exact. Stevie J confirmed their relationship in a December 2016 episode of "The Breakfast Club," where he said, "I've known her for like 25 years. ... We was like family and then as years progressed, we just began to hang out more [and] talk more." Stevie reportedly played guitar as Evans sang to him. Evans appeared on an April 2021 episode of OWN's "Behind Every Man," where she said she was wary of a relationship with Stevie J because he was reportedly still involved with his ex Joseline Hernandez. "I'm not a man stealer," she said. She was also concerned about what it would do to their friendship.
In March 2017, Evans appeared on "The Breakfast Club," where she confirmed her split from Stevie J. "I never took Stevie serious actually," she said at the time. "I think probably in the last 10 years, I would say, is he trying to flirt?" She did say that she still loves him as a "friend."
Evans and Stevie J patched things up and eventually married in 2018 — keep reading for more details on their relationship.
Stevie J and Faith Evans tied the knot in Las Vegas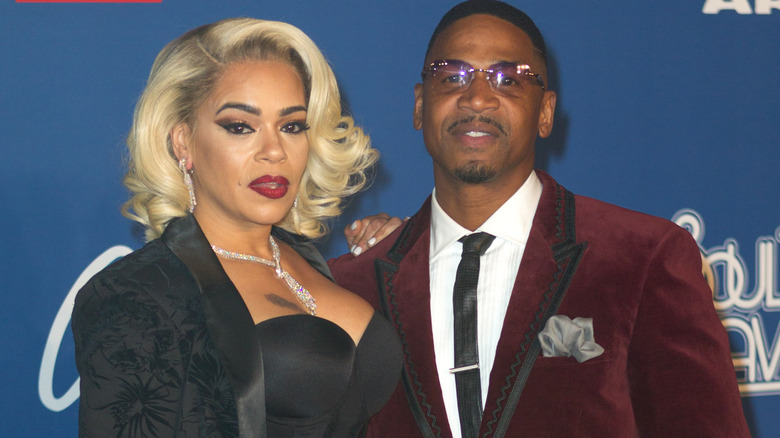 Shutterstock
Stevie J and Faith Evans reportedly married in their Las Vegas hotel room in July 2018, according to TMZ.
The couple secured their marriage license in Clark County, Nevada, and Stevie J seemingly confirmed the happy news on Twitter with a touching message to his wife: "I love you Faith Renee Jordan," he wrote. This was the first marriage for the music producer and the third for Evans — she was previously married to the Notorious B.I.G. and Todd Russaw. It appears the couple was forever in the honeymoon stage, as Stevie J told People in February 2019: "I got to put in more work, know what I'm saying? I upped it from three to five times a day," apparently referencing their sex life. Although they were married for quite a few months at that time, Evans noted they only recently chose their wedding bands. "We actually just got rings and they're very simple," she said. 
Despite the happy times, Evans was arrested in May 2020 for allegedly attacking her husband, per TMZ. Stevie J reportedly had "marks and scratches" on his face and Evans was eventually released after being arrested for felony domestic violence.