Karrueche Tran's Best Friend Claims Chris Brown Threatened To Kill Him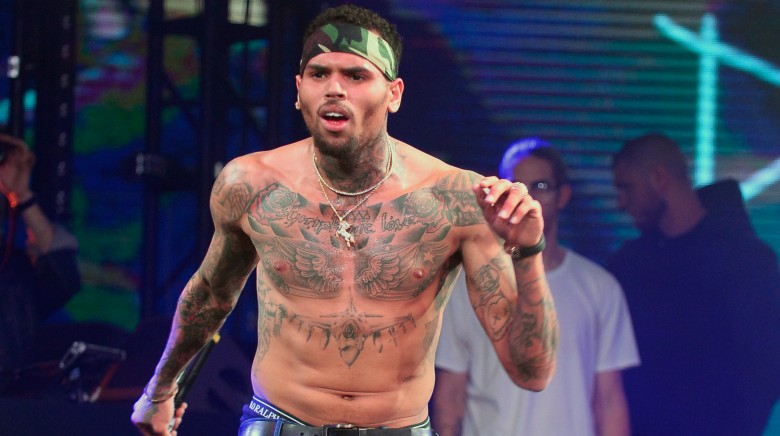 Getty Images
A week after reports surfaced that Karrueche Tran got a restraining order against Chris Brown, the model's best friend now also has an order of his own against the singer.
TMZ reports that Tran's platonic BFF, Joseph Ryan La Cour, obtained a restraining order against Brown, 27, requiring him to stay at least 100 yards away and refrain from harassing him.
La Cour alleged that Brown told him at rapper Diddy's Super Bowl party in early February 2017, "It's 2017 ... Ima f**k* you up every time I see you so you better get the f**k out of here before I lay your a** out." He also is accused of throwing a drink at one of La Cour and Tran's friends and telling her, "Move b***h, we aren't friends." La Cour accused Brown of also threatening to "shoot the place up."
What's more, La Cour next accused Brown of sending other people after him, noting that their frequent use of the word "blood" may imply a gang affiliation.
As far as motives go, La Cour claims that because he stands up for Tran, 28, he often ends up in Brown's line of fire.
Tran corroborated La Cour's story in court documents detailing her own request for a restraining order, in which she claims, "There was an incident a few weeks ago where he told my friend he had to leave a party or else he was gonna get beat up, and also threw a drink in another friend's face."
As Nicki Swift previously reported, Tran was granted a restraining order against Brown in February 2017. The petite stunner wrote in court docs obtained by Hollywood Life, "[Brown] threatened to kill me, to 'take me out' to others, threatened to kill me over text messages directly to my phone, threatened to harass my friends, and threatened to shoot me...around the second week of February he told a few people that he was going to kill me. He said if no one else can have me, then he's gonna take me out...I have text messages from Dec. 2016 – Jan. 2017 where he's made several threats, including beating me up and making my life hell."
In the documents, Tran also accused Brown of domestic violence on more than one occasion, including punching her twice in the abdomen and pushing her down a flight of stairs—all while he was still on probation for his 2009 assault of then-girlfriend Rihanna. A neighbor of the former couple later came out in support of Tran and claimed to be a witness to the alleged abuse.
Brown denied all of the allegations, eloquently dismissing them as "bulls**t."