The Truth About The Rumored Roloff Family Feud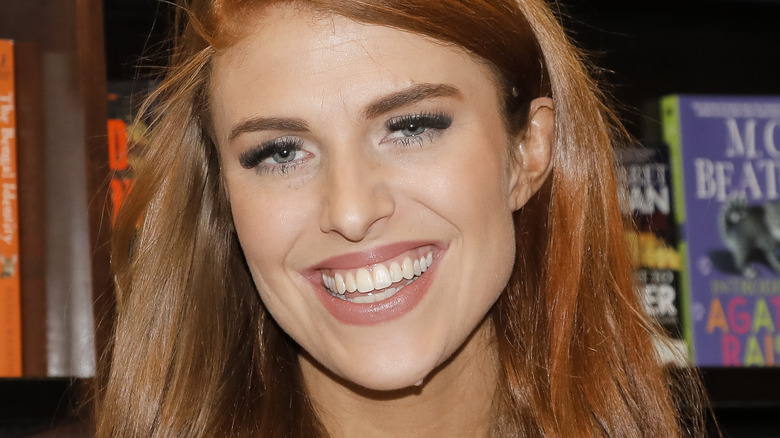 Tibrina Hobson/Getty Images
When it comes to the Roloff family, it appears that sisters-in-law Tori Roloff and Audrey Roloff don't see eye-to-eye. The "Little People, Big World" stars' feud recently took another turn, but it seems the two have had issues with each other for a while. According to the U.S. Sun, some of Tori and Audrey's problems may have to do with their different political opinions and beliefs. While Audrey and her husband, Jeremy Roloff, promote conservative views and a strict Christian lifestyle, Tori and her husband, Zach Roloff, are more liberal.
Fans of the reality show believe that Tori and Audrey are even keeping their children apart. In June 2020, Tori hinted that her baby, Lilah, hasn't met her cousin, Audrey's baby Bode, when she posted a photo on her Instagram story showing Lilah with a friend's baby. Tori wrote, "meeting another baby for the first time: a series." There's also speculation that both women are using Instagram to one-up each other's baby's milestones!
The feud apparently got worse when Audrey and Jeremy decided to hold their own Fourth of July party last year away from the rest of the family. The Roloffs then proceeded to spend Thanksgiving and Christmas apart, per Cheat Sheet, which led fans to believe that Audrey and Tori's feud had extended to their husbands. There have been rumors that the brothers are fighting over the family's farm. But despite what's going on between the Roloff brothers, Audrey and Tori's feud seems to have escalated.
Tori Roloff snubbed Audrey Roloff's baby announcement
It appears that the feud between "Little People, Big World" stars Tori Roloff and Audrey Roloff isn't coming to an end anytime soon. Audrey and her husband, Jeremy Roloff, recently announced on their Instagrams that they're expecting their third child. Jeremy's mother, Amy Roloff, commented on Audrey's video, "So excited. Can I love this more than what's possible?" while her husband, Matt Roloff, wrote, "Love this video." Even Audrey's former nemesis, sister-in-law Isabel Roloff, commented on Jeremy's video, "Can't wait!!!"
The only family member who didn't publicly congratulate Audrey and Jeremy on their announcement was Tori. In fact, the U.S. Sun reports that instead of supporting the baby news with a like or comment, Tori posted her own Instagram video of her baby, Lilah, taking her first steps. Tori has previously expressed interest in expanding her family after suffering a miscarriage while pregnant with her third child. She revealed to Us Magazine in June 2021, "I think that we're still hopeful that one day we will get to have another baby."
Whether Tori meant to snub Audrey or not, this isn't the first time the ladies used Instagram to take shots at each other. In February 2021, when asked by a fan what her pet peeve was, Audrey responded, "When someone starts their story with 'hey friends' or 'happy whatever-day-it-is." Of course, fans noted that's exactly how Tori greets her followers. Hopefully, these two can work out their differences for the good of the Roloff family.