Inside Kathy Hilton's Career As A Child Actor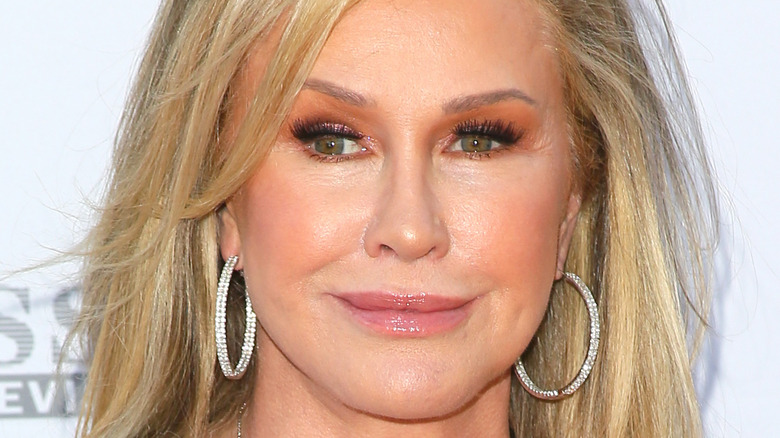 Jean Baptiste Lacroix/Getty Images
Kathy Hilton is best known as a businesswoman and mom to socialites Paris and Nicki Hilton. She's also a recurring cast member on Bravo's "The Real Housewives Beverly Hills," where she has given fans a glimpse of the lavish home she shares with her wealthy husband, hotel heir Rick Hilton. What you may not know is that just like her younger sisters, Kim and Kyle Richards, Kathy was a child actor. The three sisters were raised in Bel-Air in the '60s and '70s by their single mom, Kathleen, who may have been showbiz's original "momager," according to Style and Society. Mama Richards thrust all three of her girls into modeling and acting at young ages, the outlet noted. 
Kim was the youngest of the three sisters to start out in acting — and also the most successful. The star, born in 1964, was just a few months old when she appeared in a TV commercial for a rug company, per The Daily Mail. By 1970, Kim landed a role in the TV sitcom "Nanny and the Professor," per IMDb, and would go on to become a Disney darling in films such as "Escape to Witch Mountain" and "No Deposit, No Return" and appear in just about every notable TV show of the 1970s. Kyle, who was born in 1969, started her acting career in the mid-1970s and went on to score big roles on "Little House on the Prairie" and the 1979 horror flick, "Halloween."
But what about eldest sister Kathy?
Kathy Hilton appeared in some of the same TV shows and movies as her famous sisters
While she is the oldest of the Richards sisters, Kathy Hilton started her acting career the latest in life. Her first professional acting credit was at age 11 in a 1970 episode of her sister Kim's show, "Nanny and the Professor," per IMDb. She also logged guest roles in a list of popular shows of the decade, including "Family Affair," "Marcus Welby M.D.," "Bewitched," "The Rockford Files," and "Happy Days," where she played Gertie, a member of Leather Tuscadero's all-girl rock group Leather and the Suedes. Kathy's last childhood TV role was in 1979 in "On the Air Live With Captain Midnight."
Not so coincidentally, 1979 was also the year Kathy married business magnate Rick Hilton. She retired from acting upon her marriage and began working at the Waldorf Astoria and later ran a gift shop. Kathy later used her creativity and business chops to land deals with QVC and HSN to peddle household products and a skin care line, respectively, per The Wall Street Journal. She has also worked as a designer.
With her childhood acting career a distant memory, Kathy has no plans to follow in her younger sisters' footsteps as a full-time reality star, either. Both Kim and Kyle have held "RHOBH" diamonds (Bravo-speak for a role as a full time Housewife), but Kathy recently told Entertainment Tonight, "I will never hold a diamond, ever," adding that she has too much else on her "plate."