What Is Simone Biles' Biggest Fear?
Shutterstock
As we finally approach the Tokyo Olympics after more than 12 months of delays (thanks, pandemic!) the name on everyone's mind is, of course, Simone Biles. The gymnast is a favorite for the gold at this year's games. It's a logical conclusion that Biles might win big this year, considering that at the 2016 Olympics in Rio de Janeiro, she took home four gold medals and one bronze, per the Olympics website.
Though gymnastics is her bread and butter, Biles has become a bonafide superstar, easily the equivalent of Michael Phelps or Usain Bolt. Well actually, as she said in 2016 (via Olympics.com) "I'm not the next Usain Bolt or Michael Phelps – I'm the first Simone Biles." With over 4 million Instagram followers, Biles rakes in thousands of dollars worth of sponsorship and endorsement deals with brands like Nike and Hershey, and she has her own line of gym equipment, per Forbes. In total, Biles' net worth is estimated to top $6 million, per Life and Style.
Given her success both on and off the mat, it might come as a surprise then, to learn that Biles, who has fearlessly chased her dreams all the way to Olympic gold, is afraid of anything, but apparently, she is. Here's what she's afraid of.
Simone Biles was afraid she 'peaked' in 2016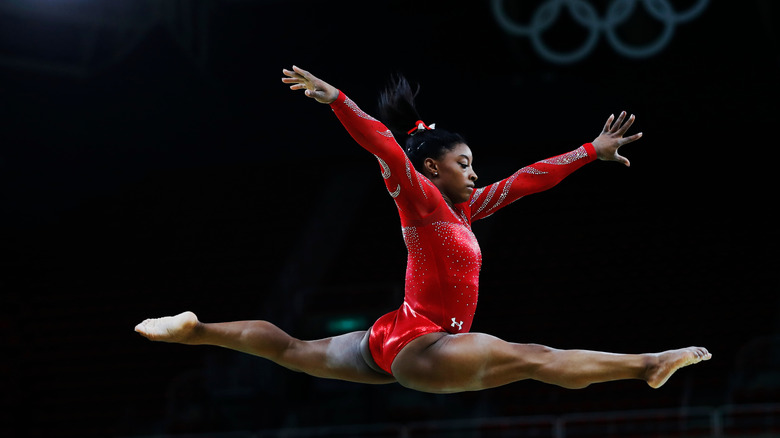 Shutterstock
It goes without saying that Simone Biles is a high achiever, after all; she has four Olympic gold medals. Four gold medals might be good enough for your average joe, but not for Biles. Biles puts a ton of pressure on herself to always beat her personal best and her fear is anything less. 
In a July 13 interview with WSJ Magazine, Biles admitted that she worried she wouldn't ever be able to top her 2016 Rio Olympics performance. "[I] thought I'd] hit the peak of [my] career. I was like, 'How can I get any better than that?'" she said. Biles explained that the first time she went to the gym after the Rio Games, she was seriously feeling the pressure. "And so I was really nervous walking into the gym." But after some tireless work (and practice) she is feeling ready. "Now I can enjoy my gymnastics. It's really up to me," she said. "And that probably also comes along with how many titles I've won and everything I've established."
Biles stays grounded by reminding herself that the only person she has to compete with is herself. "It's like, okay, well, the facts are on the paper. I feel like now I don't have to prove anything to anybody," she said. "I'm trying to level up."