How Much Is Simone Manuel Actually Worth?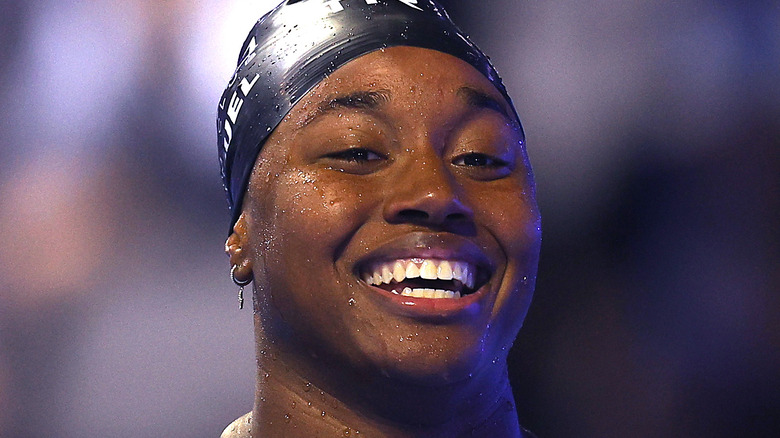 Maddie Meyer/Getty Images
Swimmer Simone Manuel made history at the 2016 Summer Olympics, and she will go for gold (literally) at the Tokyo Olympics. The swimmer faced significant challenges heading into these Olympics, but she's ready and eager to compete again ... and continue making history! 
CNN shared Manuel started swimming when she was just four, as her parents wanted her to be safe in the water. She fell in love with the sport and by nine, her talent was obvious. However, as the Olympics Twitter page noted, Manuel was often the only Black swimmer present at competitions. "I see other Blacks and African-Americans doing basketball, and running and doing volleyball, so I think the hardest part was coming to terms with, you know, this is what you love to do so you should do it," she explained to CNN.
As she wrote for The Undefeated, Manuel had "a nagging voice" in her head when she was 12 that "told me I should give up swimming." Manuel pushed forward, but "It's unsettling when you're always having to defend what you love" by being a Black swimmer. "It is something I've definitely struggled with a lot," she told USA Today. "Coming into the race I tried to take weight of the Black community off my shoulders. It's something I carry with me. I want to be an inspiration, but I would like there to be a day when it is not 'Simone the Black swimmer.'" Here's the star's net worth.
Simone Manuel has pushed through challenges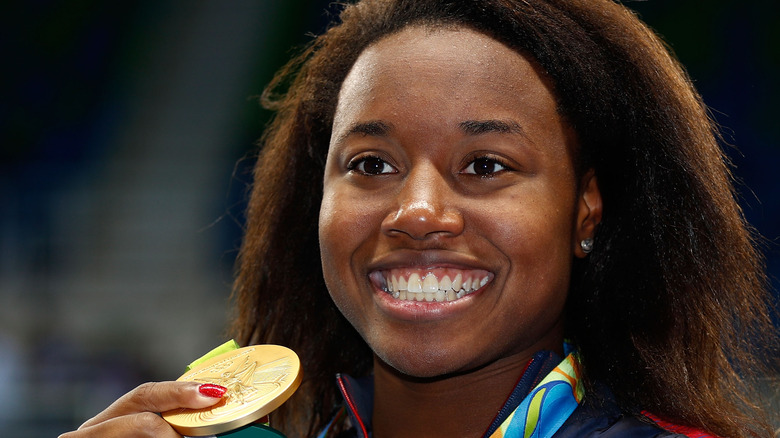 Clive Rose/Getty Images
Although Simone Manuel had to navigate self-doubt and plenty of pressure, she told The Undefeated she "was not here to apologize for my ambition." So far, her ambition has served her well, leading her to become the first Black American woman to win an individual swimming event in the Olympics (per The New York Times). 
Manuel will be in Tokyo aiming for gold again, but for a while, it looked as if that wouldn't be the case. Yahoo! Sports detailed that in January, Manuel struggled with an elevated heart rate, shortness of breath, and muscle fatigue. The issues got worse as she faced her "biggest fight" with what was deemed "overtraining syndrome." Anxiety, a lack of appetite, depression, isolation, and insomnia took over and in June, she failed to qualify for the Olympics in the race where she'd won gold in 2016. Luckily, she had another shot at gaining a spot and she did it.
After her 2016 Olympic wins, Manuel told ESPN she would return to Stanford University to continue swimming rather than turn professional and scoop up endorsement money. In July 2018, Manuel revealed she would forgo her final year of college eligibility so could she sign deals (per Forbes). She has signed on with Nike and TYR, noted Swim Swam, and Sports Illustrated added she's connected with Coca-Cola and Toyota too. Celebrity Net Worth estimates she's currently worth $3 million, and solid Tokyo Olympic performances would likely spark more!