Everything We Know About Braunwyn Windham-Burke's Trial Separation From Her Husband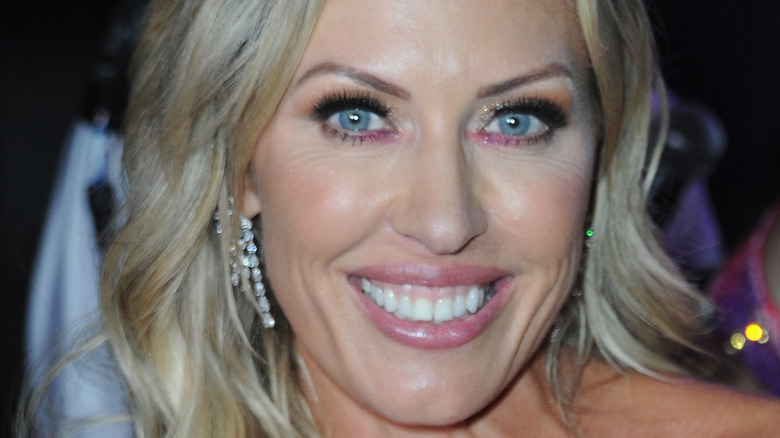 Albert L. Ortega/Getty Images
Braunwyn Windham-Burke is no stranger to drama — she's a former star of "The Real Housewives of Orange County," but her latest move on social media is raising eyebrows.
Fans of the show will remember when she came out as gay in a December 2020 GLAAD interview. "I like women. I'm gay," she said. "I'm a member of the LGBTQ+ community. It has taken me 42 years to say that but I am so proud of where I am right now. I'm so happy where I am. To be able to be comfortable in my own skin after so long is just so nice." She and her husband Sean are not planning to divorce, but she is "not attracted to men." "I love Sean. I love him dearly, he is my person, he is my family," she added.
As for Sean, he remains supportive of Braunwyn, saying, "She's so much happier and we don't fight," according to a January Page Six report. Although these two appear to be on good terms, they are once again making headlines — keep reading for more details.
Braunwyn Windham-Burke and her husband are testing out a trial separation
Braunwyn Windham-Burke and her husband Sean Burke revealed on an Instagram Live that they are experimenting with a "trial run separation." Braunwyn will reportedly live in Hawaii with her children for two months and Sean will rent a home in Newport Beach, Calif.
"We are packing up this house, the one we filmed in last year, and we are moving," she said. " ... We have decided jointly that we are going to take a few months apart." She emphasized that they are "putting our children first." "What we are doing right now is really healthy for them. I am taking my kids for six or seven weeks and when they come back, they will have a place at their father's," she added. Sean seemed on board for the changes, noting Kaui is "like a second home" and is "excited about getting [his] own place." If things go well, Braunwyn and Sean might purchase a home where all of the children live and the adults will rotate.
Braunwyn went on to say that "We really want to do what's best for us — we are family, we've been together for 26 years. That's a lot and that's something we don't want to minimize — we want to honor that." She is hopeful that being away from Sean will give "clarity."