Inside A'ja Wilson's Relationship With Josh Cunningham
Harry How/Getty Images
WNBA star A'ja Wilson is heading to this summer's Tokyo Olympics for the first time as part of the U.S. team. Wilson plays for the Las Vegas Aces, where, according to her WNBA bio, she "ranks 5th in WNBA history in scoring average among players who have played at least 80 games." In 2020, Wilson was also named the Most Valuable Player for Las Vegas, and in 2018, she was the WNBA Rookie of the Year.
When Wilson isn't on the basketball court, she's apparently spending time with her boyfriend, Josh Cunningham, who is a forward for the G-League Westchester Knicks. That's right, they both play basketball, and the WNBA star has admitted it's hard not to give her man advice on his game. Wilson told the Dayton Daily News, "He's probably tired of hearing it from me. But that's the hard part of having a girlfriend who's a basketball player too."
Yet, Cunningham is probably used to it, since the two first met when they were both just in high school. Wilson had reached out to Cunningham when he was being recruited by the University of South Carolina. She says she messaged him not only so he'd consider the school too, but also "just to find out a little bit about who he was." Wilson recalled, "Josh is a man of few words though. So as we messaged ... and there were some awkward moments." While they ended up going to different schools, they still ended up together!
They have a lot in common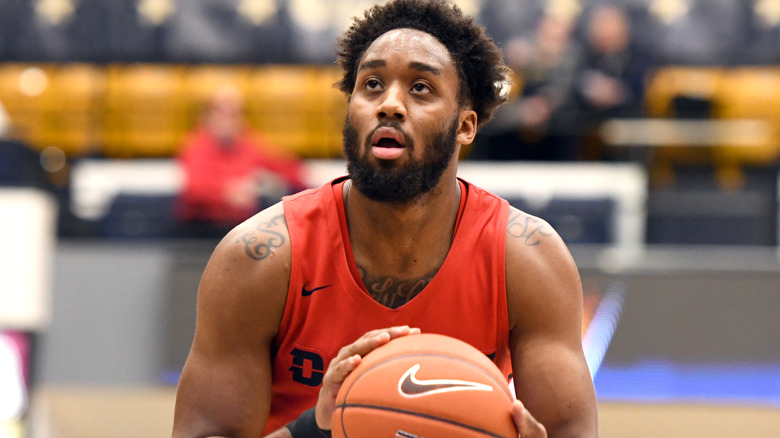 Mitchell Layton/Getty Images
While it's obvious that A'ja Wilson and Josh Cunningham share a love for their sport, the two got together for other reasons. "We finally started to realize we have a lot in common," Wilson told Dayton Daily News when the two were messaging at the beginning of their relationship. "We have soooo much in common — even our birthdays."
Yet, it seems that the couple may want to keep their relationship private, since they don't have any photos of each other on their Instagrams, with both mainly sticking to basketball content. But as Wilson gushed to Dayton Daily News in 2018, "There's just something about Josh. It's his personality and who he is as a man that I just really enjoy. I enjoy having him as a boyfriend." Cunningham appears to share a similar sentiment in that he said of Wilson, "She's just a great person. She very understanding — just a great girl." Aw!
Even though Wilson is a WNBA superstar, when it comes to dating, she seems pretty low-key. She added, "We'll go eat. We'll watch movies at home and if we both agree, we might go bowling or see a movie out." Of course, with Wilson gearing up for the Olympics, they probably won't have as much time together. But they appear to be used to long distances. Wilson revealed, "We really, really FaceTime a lot ... we're finding a way to make it work."