Weird Things Everyone Just Ignores About Cameron Diaz's Marriage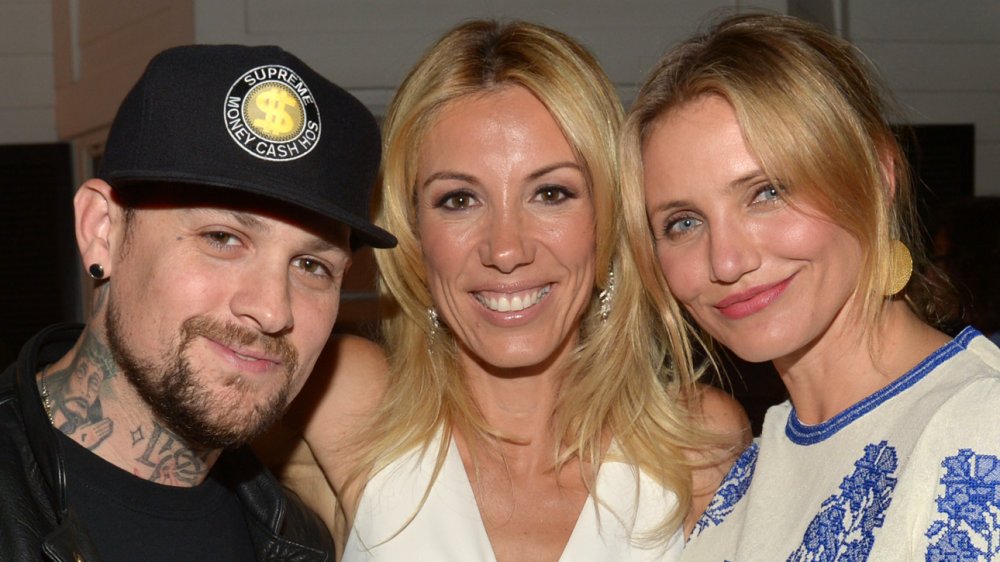 Jason Kempin/Getty Images
We may receive a commission on purchases made from links.
Every so often, Hollywood produces a celebrity couple that you never saw coming. From Lyle Lovett and Julia Roberts, to Rachel Evan Wood and Marilyn Manson, to Lisa Marie Presley and Michael Jackson, there has been no shortage of head-scratchers when it comes to star parings. 
But in 2015, eyebrows really shot up when A-list actress Cameron Diaz and Good Charlotte guitarist Benji Madden shocked fans with their race to the altar — They weren't even dating for a year before saying their I-do's! Sure, they're both extremely talented, good-looking famous people, but they're not exactly a duo whose paths you'd have expected to cross. Benji Madden and Juliette Lewis? We could buy that. Cameron Diaz and John Mayer? Yeah, that's probably closer to expectations. 
But one of the stars of Shrek and the rocker with the face tats? Come on. Anyway, here are the quirky details about this unexpected union. 
A rockstar changed Diaz's tune about marriage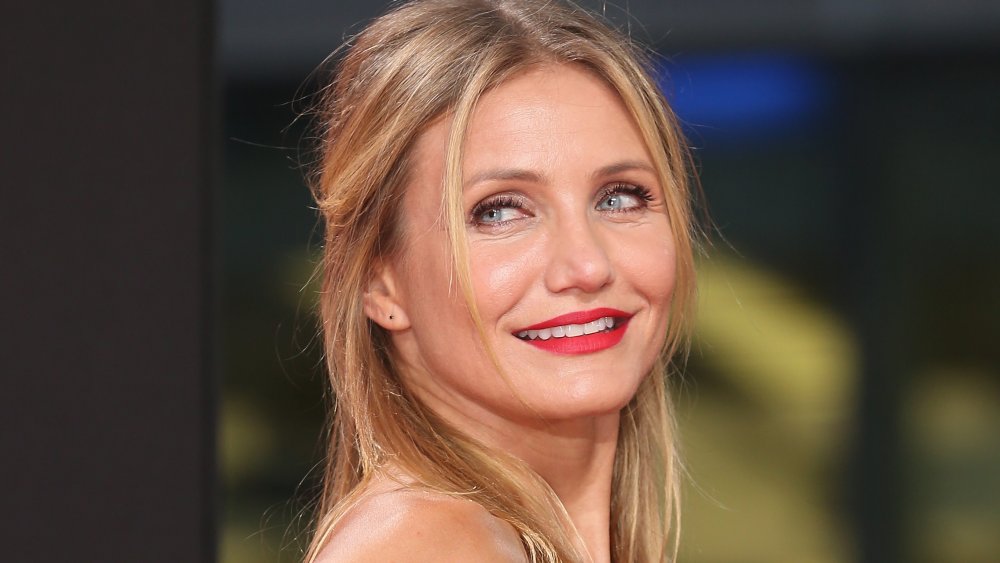 Sean Gallup/Getty Images
No one was more surprised about her union to Benji Madden than Cameron Diaz herself. She'd previously opened up about marriage to Stylist while discussing the love between the main characters in the Shrek franchise, in which she voices the ogre princess Fiona. "There is someone out there you are meant to be loved by and you are meant to love," she said, "but I think the big misconception in our society is that we're supposed to meet [the one] when we're 18 and we're supposed to get married to them and love them for the rest of our lives. Bulls***."
She echoed those sentiments in a 2011 interview for Maxim's Hot 100 List (via The Huffington Post), going a step further by agreeing with the interviewer that marriage was a dying tradition. "I think we have to make our own rules. I don't think we should live our lives in relationships based off of old traditions that don't suit our world any longer." Interesting.
Diaz reversed course after tying the knot with rock star Madden, claiming their union was one of the highlights of her life. In an interview with Harper's Bazaar, she said, " [Marriage] was the biggest thing I've done in my 40s, and it opened me up in different ways. It's pretty awesome. I didn't think it was something I'd do, and I don't know if I'd have done it if I hadn't met my husband. It was a surprise." They say true love always finds a way!
Cameron Diaz and Benji Madden's wedding lasted just 15 minutes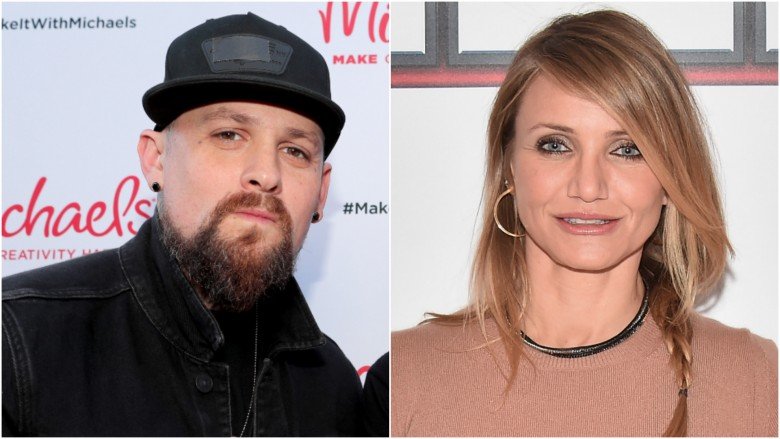 Christopher Polk, Theo Wargo/Getty Images
You may think that this Hollywood couple would demand a huge, lavish wedding, but think again. Diaz and Madden chose to get married on Jan. 5, 2015, inside their home with a few (read: 96) guests, reported E! Online.
According to Us Weekly, the event was "a beautiful, heartfelt ceremony." Madden's sister-in-law, Nicole Richie, and Diaz's Charlie's Angels (2000) co-star, Drew Barrymore, were bridesmaids. Guests included friends Gwyneth Paltrow, Samantha Ronson, Lionel Richie, and Judd Apatow. The ceremony itself reportedly only lasted about 15 minutes, then guests were encouraged to go outside to enjoy cocktails and music underneath a decorated tent. Diaz and Madden reportedly enjoyed their first night as a married couple at home and set off on a honeymoon in Wyoming later that month.
While it's no elaborate wedding in Paris, we have to admit that this quick, intimate affair and rustic honeymoon sounds simple and sweet.
Nicole Richie: 'Hello, is it him you're looking for?'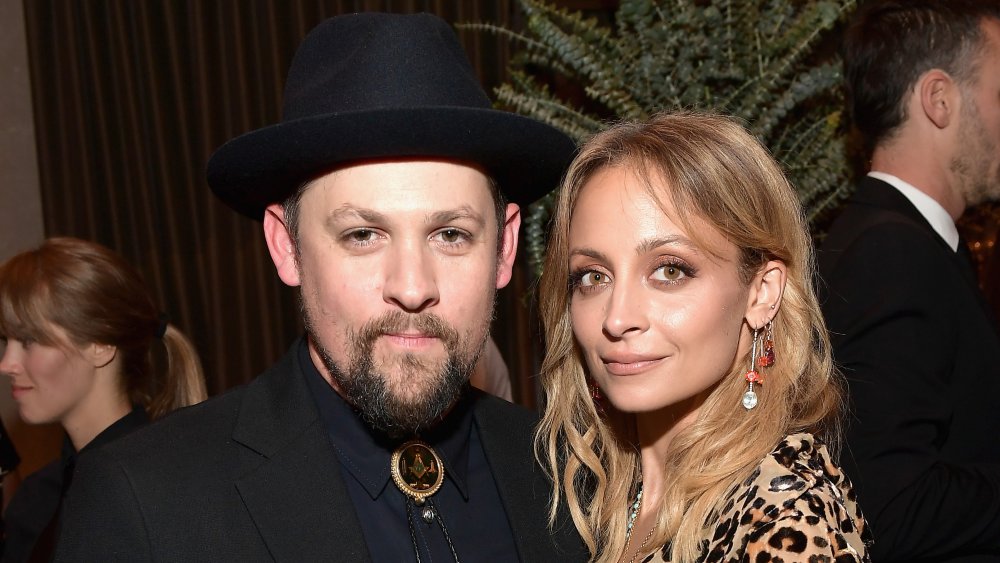 Matt Winkelmeyer/Getty Images
Cameron Diaz's longtime friend Nicole Richie, whom you probably know as the star of the reality show The Simple Life (2003-07) co-starring Paris Hilton, reportedly introduced her gal pal Diaz to Benji Madden, who happens to be Richie's brother-in-law.
Lionel Richie's daughter is clearly thrilled that sparks flew between her friend and family member. During an interview on Watch What Happens Live, a caller asked if Nicole played matchmaker for Diaz and Madden, and she responded, "I'm going to take responsibility for everything!" Nicole added, "I approve of anything that's going to make Benj happy."
In reality, it was a simple backyard BBQ that brought Diaz and Madden together, which fortunately means their union didn't involve the kind of deception Nicole engaged in to snag her husband, Benji's twin brother, Joel Madden, whom she once told Ryan Seacrest that she lied to about being into The Wire just so he would hang out with her. 
But hey, both relationships worked out in the end, and now that the vows have been said, Diaz and Nicole have got to be two of the most stylish sisters-in-law in Hollywood.
Cameron Diaz was instantly attracted to Benji Madden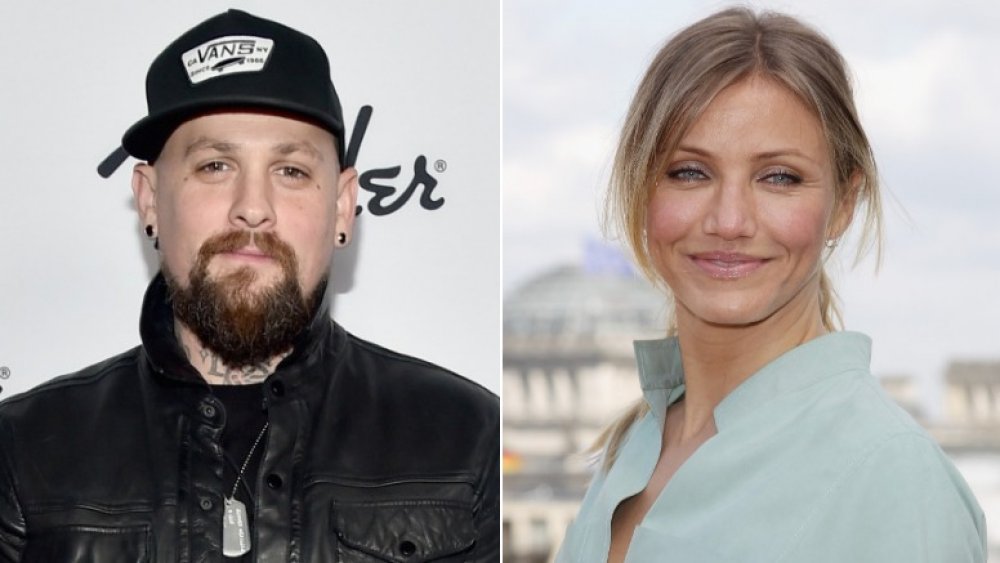 Alberto E. Rodriguez, Andreas Rentz/Getty Images
It didn't take long for Camron Diaz and Benji Madden to say "I do." During a press event in Ridgewood, N.J. for her lifestyle guide, The Longevity Book, Diaz opened up about her instant attraction to her husband. "It was one of those things where everyone tells you, 'You just know when you know,'" she said (via the Daily Mail).
The pair dated about seven months before getting engaged, and that engagement was rumored to have only lasted 17 days, but Diaz set the timeline straight to Andy Cohen on his Sirius XM channel (via Glamour), clarifying that they were actually engaged for about 3 months. In all honesty, we're surprised it took that long the way Diaz talks about her passion for Madden. "First time I met him, I was like, 'He's hot! How come I didn't know this before?'" she told Cohen, adding, "A year later, I saw him again and was like wait a second, 'He's still hot!'"
Has anyone checked on Oprah's couch recently? Because we get the feeling it went into hiding out of fear that Diaz might want to come on for a Tom Cruise-style confession of love. 
Don't judge a book by its throat tattoos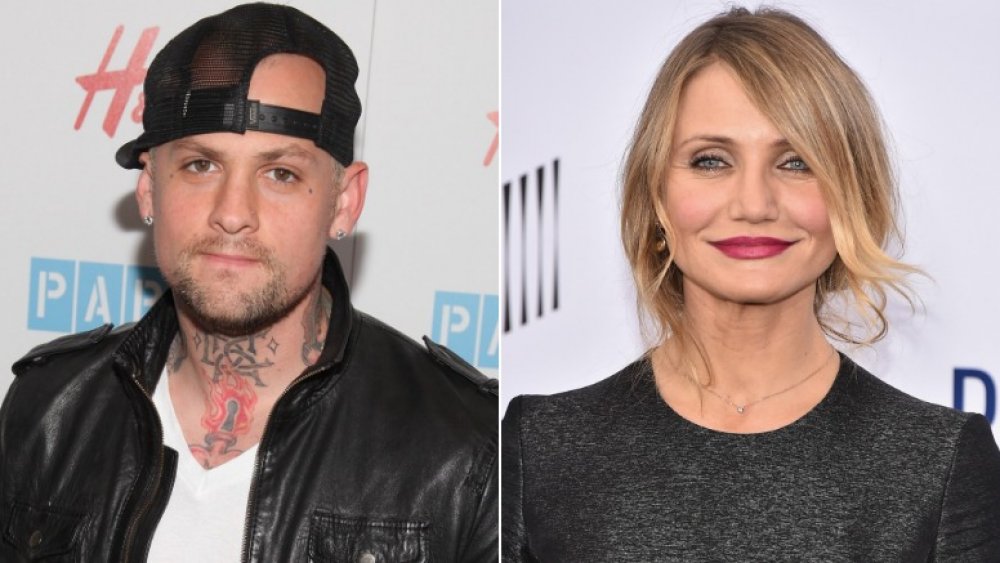 Angela Weiss, Theo Wargo/Getty Images
At least on paper, these two couldn't be more different. Cameron Diaz has long been considered America's sweetheart with her beautiful blonde hair, piercing blue eyes, and, of course, her wide smile. She's played adorable love interests in films such as My Best Friend's Wedding (1997) and There's Something About Mary (1998) and worked as a model before getting into movies, snagging a very patriotic cover on Seventeen magazine in her youth.
But Benji Madden? The heavily pierced and tattooed Good Charlotte guitarist is known for being bad. While he hasn't found himself in deep trouble with the law, he has built his celebrity image around angst and rebellion — a stark contrast to his wife's girl-next-door persona. You know what they say — opposites attract, even polar opposites, apparently.
One thing they do have in common? The desire for privacy. Speaking with news.com.au, Madden said, "It's a personal choice but it also comes second nature to us. We're just happy. The less outside elements or influence that there is the better for anyone. That's our vibe."    
Wait, who's the edgy rocker here?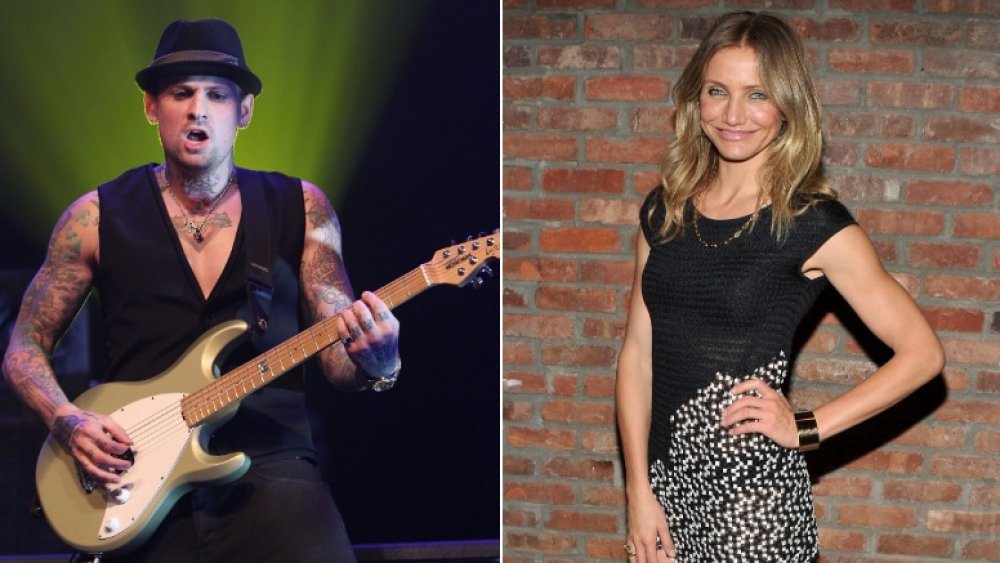 Mark Metcalfe, Stephen Lovekin/Getty Images
While most people recognize Benji Madden as a member of Good Charlotte, some may be surprised to learn he's also an accomplished songwriter and manager who's worked with the likes of Jessie J. At the time of this writing, he's also logged two seasons as a judge on Australia's The Voice alongside his twin brother, Joel (Nicole Richie's husband).
Cameron Diaz is a household name with a long list of A-list projects packing her resume, including Gangs of New York (2002) and Vanilla Sky (2001). She's also branching out professionally, writing books about wellness, including 2016's The Longevity Book: the Science of Aging, the Biology of Strength, and the Privilege of Time, and 2013's The Body Book: The Law of Hunger, the Science of Strength, and Other Ways to Love Your Amazing Body, in which she famously warned women against permanently lasering off their pubic hair. 
Actually now that we think about it, with Madden's move towards mainstream credits like network TV, and Diaz's pivot toward more edgy advice about ladyscaping, perhaps these two are more alike than we previously thought.
Benji Madden and Cameron Diaz's little black books were full of celebs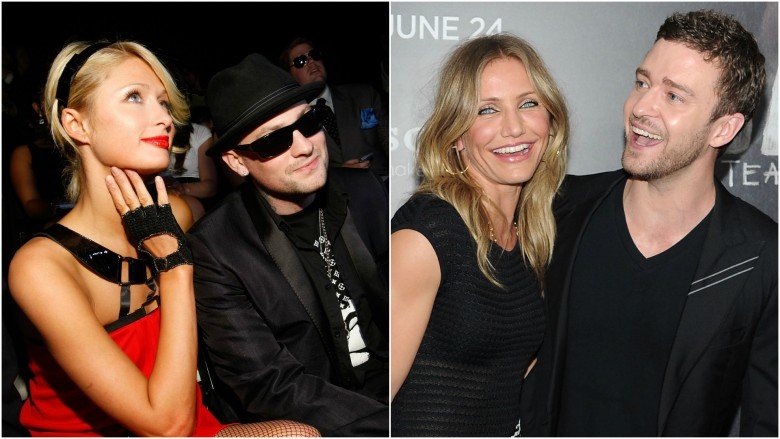 Gabriel Bouys, Jason Kempin/Getty Images
Sometimes you have to kiss a few frogs before you find your prince, but in Cameron Diaz's case, those frogs were all celebrity A-listers. Over the past 20 years, she's dated a number of handsome Hollywood men, including Justin Timberlake, Jared Leto, and Matt Dillon, not to mention Yankees baseball player Alex Rodriguez.
Benji Madden has been involved with his fair share of women as well. He dated socialite Paris Hilton and The Girls Next Door (2005-09) Playboy bunny Holly Madison, reportedly had a fling with Miley Cyrus, and was briefly engaged to actress Sophie Monk.
While there's nothing wrong with exploring your dating options, it must be awkward to potentially run into all of your exes in the same town. Luckily, there doesn't seem to be much bad blood between this married couple and their exes. Diaz worked with Timberlake on Bad Teacher (2011) after their breakup and had nothing but good things to say about him. However, Madden's ex-fiancée may have passive-aggressively bashed Diaz's age (Diaz is about seven years older than both Madden and Monk.) According to The Daily Telegraph, the Click (2006) actress made a point to tell an interviewer, "I remember being in [eighth grade] or something and looking up to Cameron and going 'wow, one day I want to be funny and be in the industry..." She also said she wanted Madden "to be happy, so if he's found someone that makes him happy that's awesome."
Cameron Diaz calls marriage 'a double-edged sword'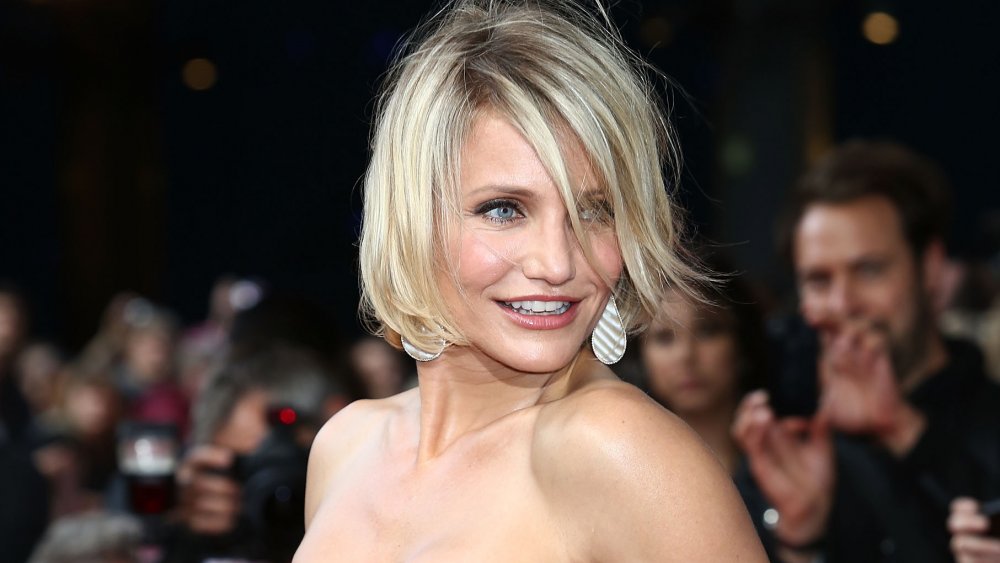 Tim P. Whitby/Getty Images
Just because Cameron Diaz has found a deep connection to Benji Madden, don't expect to see her become a love-drunk wife. During an appearance on The Ellen DeGeneres Show, the actress said she thinks of her marriage to Madden as a "double-edged sword." While she appreciates the relationship, Diaz said she's gotten to know herself on a deeper level — and she's not always happy about that.
"Someone asked me, 'What's your favorite thing about being married?' and I said, 'I just learned so much about myself. I didn't know these things. I would have never known them if I didn't have my husband to help me.'" She continued, "And they said, 'What's the worst thing about being married?' It's like, 'Well, I learned all these things about myself that I wish I didn't know. And I wouldn't have learned them if I didn't get married.' So it's like this double-edged sword." 
Ultimately, Diaz explained that she's grateful to have her husband by her side each day, regardless of her newly discovered imperfections. 
Is Cameron Diaz a woman scorned?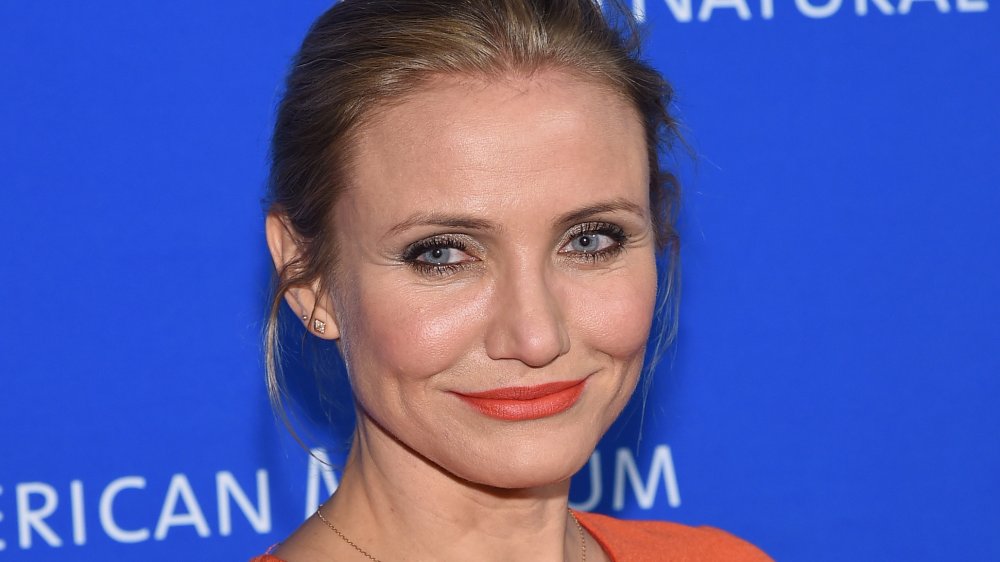 Jamie Mccarthy/Getty Images
About a year before she tied the knot with Bemji Madden, Cameron Diaz made headlines for some of her rather blunt, if cynical, outlooks on love, particularly when it comes to infidelity.
"Everybody has been cheated on," she told UK's OK! magazine (via New York Daily News). "Everyone will be cheated on." She added, "I can't fix that. I don't know how. I don't have any judgment on anybody ... We are human beings, we are complicated," Diaz said. "You cannot go through life without tallying up a few scars, you cannot go through life unscathed, it's just what it is. It's all meant to happen, take your lessons, figure it out, move on."
While it's possible that Diaz was speaking as a woman scorned, it's also possible that she simply had not met the right man yet. She said as much during an event in June 2017, while discussing why she waited so long to get married. "I think it's a matter of I just hadn't met my husband," she said (via People). "I had boyfriends before, and there's a really, really distinct difference between husbands and boyfriends."
"[Madden is] just my partner in life, in everything." she continued. "I've never had anyone who supported me so much and gave me so much courage to be myself and to really explore myself. My husband has been able to show me what it's like to [...] be an equal. And I've learned so much from him. I look at him every day and he inspires me. I feel so lucky."
Well, better late than never.