Inside Cat Osterman's Marriage To Joey Ashley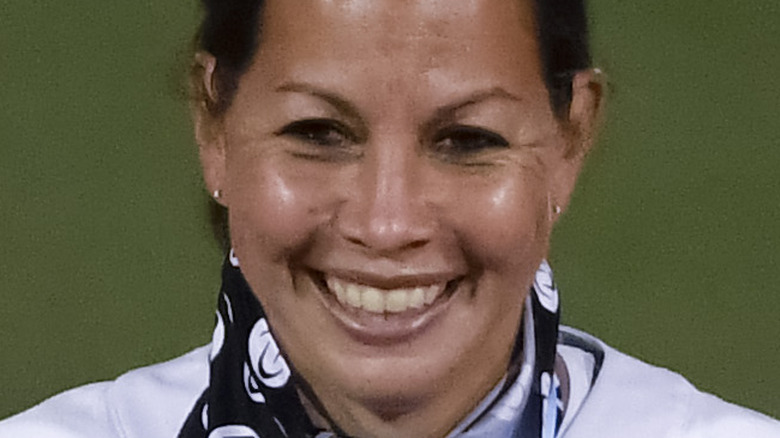 Quinn Harris/Getty Images
Cat Osterman is competing in her third Olympics in Tokyo this year. The veteran athlete played on the 2004 and 2008 Olympics softball teams, taking home a gold medal from the 2004 Olympics in Athens and a silver medal in the 2008 Olympics in Beijing, per her official website. She was in college during her first Olympics and just out of college at the University of Texas during her second Olympics.
Now 38, Osterman had an interesting path to her third Olympics. She retired from competitive softball in 2015 after pitching for eight years in the National Pro Fastpitch League. Considered one of the best pitchers on the planet, she left it behind to become the pitching coach at Texas State University in San Marcos as well as to get married and become a stepmom, per The Oklahoman.
In early 2018, Osterman was approached about coaching the 2020 Olympic softball team. But Osterman decided she'd rather compete than coach — and in 2021, she's doing just that. Osterman thought she'd have to give up her job and be away from her husband, who also works at Texas State. But her boss stood by her, as did her husband. Here's what to know about the Olympic athlete's marriage.
Cat Osterman and Joey Ashley both work at Texas State University
Cat Osterman and her husband, Joey Ashley, are both native Texans. Ashley was coaching high school golf when they married in 2016. In marrying Ashley, Osterman became a stepmom to his daughter Bracken as well. She often shares pictures of her husband and 8-year-old stepdaughter on Instagram. Osterman shared with Romper in June 2021 that Bracken is into softball and pitching, too.
These days, Ashley is an assistant golf coach at Texas State University. During the pandemic, he was instrumental in his wife's return to Olympic-caliber softball. In a May 2021 interview with FanSided, Osterman said she and Ashely prepped for the Olympics during the COVID-19 quarantine in their backyard, with Ashley serving as Osterman's catcher. "I am very fortunate that he has stepped up to get behind the plate and allowed me to train, especially with the pandemic, 'cause there was a while where I wasn't sure how I was going to throw," Osterman said to the outlet. 
With her husband and stepdaughter taking an interest in softball, Osterman has been able to train for her Olympics return, despite the pandemic. And fans can't wait to see her compete for Team USA one more time.