The Truth About Queen Elizabeth's Relationship With The Bush Family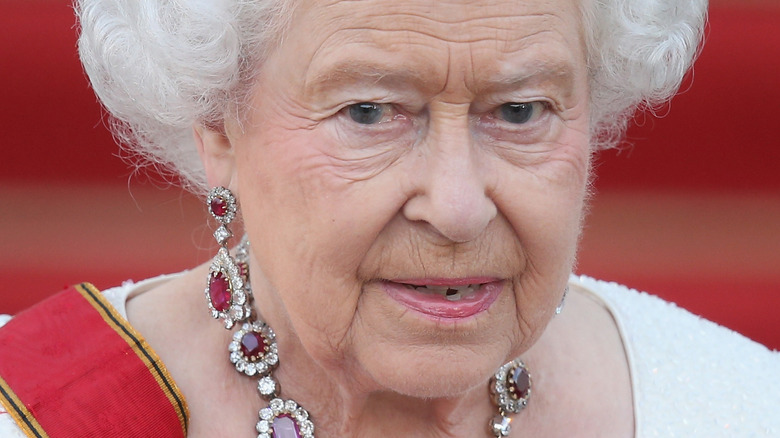 Sean Gallup/Getty Images
Look; you've undoubtedly watched a bit of "The Crown," and if not, you're likely familiar with the concept. The Netflix series traces the life of Queen Elizabeth from childhood to the '90s. And while the show focuses on the socio-political issues the long-ruling monarch has had to face, it pulls most of its drama from her personal relationships. While being one of the most recognizable figures in the world, the queen is also one of the most mysterious.
As is tradition in the royal family, the queen has rarely spoken about her personal life, leaving us commoners to piece our theories together from tabloid headlines and unofficial royal biographers. If "The Crown" is any indication, the queen's professional relationships have been just as significant and stressful to the monarch as her personal ones. Of course, one of her most important relationships is that with the sitting president of the United States.
Elizabeth was famously fond of Nancy and Ronald Reagan and had a slightly more complex relationship with Nixon, who reportedly tried to set up his daughter with Prince Charles. Given their political lineage, Elizabeth has also gotten to know the Bush's pretty well. So, what does she think of the two former presidents and their families? Read on to find out.
George W. impressed the queen with his custom cowboy boots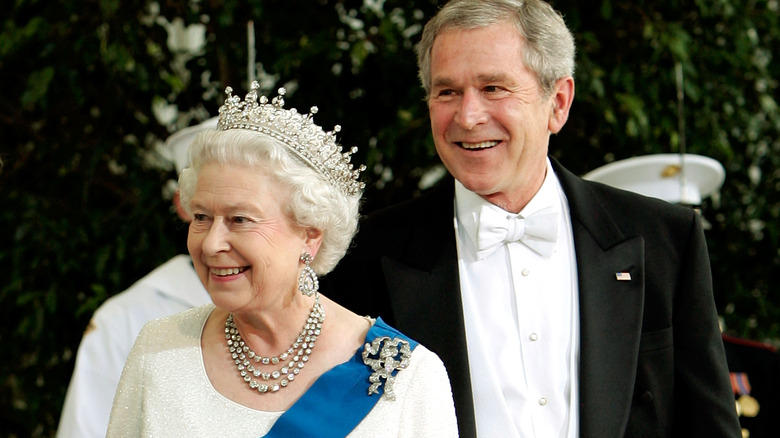 Win Mcnamee/Getty Images
Evidence of the close relationship between Queen Elizabeth and the Bushes can be found in the touching statement she released after George H.W. Bush's death in 2018. "It was with great sadness that I learned of the death of President H.W. Bush last night," she said, per Town & Country. "Prince Philip and I remember our days in Texas in 1991 with great fondness. My thoughts and prayers are with President Bush's family and the American people."
According to royal biographer Robert Hardman, H.W. and Elizabeth deeply respected each other. Elizabeth admired his patriotism and the late former president admired the monarch's stamina on her 1991 U.S. visit where she addressed both congress and the senate and attended multiple state engagements. "Rain or shine, your long walks have left even the Secret Service agents panting," H.W. told the queen during the trip, per Hardman. 
Elizabeth reportedly also took a liking to the future president, George W. Upon meeting the younger Bush at the White House, Elizabeth instantly noticed that he was wearing cowboy boots branded with the words: "God Save the Queen." Elizabeth and W. struck up a conversation, and the queen asked him if he was the black sheep of his family, to which he replied, "I guess so," per Fox News. "All families have them," Elizabeth responded, per the outlet. Then, W. asked "Who's yours?" but was quickly shushed by mom Barbara Bush. Ha!