How Much Is Richard Sherman Actually Worth?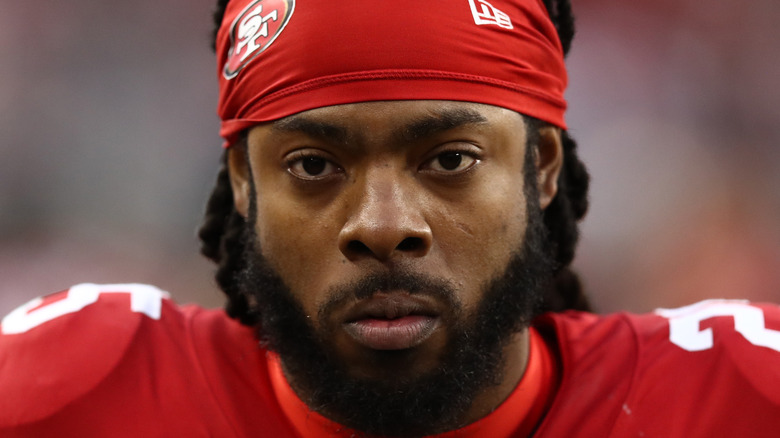 Ezra Shaw/Getty Images
NFL star Richard Sherman began his career with the Seattle Seahawks and played seven seasons with them. He then joined the San Francisco 49ers in March 2018, per ESPN. The Stanford University graduate played in five Pro Bowls, according to CNN. Judging from his credentials, it'll come as no surprise that Sherman is considered an elite cornerback.
However, Sherman has been in the news for reasons unrelated to his football career. On July 14, 2021, Sherman was arrested in Richmond, Washington, in regards to a domestic violence investigation, per CNN. Sherman was arrested at the home of his wife's parents; according to reports he damaged their front door but did not gain access into the home. He is also facing possible charges related to a "DUI and hit-and-run charges related to a separate incident," per ESPN.
While this is a lot to take in, Sherman has had a remarkable career, which may very well continue. So with this in mind, let's take a look at his net worth.
Richard Sherman has a hefty fortune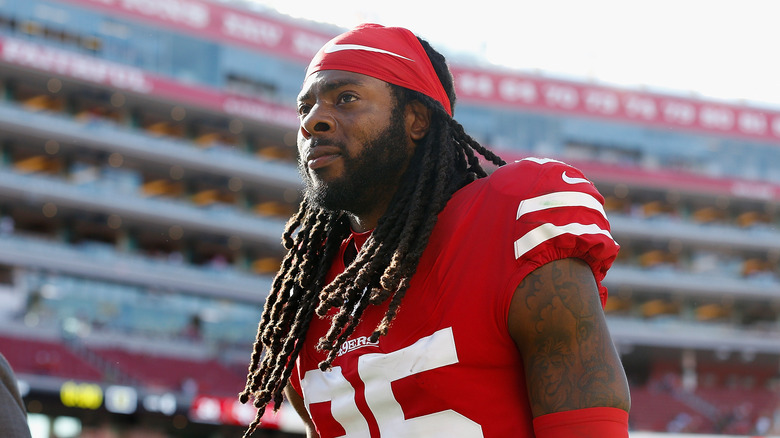 Lachlan Cunningham/Getty Images
Richard Sherman has an impressive net worth, ringing in at $40 million, according to Celebrity Net Worth. His contract with the Seattle Seahawks, which he signed in 2014, was a $56 million contract, with $40 million guaranteed. Before joining the San Francisco 49ers, he signed a three-year contract worth $27 million.
Sherman's net worth also came thanks to endorsements. In fact, one cursory scroll through his Instagram account and it's evident that he has been flooded with sponsored content and endorsements. Sherman has sponcon with Lucyd, an eyewear company that he frequently shares about on his social media. He also is endorsed by BODYARMOR sports drink. He also has endorsements from Nike, T-Mobile, Beats by Dr. Dre, and more, according to Celebrity Net Worth.
We're obsessed with NFL net worths because they're so darn impressive. There's the major names like Tom Brady and his whopping net worth, as well as Russell Wilson and his huge fortune. We can't forget about Aaron Rodgers either. In fact, if you're into this sort of thing, check out who the richest NFL stars are.