Who Is Britney Spears' New Lawyer, Mathew Rosengart?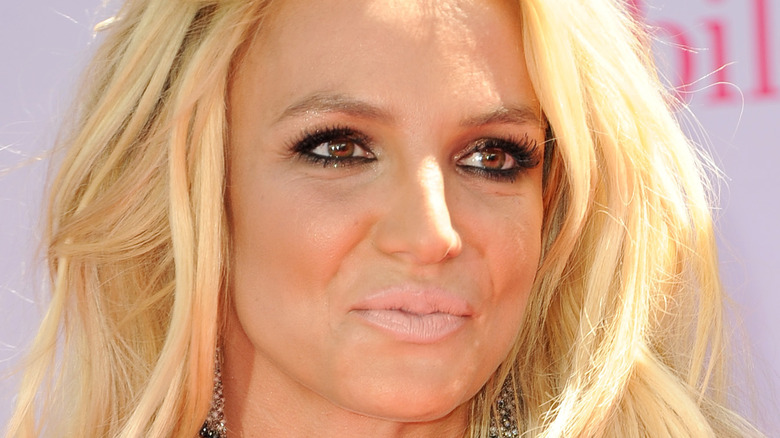 Shutterstock
Britney Spears is back and ready to dominate the courtroom with the assistance of one of Hollywood's top attorneys. Britney was granted new representation during a hearing on July 14, less than a week after her court-appointed lawyer Samuel Ingham resigned. Ingham, who represented Britney since 2008, withdrew from his position after the singer claimed he misled her, per The New York Times.
During a shocking testimony on June 23, Britney claimed she was unaware she could terminate her conservatorship altogether, however, Ingham reportedly said otherwise, per Daily Mail. Previously, the Grammy winner simply focussed on removing her father Jamie Spears as sole conservator. "I'm sorry for my ignorance, but I honestly didn't know that. My attorney says I can't — it's not good, I can't let the public know anything they did to me. He told me I should keep it to myself, really," she said.
Wasting no time, Britney moved on to high-profile attorney Mathew Rosengart, with TMZ reporting she personally filed documentation on July 10. A source told Page Six Britney had "multiple conservations" with Rosengart and expressed concern once Ingham resigned, saying, "Mathew has assured her that she will be in good hands if the judge appoints him. He has been keeping close tabs on her case for a while now and felt that her testimony last month was very compelling. He'll be in court tomorrow."
After Rosengart was given the green light to represent Britney, he told the media he'd be moving "promptly" and "aggressively" for Jamie's removal, per 9Honey. So, who is he exactly?
Britney Spears says she's finally got 'real representation'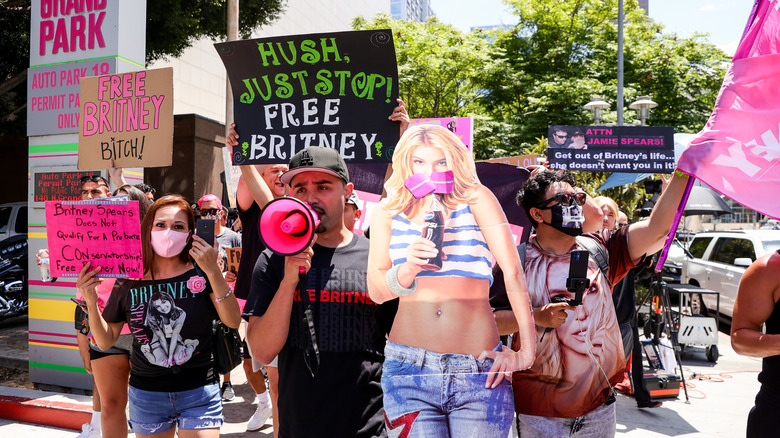 Rich Fury/Getty Images
Britney Spears got her attorney of choice approved and she couldn't be happier. Following the news, the 39-year-old thanked fans and shared to social media a video of her "celebrating by horseback riding and doing cartwheels" and wrote on Twitter, "New with real representation today ... I feel GRATITUDE and BLESSED !!!!" While the "Toxic" singer wasn't present in court (she appeared virtually) around 100 #FreeBritney fans chanted outside the Los Angeles Superior Court on July 14, managing to get a glimpse of her new representation.
Surrounded by his team from Greenberg Traurig, lawyer Mathew Rosengart told the court he would be filing paperwork in a few weeks to end what Britney had previously called her "traumatizing" conservatorship with her father Jamie Spears involved, per Deadline. He also declared to the media that it's in Britney's "best interests" that Jamie step down immediately. "We will be moving promptly and aggressively for his removal. The question remains why is he involved? He should step down voluntarily as that is in the best interests of Britney Spear, consistent with the law of conservatorship." 
And it seems as if his aggressive legal approach is favored by former A-list clients of his.
Mathew Rosengart's previous clients include Ben Affleck and Steven Spielberg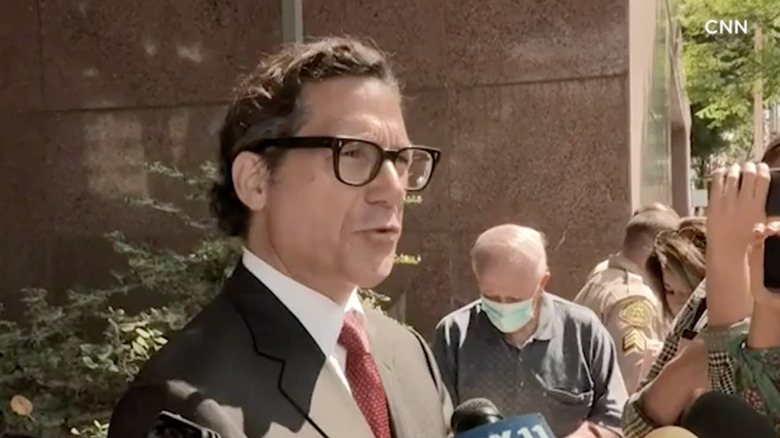 CNN
The 58-year-old, who's a partner of his firm Greenberg Traurig, has been described by the Los Angeles Business Journal as "one of the most influential litigators and trial attorneys in Los Angeles," and a "go to litigator for Hollywood's elite and Corporate America." Mathew Rosengart received his J.D. at the Boston College Law School, and then worked as a law clerk for the former New Hampshire state judge David Souter, before being nominated to the Supreme Court, per The New York Times. Then in the 1990s, he worked for the Justice Department as an assistant to the United States Attorney. Rosengart then focussed his attention on "commercial and entertainment litigation" as well as "white collar defense litigation," as per his website. 
Rosengart has represented a slew of stars, including Steven Spielberg, Ben Affleck, and Julia Louis-Dreyfus, per The New York Times. He even won a defamation lawsuit for Sean Penn after the actor was accused by a former director of domestic abuse. In light of Britney's push for Rosengart, Penn even released a statement on July 11 and called him "a tough as nails streetfighter with a big brain and bigger principles." Well, if one of The Hollywood Reporter's Top 100 most influential attorneys can win a multi-millionaire Hollywood defamation case, surely Britney is in safe and powerful hands.