The Reality Show You Forgot Elisabeth Hasselbeck Was On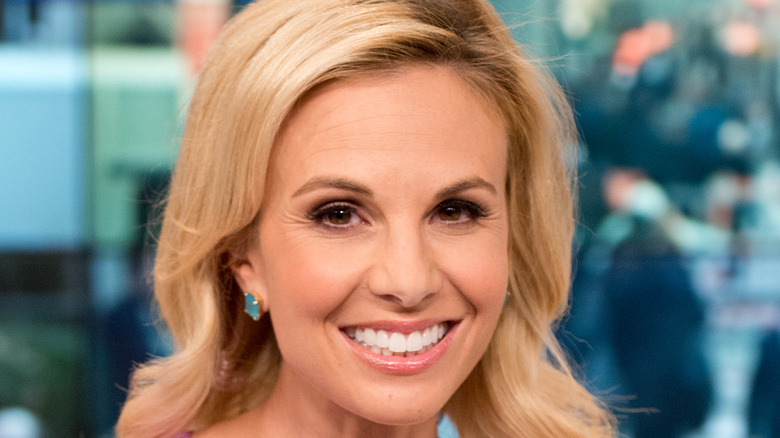 Noam Galai/Getty Images
Elisabeth Hasselbeck spent more than a decade discussing news-related topics on television, but she actually first appeared on reality television. Hasselbeck generated plenty of headlines during her time on "The View" and seemed to fit in well at "Fox & Friends," both big changes from her reality TV days. USA Today noted Hasselback joined "The View" in 2003 and departed in 2013. Her conservative takes often sparked drama, and as Variety detailed, one incident with Barbara Walters in 2006 was especially heated. A hot mic revealed Hasselback ranting backstage about Walters, saying, "This woman is driving me nuts. I'm not going back." She did return, but wrote in "Point of View: A Fresh Look at Work, Faith, and Freedom," that "things had begun to feel unusual" in March 2013. Soon, she learned her contract would not be renewed. "Gasping, I asked permission to get my inhaler," Hasselback wrote of when she heard the news.
Not long after departing "The View," Hasselbeck joined "Fox & Friends." The schedule was difficult, as she got up at 2:30 a.m. and was often up until 11 or midnight prepping for the following day. A year into that, "I was at my worst physical, personal and spiritual place," she admitted to The Tennessean. A one-time hosting gig in Nashville, Tennessee opened up a new path for Hasselbeck and she quit "Fox & Friends" in 2015. Although moving to Nashville "didn't make a lick of sense," the family forged forward and has been there ever since. 
Nashville, though, wasn't her only adventure that might seem strange. 
An Australian television adventure gave Elisabeth Hasselbeck a taste of television
Before joining "The View," Elisabeth Hasselbeck (then Filarski) joined Season 2 of "Survivor." As Entertainment Weekly detailed, it was filmed in the Australian outback and Hasselbeck joined the cast as a newly-engaged Massachusetts shoe designer. She nearly made it to the final Tribal Council but got voted out just shy of the opportunity. She worked for Puma prior to doing "Survivor," but left the company soon after returning from filming.
Throughout "Survivor," Hasselbeck didn't win competitions, but she was well-liked. "I have no regrets about how I played the game," she told CBS News. "I felt good and felt that I took myself as far as I could. And that's victory." She noted the experience on "Survivor" was tough. "I definitely did not expect the hunger, did not at all. I did not expect my body to just give out on me. My legs just couldn't carry me anymore," she recalled. "I expected, because I'm competitive, to go far, but I didn't expect that, in going far, it would take such a toll on me." 
When her "Survivor" stint aired in the spring of 2001, she was engaged to professional football player Tim Hasselbeck. The two wed in July 2002, and on their 19th anniversary, she took to Instagram to gush over her husband. Her "Survivor" days may be two decades behind her now, but that Australian adventure certainly changed the course of her life.