In Jennifer Aniston's Dating History, One Relationship Stands Above The Rest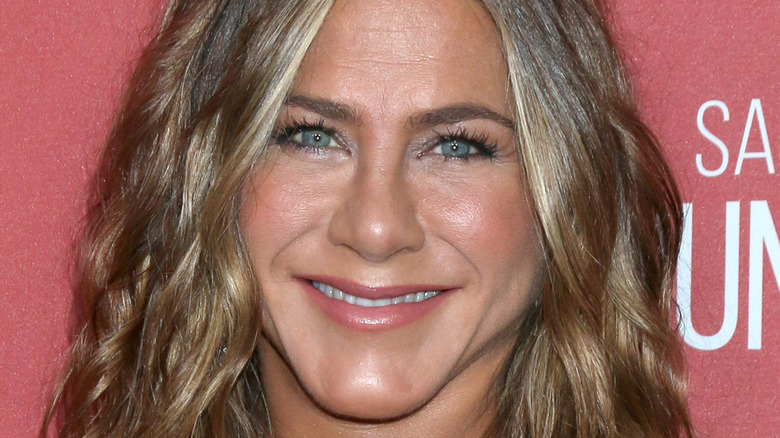 Shutterstock
Jennifer Aniston is one of the hottest actors in Hollywood, and she's landed some of the hottest men in the industry. The star has dabbled in the Hollywood dating pool a lot, and if we were her? We'd do the same exact thing. Whether it was when she was rocking her iconic "Rachel" hairstyle or during a time when she had silky brunette tresses, Aniston has always been one of the most stunning women in Hollywood, and she's a bonafide A-lister.
They say you shouldn't mix business with pleasure, but Aniston did it oh-so-well with some Hollywood hunks. Not only did she land John Mayer, a man with smooth vocals and one hit after the next, but she also used to date Tate Donovan, who had a guest role on "Friends," per Us Weekly. Of course, Aniston wed Justin Theroux in 2015, but the pair called it quits in 2017 (per Hello! Magazine). They remained mum on the details of their split, but Theroux told Esquire that they did not divorce because he wanted to live in New York and she wanted to live in Los Angeles. "That's a narrative that is not true, for the most part. Look, people create narratives that make themselves feel better or simplify things for them," he shared. "That whole 'This person likes rock 'n' roll, that person likes jazz. Of course!' That's just not the case. It's an oversimplification."
But which relationship of Aniston's sticks out the most? Keep scrolling to find out.
Jennifer Aniston and Brad Pitt 4ever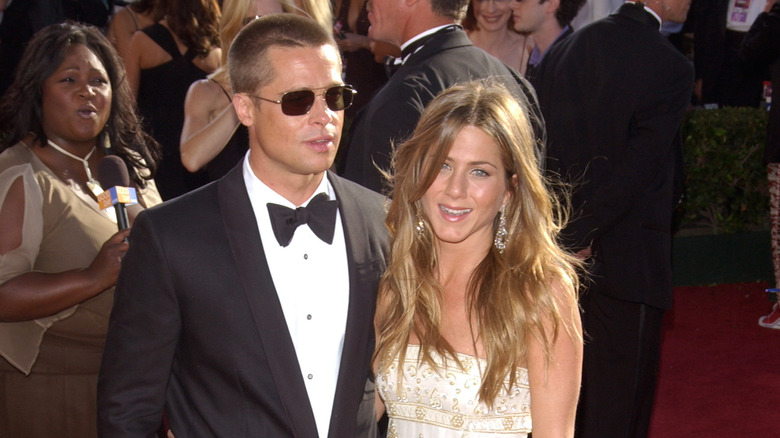 Shutterstock
Two words: Brad and Jen. There's no doubt that Jennifer Aniston's relationship with Brad Pitt is the one that sticks out the most. The couple's marriage was one of the most iconic in Hollywood, and even though it ended in divorce, we will forever remember the way they once were. Aniston and Pitt tied the knot in 2000. During their marriage, Pitt made an appearance on "Friends" during a Thanksgiving episode, and as we all can recall, he was in the "I hate Rachel Green" club.
In 2005, they shattered hearts across the country when they announced their split. "For those who follow these sorts of things, we would like to explain that our separation is not the result of any speculation reported by the tabloid media," they shared in a statement, via Us Weekly. "This decision is the result of much thoughtful consideration. We happily remain committed and caring friends with great love and admiration for one another." Re-reading those words is like a dagger to our hearts. 
The couple has taken the high road, and Aniston still counts Pitt as a friend. "Brad and I are buddies, we're friends," she told Howard Stern (via People) in 2021. "And we speak, and there's no oddness at all, except for everyone that probably watched it and was wanting there to be, or assumed there to be." Some fans are still hopeful for a romantic reunion, but for now, a friendship will have to do.