The Truth About Ewan McGregor's Relationship With His Kids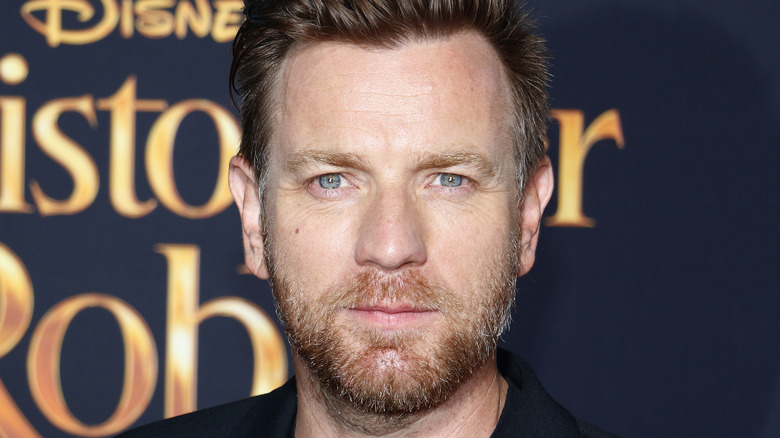 Shutterstock
Ewan McGregor and his girlfriend Mary Elizabeth Winstead welcomed their son Laurie to the world recently. McGregor shares four daughters with his ex-wife Eve Mavrakis, Clara, Jamyan, Esther, and Anouck. That said, Ewan's relationship with his daughters is a little complicated.
Ewan and Eve's two youngest daughters are adopted. According to Closer Weekly, the McGregor family adopted Jamyan when she was four years old. The "Halston" star met Jamyan when he was filming a TV series in Mongolia. Jamyan and Esther are just five months apart. The couple adopted their youngest daughter Anouck a few years later. The "Star Wars" star cheated on his wife Eve, who he'd been married to for 22 years, with Winstead. Ewan and Winstead were co-stars in the FX series "Fargo," and both filed for divorce in 2017 from their spouses. The "Fargo" stars kept their affair on the DL until the paparazzi caught the couple kissing in public. Eve and her four daughters found out about Ewan's affair at the same time the public did. Even worse, the photos of McGregor and Winstead kissing were revealed on daughter Esther's birthday. After the affair became public, Clara and Esther were estranged from their dad, with Clara calling Winstead "a piece of trash."
But what's the truth about Ewan's relationship with his kids? Keep reading to find out more.
Ewan McGregor's relationship with his older kids is better
Ewan McGregor's relationship with older kids is better than it used to be. As mentioned, after Ewan's affair with Mary Elizabeth Winstead, his daughters Clara and Esther were upset with their dad, which is understandable. But it appears things may be better between the iconic Obi-Wan Kanobi actor and his daughters. Ewan's oldest daughter announced the news about baby Laurie. Clara McGregor posted a photo on Instagram with her newborn brother, with the caption, "Welcome to the world little brother," the caption read. "Congratulations to my Dad & Mary — this is the greatest gift."
Ewan's daughter Jamyan Mcgregor also celebrated her baby brother on Instagram. Jamyan posted on Instagram with the caption, "Our little man, Little Laurie, a wonderful bundle of joy came into the world on June 25." The actor's 19-year-old daughter Esther McGregor posted on Instagram about her new brother too. Esther posted a photo holding baby Laurie with the caption, "Met my little brother looking like a pirate. I recommend! Welcome to the family little Laurie."
Ewan's girlfriend Mary might have had a rough start in her relationship with the McGregor girls, but it appears things are in a better place now.