Why A Recent Pic Of Eminem's Daughter Hailie And Her Boyfriend Is Causing Such A Stir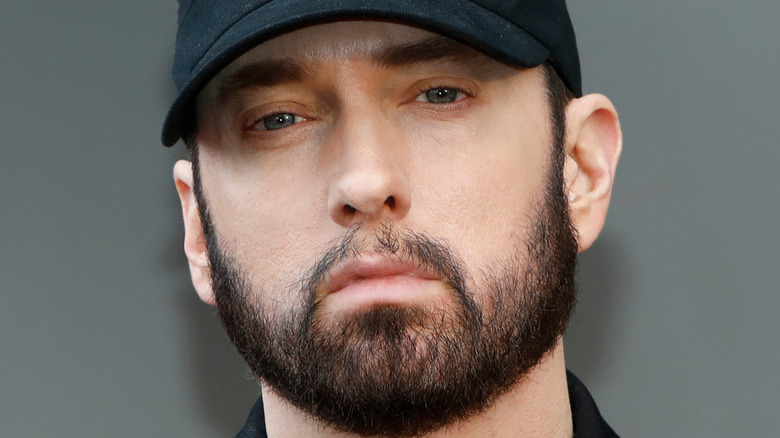 Shutterstock
For those who have been fans of Eminem ever since the early aughts, well, you're about to feel real old. Hailie Jade Scott Mathers, the rapper's daughter — who he famously sang about on tracks like "Hailie Song" and "Mockingbird" — is now all grown up. Per The Sun, Hailie is Eminem's only biological daughter (he also adopted his niece, Alaina Marie Mathers, as well as Hailie's half-sister Whitney Scott Mathers), and "his proudest achievement." According to the outlet, the now 25-year-old has been "inspiration for many of Eminem's tracks" over the years, with her vocals even appearing on one of his songs, "My Dad's Gone Crazy." However, it turns out that she's making headlines now not for her influence on her dad's music, but for her current relationship status. As we said before, Hailie is no longer the little girl Eminem used to sing about, but instead is a college grad who's off the market.
Per Page Six, Hailie has been seeing her high school sweetheart since 2016, and it appears that things are getting more serious. In July 2021, she took to Instagram and shared a rare photo of the two, which of course caused a social media frenzy with fans. Want to know what the rapper's daughter posted and why fans are freaking out? We've got you covered. From the LOL-worthy comments fans are making to what the rapper thinks of his daughter's longterm boyfriend, keep reading to find out more. 
Eminem fans are blowing up Hailie's latest Instagram post
On July 18, Hailie Jade Scott Mathers posted a picture on Instagram that basically caught the attention of every Eminem fan. Hailie shared a rare photo of her and her longtime boyfriend Evan McClintock, which immediately led fans to joke about Eminem's reaction to someone dating his daughter. The 'gram features Hailie lounging next to Evan with the caption, "rarely share my feed, but when i do i'm happy it's with you." And if you start scrolling through her comments, you'll see that Eminem fans couldn't help but make a few jokes about the relationship. One person commented, "Boy don't you ever hurt hailie or shady will rockabye you broski," while another wrote, "Imagine bringing your man home just to meet Shady at the door." 
While fans joked about the idea of dating Slim Shady's daughter, one of Hailie's family members commented showing their support for the happy couple. Hailie's uncle and Eminem's brother, Nathan Kane Mathers, commented on the post, "My Homie Evan." So, it appears that those close to Hailie approve of the relationship — but what about Slim Shady himself? As the Daily Mail reports, "Evan is a fan of Eminem who is said to be very approving of their relationship."