How Many Kids Does Moneybagg Yo Have?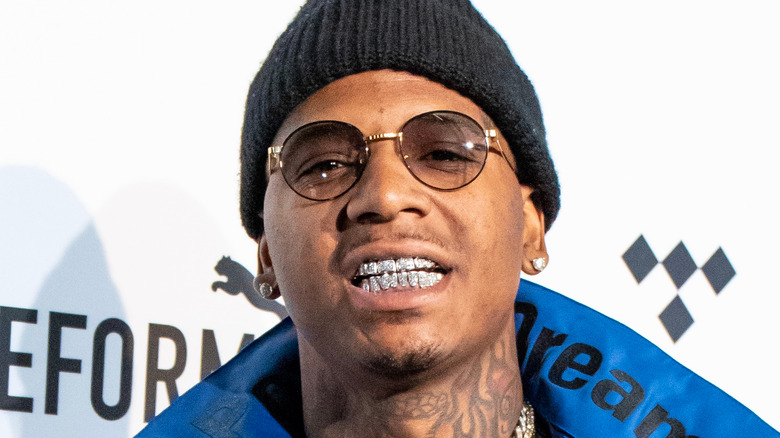 Shutterstock
Although he's been active in his career for nearly a decade, rapper Moneybagg Yo is finally getting the recognition he's worked hard for. The Memphis native signed to Yo Gotti's label in 2016, and has since taken his career to new heights. The Tennessee duo's, "2 Federal" became Moneybagg's first Billboard 200 entry, charting at No. 97 on the chart. Cut to May 2021, the rapper reached a milestone in his career with his first No. 1 album, "A Gangsta's Pain," featuring hits such as "Wockesha" and Future-assisted track, "Hard For The Next."
Aside from his busy schedule as a chart-topping artist, there aren't many details about Moneybagg's personal life. The rapper's social media platforms mainly focus on his music. You may even catch the "Time Today" emcee posting a photo of girlfriend Ari Fletcher from time to time. When Moneybagg is not in the studio, he's tending to his fatherly duties. Keep scrolling to learn more about Moneybagg Yo's children, as well as his journey to fatherhood.
Moneybagg Yo is a father to eight children
Moneybagg Yo has achieved a number of accomplishments during his career, but none tops his fatherhood journey. The rapper is a proud father to eight children — four sons and four daughters, according to Newsbreak. Moneybagg welcomed his eighth child, Spring, in May 2019. Moneybagg is all about making his children happy by any means necessary. In May of this year, the "Me vs. Me" crooner celebrated Spring's second birthday with a lavish spring-themed party (via Sandra Rose). Most recently, the doting dad put a smile on his sons' face when he surprised them by showing up to a Memphis Grizzlies game in June. His sons' mother Renee Echelon took to Instagram to praise the rapper on his fatherly duties.
"Listen! This man is going to STEP when it comes to his kids! In their eyes he's PERFECT," she wrote. "They really wanted their dad to attend the game with them but Of course he's booked with shows. He got on a jet to give them 15 minutes of his time tonight risking a show he has tonight in Miami. ... This most definitely made their night and of course they think they are the coolest kids."
During a 2017 interview with Shade 45, Moneybagg revealed that his family is his biggest inspiration. The artist also confessed that he had "two or three" children by the time he dropped out of his senior year of high school. He felt that the path he was headed on wasn't best for him and his children, inspiring him to take his music career seriously. "School couldn't take care of [the kids], so I had to go do what I had to do," he told the radio hosts. Fatherhood is among Moneybagg Yo's top priorities, and we love to see it!