How Much Is Moneybagg Yo Really Worth?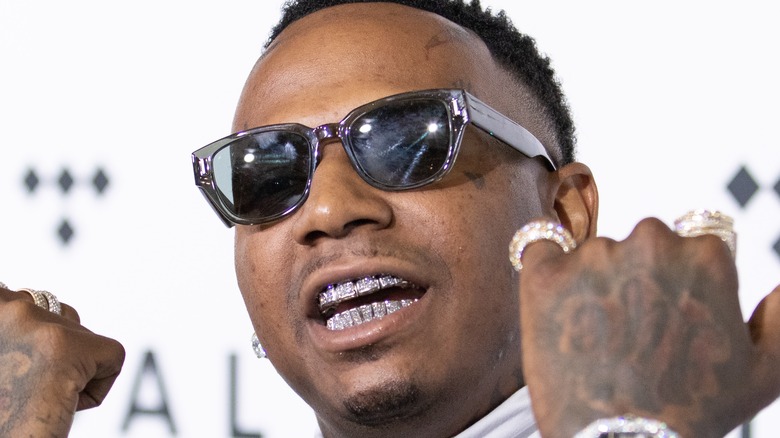 Arturo Holmes/Getty Images
So far, 2021 sounds like Moneybagg Yo's year. On May 2, the Memphis rapper earned his very first No. 1 album with "A Gangsta's Pain," as it debuted at the top of the Billboard 200 Albums chart. The project includes popular tracks such as "Shottas (Lala)," "Just Say Det," "Wockesha," and "Hard For The Next" featuring Future, which all appeared on Billboard's Hot 100 Singles chart. 
Apart from Future, "A Gangsta's Pain" also included appearances from Kaash Paige, Polo G, Lil Durk, and Pharrell Williams. The latter, in particular, was a collaboration that Moneybagg wasn't 100% sure about. "I'm thinking I'm through with the album. I'm wrapping it up, then [Pharrell] reach out to my people and was like, 'How Bagg finna finish an album without Pharrell on it?'" he said during a recent "The Breakfast Club" interview.
Though Moneybagg wasn't really convinced at first, the final result was surprising. "It was laid out like sketch. I ain't understand it at first. It sounded a little weird at first. But he was like, 'This ain't it...When you rap on it, I'mma go around it.' It's art," he explained.
As with many rappers today, Moneybagg Yo isn't one to shy away from boasting about his cars, jewelry, and other material possessions. But how much is he really worth?
Moneybagg Yo is charging $200,000 per show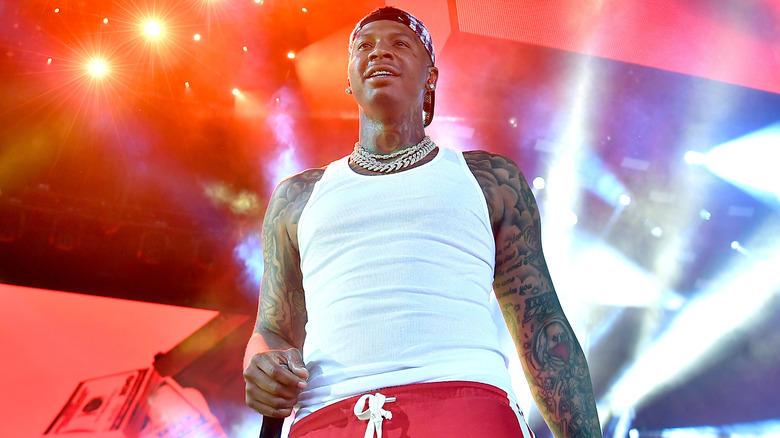 Paras Griffin/Getty Images
Per Celebrity Net Worth, Moneybagg Yo is staying true to his stage name, with an estimated worth of $4 million (as of 2020). However, this figure might change very soon, according to some of the rapper's recent statements. Taking to Twitter in April, Moneybagg said that he's charging six figures per appearance. "Can't believe I get 125k for A Show," he wrote. Still, Moneybagg's booking fee has already increased to $200,000, he told TMZ the following week. That's pretty impressive, especially considering that, last year, he charged $2,500, as he told TMZ. And as restrictions start to ease up and festivals begin to resume, his earnings are expected to increase soon.
What does Moneybagg plan to do with all his millions? While he puts some in the bank, he's also thinking about investing in real estate. "I want to get a whole complex with different buildings in it and rent out the whole thing," he told TMZ. Then, the rapper has plans to expand into the film industry, as well as releasing his own clothing line.
"Right now, I'm just transitioning into the movies," Moneybagg told Billboard. "I got a movie I'm working on. 'A Gangsta's Pain' was actually supposed to be the soundtrack to the movie, but it got a little delayed, so the movie is going to come out after the fact. I also have this clothing line I'm working with, so I got a few things coming." Keep it up, Moneybagg!