The Real Reason Kesha Got Rid Of The Dollar Sign In Her Name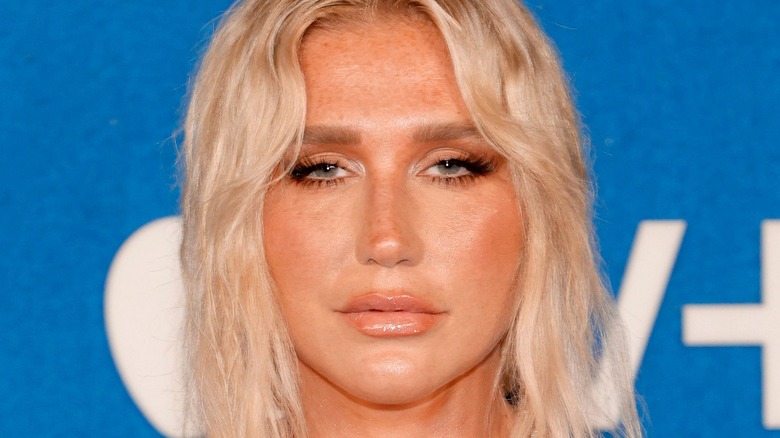 Amy Sussman/Getty Images
This article contains mention of sexual assault, drugs, and eating disorders.
As musicians age and become tenured in their careers, they sometimes undergo a few changes. Whether it be a change of appearance, genres, or just subject matter, it's often noticeable that they're working to make a shift in their lives (especially living under public surveillance). For many artists, it's usually a name change. Artists such as Bow Wow, who dropped the "Lil" from his name in 2002, undergo name changes in order to symbolize their transition into adulthood. Kesha's case is quite different.
The singer, formerly known as Ke$ha, rose to fame in early 2009 when she sang the hook on Flo Rida's hit, "Right Round." According to Kesha (via Buzzfeed), she chose to stylize her name with a dollar sign in the middle of her name for a shady reason: "I was being a little b***h about the fact I didn't make any money off the Flo Rida song ["Right Round"]." The "TiK ToK" crooner later saw an immense amount of success, snagging over 91 awards nominations throughout her career. Kesha saw great tragedy in her life over the past few years in which she's dealt with trauma. As part of her personal growth, Kesha made notable changes to herself — starting with the removal of the dollar sign from her stage name.
Kesha's ditched the dollar sign for personal reasons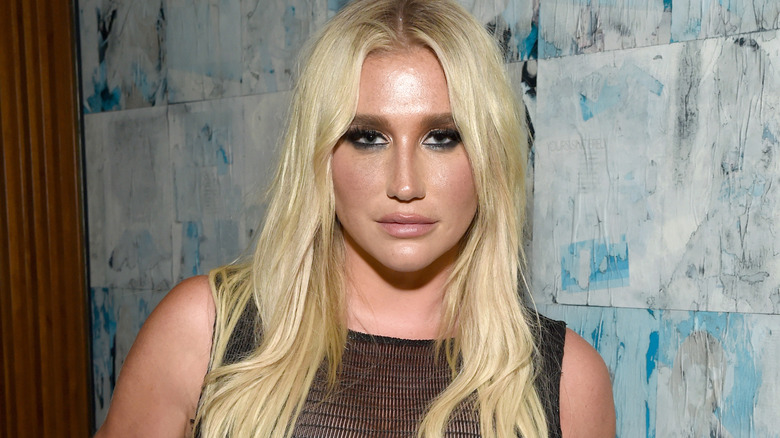 Michael Kovac/Getty Images
Kesha's road to recovery hasn't been the easiest for her. In January 2014, the singer checked into rehab for an eating disorder. Later in the year, she came forward with allegations of abuse against her music producer, Dr. Luke. She filed a lawsuit alleging that he drugged and raped her in 2005 and emotionally tormented her for years, but Dr. Luke insisted that the former is defaming him to get out of her record deal (via Associated Press). Despite receiving the support of many of her loved ones, the "Your Love Is My Drug" singer faced scrutiny from the general public for her decision to come forward.
With an ongoing case ahead, Kesha is fully transparent about how it all affects her. One of Kesha's first steps to getting back to herself was getting rid of the dollar sign in her stage name. As she told Refinery29 in 2017, the decision to go by her birth name signifies her uncovering her true self. "It [losing the $] happened after I went to rehab for my eating disorder," Kesha said. "I let go of my facade about being a girl who didn't care. My facade was to be strong, and I realized it was total bulls**t. I took out the dollar sign because I realized that was part of the facade. It was a journey and I'm happy—that was me in that part of my life. But then I turned a corner, but I still have a f***ing tattoo of it on my hand. I'll have to figure that out!"
Kesha is focused on making music and getting back to the superstar that had us all dancing. She released her fourth studio album, High Road, in January 2020.
If you are struggling with an eating disorder, or know someone who is, help is available. Visit the National Eating Disorders Association website or contact NEDA's Live Helpline at 1-800-931-2237. You can also receive 24/7 Crisis Support via text (send NEDA to 741-741).
If you or anyone you know has been a victim of sexual assault, help is available. Visit the Rape, Abuse & Incest National Network website or contact RAINN's National Helpline at 1-800-656-HOPE (4673).