Why Lil Nas X's Upcoming Album Has The Internet Talking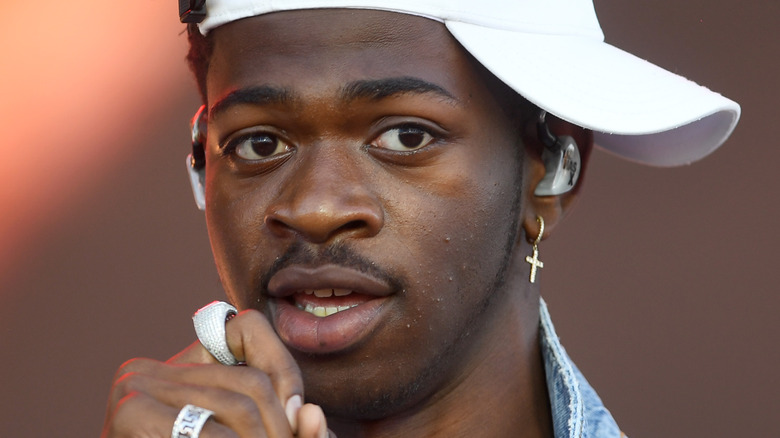 Dave J Hogan/Getty Images
In a short span of time, Lil Nas X has gone from cowboy-hat-wearing boy wonder to one of music's most talked-about pop stars. With a debut single — "Old Town Road" — that remained at the top of the charts for a record-breaking 17 weeks, the star's career continues to propel and shows no signs of declining. Earlier this year, the "Panini" hitmaker achieved his second Billboard No. 1 — "MONTERO (Call Me By Your Name)" — on the US Hot 100 and has revealed he has been working on his debut album, "Montero."
During an appearance on "The Tonight Show Starring Jimmy Fallon" in May, Lil Nas X discussed what the album is all about. "It's a coming-of-age story. My heartbreaks — there's been a lot of those in the past couple of years," he said, adding, "I'm writing about my actual life and things that I'm actually going through. This album will give people a greater sense of who I am and what I stand for."
In just a matter of years, Lil Nas X has already secured himself some big ol' collaborations. On his debut EP, "7," he teamed up with fellow rapper Cardi B, Travis Barker, and Billy Ray Cyrus. With that being said, recent potential leaks prove that the star could have more big features locked and loaded for his forthcoming album. Keep reading to find out more.
Songs with Miley Cyrus and Sam Smith have leaked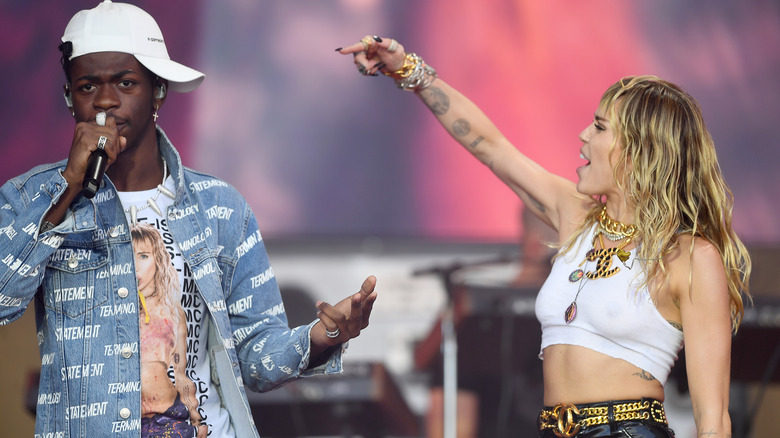 Dave J Hogan/Getty Images
Lil Nas X's debut album, "Montero," has yet to be released and is yet to be given a release date. Unfortunately for the "Sun Goes Down" hitmaker, 16 songs that are allegedly unfinished and labeled as demos have leaked. (Well, fortunately for us). According to Music News, one of the tracks, "Empathy," features British singer Sam Smith, while the other, "Am I Dreaming," is with former "Hannah Montana" actor Miley Cyrus. The songs have also circulated on YouTube and Soundcloud, and not to fuel a flame Nas would potentially want to be extinguished but ... they sound pretty good (insert eyes emoji here). 
Lil Nas X has yet to respond to the leak. However, fans rushed to hear the tracks and have given their opinion of the star-studded collaborations via social media. "I'm honestly surprised by Miley and Lil Nas collab.... That was unexpected," one user tweeted, adding, "I didn't expect this type of song at all but it's really pretty and dope lyrics." "The Lil Nas X / Miley collab is amazing, I hope it gets released," another person shared. "the Sam smith x lil nas collab is really good. The miley one disappointing," remarked a third account. If you can catch the leaks before they're pulled (as music giants are want to do) then definitely do so. They're extremely promising, as is most of the genre-bending star's bold work.