What Julia Roberts Really Wanted To Be When She Grew Up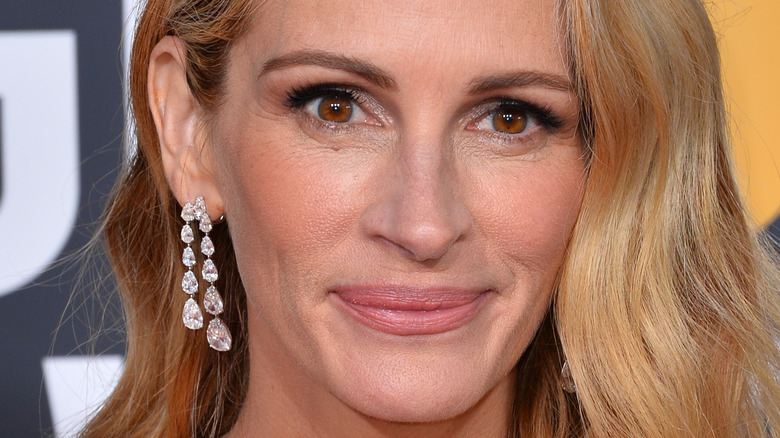 Shutterstock
Julia Roberts has enjoyed an impressive career in acting, and it's still far from over. It seems like Roberts was made for the silver screen, with her stunning looks and impressive skills. And it also helps that acting quite literally runs in her blood. Her parents were actors, per O, The Oprah Magazine, her brother is an actor, and then there's also her niece, Emma Roberts, who is a star in her own right.
Roberts nabbed an Oscar for her role in the 2000 film "Erin Brokovich," which is one of the best performances of her career, per The Hollywood Reporter. In her acceptance speech, she thanked everyone because she thought it could be her first and last award. "I'm so happy. Thank you. I have a television, so I'm going to spend some time here to tell you some things," she famously said in her speech. "And sir [speaking to music conductor Bill Conti], you're doing a great job, but you're so quick with that stick. So why don't you sit, 'cause I may never be here again."
Roberts told The New York Times in 1990 that she only had a few career choices from the very beginning. "I had convinced myself that I had three choices: I could get married, I could go to college, or I could move to New York. Nobody was asking to get married, and I didn't want to go away to school, so I moved," she said. From there, she landed plenty of roles. But what was her passion before acting?
Julia Roberts has a passion for animals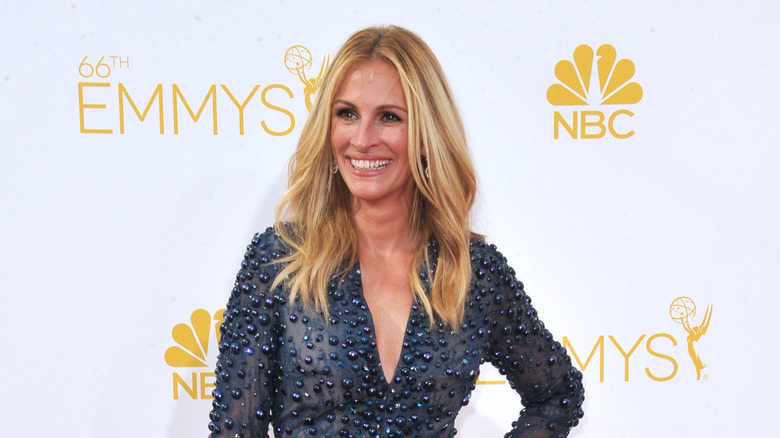 Shutterstock
While it seems like Julia Roberts was made to act, it turns out that it wasn't always her first choice. Roberts has a passion for animals, and she confessed to New Zealand outlet TVNZ (via Earth in Transition) that she wanted to be a vet — but there was just one thing holding her back. "I wanted to be a veterinarian, but then I discovered how hard science could be," she shared. Ugh, we feel you sister — the whole science part is challenging.
Even though Roberts didn't end up serving animals as a veterinarian, she still shows her love for animals in plenty of other ways. In 2006, she was featured on Tony La Russa's Animal Rescue Foundation's (ARF) 2006 Celebrity Pet Calendar, per ACountry. All of the proceeds from the calendar went to help animals who were injured or abandoned as a result of Hurricane Katrina. 
In 1999, Roberts went to Mongolia to live like a nomad, where she spoke of her admiration for horses. "For these horses to just be allowed to roam around and they don't take off and leave ... is kind of amazing," she gushed. "Everywhere in America, you see animals and you also see fences. Here it's really about the love and respect that man gives to the animal that they all stay together." We love Roberts' love for animals.
Julia Roberts began training to be a vet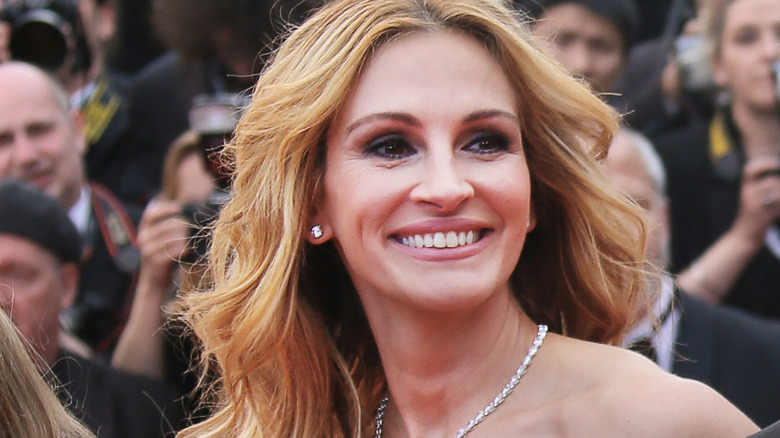 Shutterstock
Though Julia Roberts never actually became a veterinarian, she attempted to pursue it at one point. According to Trade School, Roberts enrolled at Georgia State University to pursue her veterinary degree, but it never transpired. Instead, she decided to take a stab at acting and moved with her brother and sister to the Big Apple.
Roberts seems to have made the right choice by following the acting path. She's currently one of the most popular A-listers out there, although not everyone sees her as a bonafide celeb. In a 2018 interview with Harper's Bazaar, Roberts revealed that her kids don't really understand just how famous their mom is. "I don't think they will ever have a true sense of [my fame]," she told the outlet. "I think I told you once when they were starting to figure it out, it was like, 'You're famous?' And I said, 'I think a lot of people might have seen the movie that I'm in or might know who I am.'" She also shared that her kids even asked her if she's more famous than Taylor Swift. 
As for which of her films her children have seen, we can't count on Roberts to watch "Pretty Woman" with her family; She said that's a hard no. However, she let out an enthusiastic, "Oh, my God. Yes, we could do that," when asked about "Steel Magnolias." Love it!