Is Prince Harry Ready To Take Meghan Markle On A Private Trip?
Shutterstock
Prince Harry and Meghan Markle are undoubtedly busy with two small children at home, but that may not stop them from traveling together.
These two have plenty of passport stamps from their trips, which go all the way back to their reported third date in Botswana, according to a November 2017 interview with BBC and CNN. "I managed to persuade her to come and join me in Botswana. We camped out with each other under the stars ... Then we were really by ourselves, which was crucial to me to make sure that we had a chance to get to know each other," Harry said at the time.
After that, they went to Norway's famed Northern Lights in January 2017 and a wedding in Montego Bay, Jamaica in March 2017. It's clear this couple knows how to get around! They reportedly celebrated their December 2017 engagement in the French Riviera. Harry and Meghan continued to travel before Archie was born in May 2019 and now they seem to be enjoying a more relaxed way of life since leaving the monarchy and settling into their home in Montecito, California.
Over the course of 2020 and 2021, though, they certainly had plenty of time to relax at home. Is Harry planning a trip for Meghan's 40th birthday? Keep reading for more details.
Prince Harry has something in mind for Meghan Markle's milestone birthday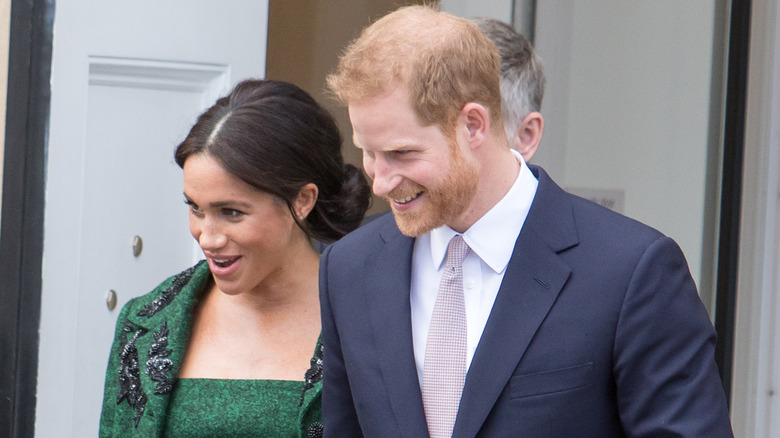 Shutterstock
Meghan Markle might be turning the big 4-0, but Prince Harry isn't exactly pulling out all the stops for her special day. It's possible he might plan an "intimate getaway," but the couple is not throwing a bash for 65 guests at their Montecito abode, as Page Six previously reported. Rumors swirled that Meghan enlisted A-list event planner Colin Cowie to lend his talents, but it's "absolutely not happening," according to the Daily Mail. Her special day will reportedly be "low-key" due to the ever-changing COVID-19 situation in California, but it could see Meghan and Harry take another trip, like the ones they enjoyed at the beginning of their relationship.
However, royal experts think Meghan could also mark the occasion with a release of a family photo, as the public is still waiting to see baby Lilibet. "I think it's likely we will see a picture of the family," royal commentator Phil Dampier told The Sun. "It wouldn't surprise me, if Meghan does release a pic of her with Lilibet to mark her 40th birthday, as they'll want to emphasize what a happy family unit they are." He added that the royal family would most likely send messages in "private," given everything that has happened — aka, her bombshell interview with Oprah Winfrey in March.
Even though it looks like a quiet birthday for Meghan, Harry is still planning to spoil his wife. He was reportedly seen ordering a cake from Posies & Sugar bakery, per the Mirror.