Joe Biden Takes Firm Stance On The Andrew Cuomo Investigation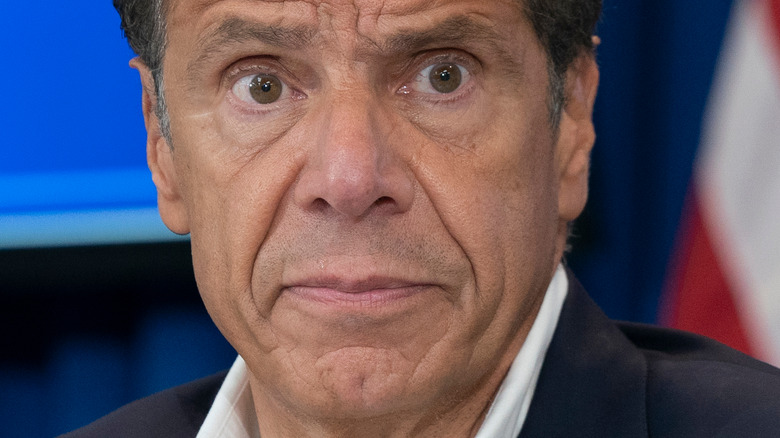 Shutterstock
In the span of just a few months, New York Gov. Andrew Cuomo went from media darling to media pariah. At the onset of the COVID-19 pandemic, Cuomo garnered acclaim from the media for his daily press briefings and light-hearted CNN appearances with his brother, Chris Cuomo — of which some questioned the journalistic integrity. The governor's sudden rise to national stardom led to people, including celebrities like Trevor Noah and Stephen Colbert, referring to themselves as "Cuomosexuals," per Los Angeles Times. Cuomo was initially praised for his response to COVID-19, despite the fact that his state was the world's epicenter for the virus at the time, and his decision to force nursing homes to accept COVID-19 patients resulted in more than 5,300 deaths, per USA Today.
It all began crashing down for Cuomo in December 2020, when former Cuomo staffer Lindsay Boylan accused him of sexual harassment on Twitter. "Yes, @NYGovCuomo sexually harassed me for years," she wrote. "Many saw it, and watched." Multiple women came forward afterwards with similar stories, all while an attorney general report accused the New York State Health Department of underreporting nursing home COVID-19 deaths by 50%, according to CBS New York.
Now, a report from the state attorney general found that Cuomo violated state and federal laws harassing 11 female employees, reports USA Today. And President Joe Biden is weighing in.
President Joe Biden believes Andrew Cuomo should resign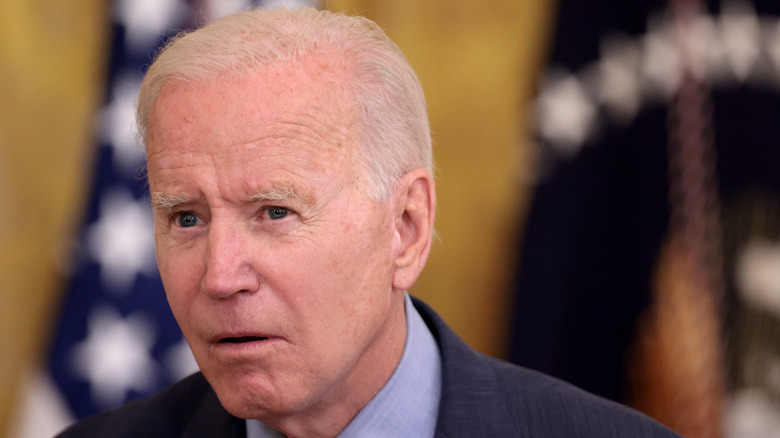 Win Mcnamee/Getty Images
After the release of the report from New York's Attorney General, President Joe Biden said he believes Gov. Andrew Cuomo should resign. "I think he'll probably end up being prosecuted, too," the president told ABC's George Stephanopolous. "Here's my position ..." the president continued, "a woman should be presumed to [be] telling the truth and should not be scapegoated and become victimized by her coming forward." He went on to say, "But there should be an investigation to determine whether what she says is true."
Cuomo, meanwhile, maintained his innocence, giving a 14-minute speech after the report's release. "The facts are much different than what has been portrayed," he said, according to USA Today. "I want you to know directly from me that I never touched anyone inappropriately or made inappropriate sexual advances ... That is just not who I am. And that's not at all who I have ever been." He even displayed a montage showing him kissing and hugging politicians and colleagues to quell the allegations that he kissed a female staffer inappropriately. "I do it with everyone," he said. "I do banter with people. I do tell jokes — some better than others."
Nonetheless, New York's Senators Chuck Schumer and Kirsten Gillibrand renewed their calls for Cuomo's resignation. "No elected official is above the law," they said after the report's release. "The people of New York deserve better leadership in the governor's office. We continue to believe that the governor should resign," per USA Today.