Why Chelsea Handler No Longer Has A Crush On Andrew Cuomo
Alberto E. Rodriguez/Getty Images
Once upon a time — albeit, a brief, brief time — the popularity of the brothers Cuomo (both Chris and Andrew) seemingly knew no bounds. For a stretch of 2020, due in part to the New York governor's seemingly tactful and swift response to the COVID-19 pandemic, the sons of one of New York state's most powerful family political dynasties enjoyed a status usually afforded to Hollywood A-listers. 
But after a number of discoveries about both Cuomos — including that Governor Andrew had purportedly deliberately fudged the numbers for nursing home deaths related to coronavirus in order to maintain his popularity streak, in addition to a number of women who came forward with stories about the career politician's sexual misconduct against them – and that the CNN anchor Chris had committed a number of faux pas himself – their duel star power quickly imploded. Now, it seems, one of the queens of late night has something to say about at least one of the Cuomo brothers, and it ain't pretty.
According to Page Six, comedian Chelsea Handler stated during a recent appearance on a podcast that any love or affection she once had for the New York governor has been swiftly and thoroughly doused. So what did Handler have to say? And what, specifically put the final nail in the coffin of her one-time crush on Cuomo? Read on to find out.
Chelsea Handler said her crush on Andrew Cuomo is 'O-V-E-R' in a recent interview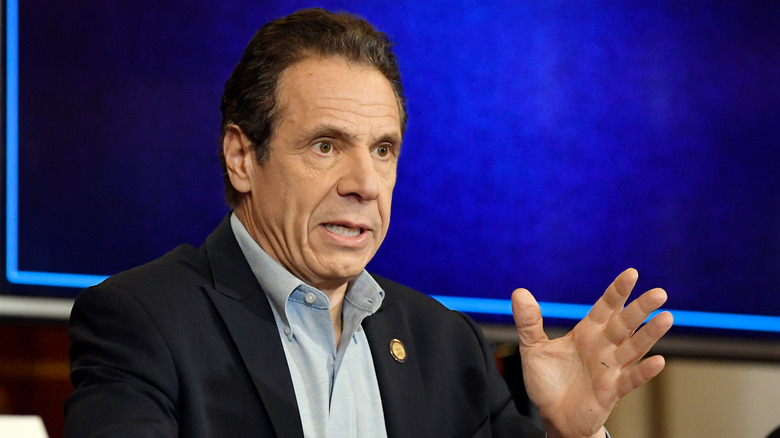 Shutterstock
Per Page Six, Chelsea Handler stated in a July 8 episode of the "Sway" podcast produced by The New York Times that her previous crush on current New York Governor Andrew Cuomo came to an abrupt end after multiple allegations of sexual misconduct and bullying made by at least eight women — many of them former employees, and at least one of them a journalist – arose. 
Though Handler joked that she had once "offered herself up" to Cuomo (a reference to a comedy bit she did in her 2020 HBO Max special, per Page Six), her attitude towards the governor, which had a lot to do with what seemed to be his COVID-related heroics that year, swiftly turned. "In the pandemic, I was very turned on by his morning news conferences, as many of us were," she said. After admitting that they had spoken "a couple of conversations" on the phone on a handful of occasions, Handler stated, "I found out all the stuff we found out about him," citing the allegations of sexually inappropriate behavior, "and I thought, well, I guess, this is a guy that doesn't like it offered up." She concluded her comments on Cuomo by spelling it out, quite literally: "So my crush with him is, yes, O-V-E-R." 
If you or anyone you know has been a victim of sexual assault, help is available. Visit the Rape, Abuse & Incest National Network website or contact RAINN's National Helpline at 1-800-656-HOPE (4673).