The One Meal Michael Jordan Ate Before Every Game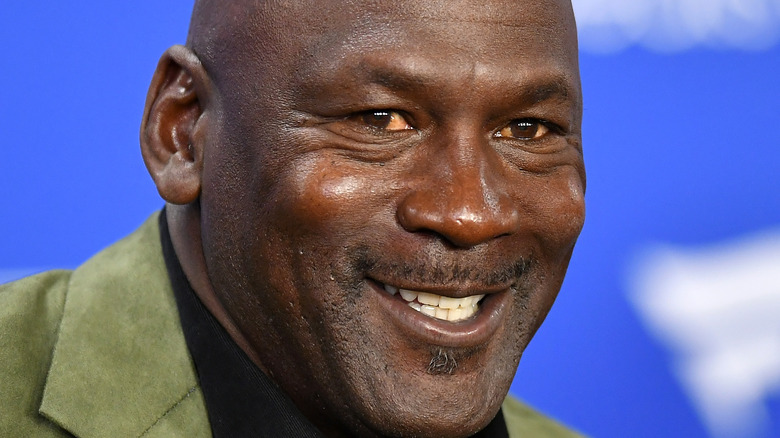 Aurelien Meunier/Getty Images
Michael Jordan is arguably the best basketball player of all time. Number 23 enjoyed a storied career with the Chicago Bulls, winning six NBA championships with them. During that stretch, he was also named the NBA Final MVP six times, according to the National Basketball Association. He was the heart and soul of Chicago sports in the '90s, and fans in the Windy City will forever be indebted to him for what he did for the city during his time there.
Jordan achieved more during his NBA career than most could ever dream of. On March 28, 1990, he scored 69 points against the Cleveland Cavaliers, marking his career-high. But at the end of the day, Jordan is only human. "I've missed more than 9,000 shots in my career. I've lost almost 300 games. Twenty-six times I've been trusted to take the game-winning shot and missed," he once said, via Forbes. "I've failed over and over and over again in my life. And that is why I succeed."
In addition, Jordan starred in the original "Space Jam" and he taught the Tune Squad a thing or two about hard work and perseverance. There are thousands of reasons to love Jordan, and another one of them turns out to be for his pre-game meal. What exactly fueled the champion on the court? Keep scrolling for more deets. We'll give you a hint — it's not what you think!
Michael Jordan loved red meat
Mitchell Layton/Getty Images
Before games, many athletes load up on carbs for fuel, but that wasn't the case with Michael Jordan. According to Jordan's trainer, Tim Grover, the NBA legend filled up on something else that may surprise you. Grover says that carbs didn't cut it for Jordan because he was "was playing so hard that it wasn't enough for him." The trainer also noted that carbs would often leave Jordan feeling bloated and out of energy before the end of the game.
So the only reasonable solution? A big, juicy steak. " ... We had to devise a new plan for Michael, based on his body chemistry and schedule, his playing minutes, and the massive amount of energy he expended on the court," Grover told The Sports Rush. "The steak slowed down his digestion of everything else he was eating and kept his blood sugar consistent."
We're no world-class athletes, but if playing sports means eating steak regularly, sign us up! Grover also shared a little bit about Jordan's pre-game ritual before he started eating steak, and we're amazed at how early his prep began. "When the team was playing at home, he was eating at 3:30 in order to get to the stadium by 6:00," Grover dished. "He was starving by the 7:30 game time and by the fourth quarter, had his energy depleted."
Luckily, Grover found steak to be the perfect solution — and Jordan had even bigger plans when it came to his pre-game meal...
Michael Jordan turned his love of steak into a business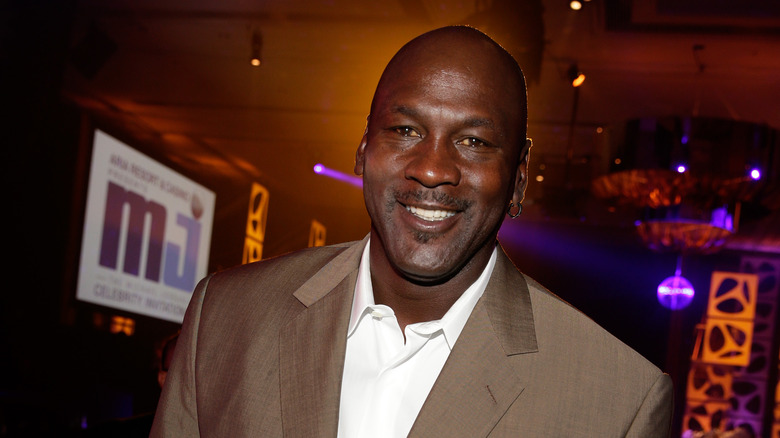 Isaac Brekken/Getty Images
Michael Jordan had such a love for steak that he turned it into a restaurant. It's not like Jordan was strapped for cash by any means, so his steakhouse seemed to be a passion project. According to the Michael Jordan Steakhouse website, Jordan opened up his first restaurant in 1993, but it wasn't until 1998 that he opened the first steakhouse. And actually, the location of the first eatery was in New York City, not Chicago, per Thrillist.
Jordan later opened more locations with the Cornerstone Restaurant Group. His Chicago steakhouse location sits on the Magnificent Mile, aka Michigan Avenue, and is in the heart of the city. As of this writing, there is also another location inside of the Mohegan Sun Casino in Connecticut. In addition, Jordan has one other location in the Chicago burbs, in Oak Brook, and it has a ton of great Google reviews.
"Amazing place! Staff is ultra nice, professional, courteous, and understanding. The food was top notch. Staff sat me in a nice spot next to Jordan pictures and took plenty of pics for me," one reviewer wrote. "Reservations are needed for main tables or big parties so do that online, but bar room is walk in. No dress code except you gotta wear Jordans... just kidding! Must stop for any Jordan fan." Sounds legit to us! We just want to know if Jordan uses A1 sauce, since he's pretty A1 himself.