Nicole Kidman Explains That Awkward Clap At The Oscars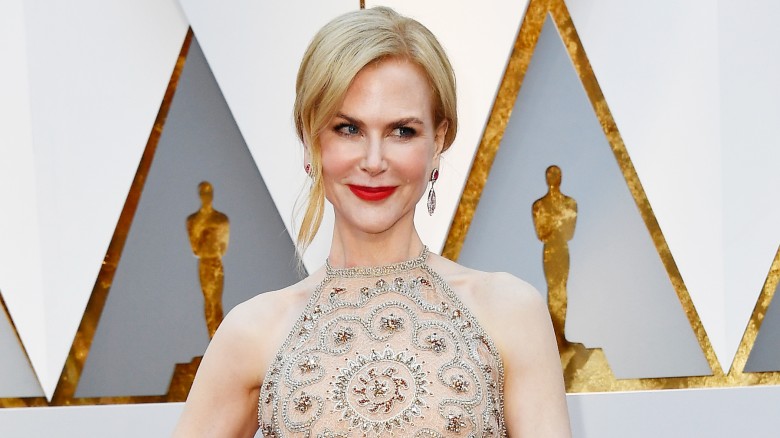 Getty Images
If you thought that Nicole Kidman's clap at the 2017 Oscars was awkward, that's because it was.
In a phone interview on the radio show Kyle & Jackie O, the Australian actress revealed that her seal-like clap was all due to her choice of jewelry for the night. Like any glamorous starlet, Kidman was decked out in high-priced jewels—which she didn't want to damage by clapping.
"I was like, 'Gosh, I want to clap. I don't want to not be clapping,' which would be worse, right?" Kidman explained to the radio hosts. "'Why isn't Nicole clapping?' So, therefore I'm clapping, but it was really difficult because I had a huge ring on that was not my own, but was absolutely gorgeous. And, I was terrified of damaging it."
According to E! News, the Big Little Lies (2017) star wore 119 carats worth of Harry Winston diamonds to the 89th Academy Awards—most notably, a large cluster diamond ring.
Considering that most Oscar bling is worth millions of dollars, we'd say Kidman's awkward clap was the way to go.
But, poor Kidman also nearly suffered a major wardrobe malfunction that same night. While she looked amazing on the red carpet in her custom-made Armani Privé gown, one of the criss-cross straps snapped during the night, forcing Kidman to tie the strands around her neck instead.
Still, Kidman doesn't understand why everyone was so focused on how she clapped. "It's like, is there not more important things to be focused on than the seal clap?" she asked.
Sure, we'll admit, there were plenty of other notable events that happened during the show (like those candy parachutes or, you know, that huge mix-up for Best Picture). But seeing one of Hollywood's biggest actresses fail to clap properly is pretty memorable.