Inside Dr. Dre's Daughter LaTanya Young's Tragic Life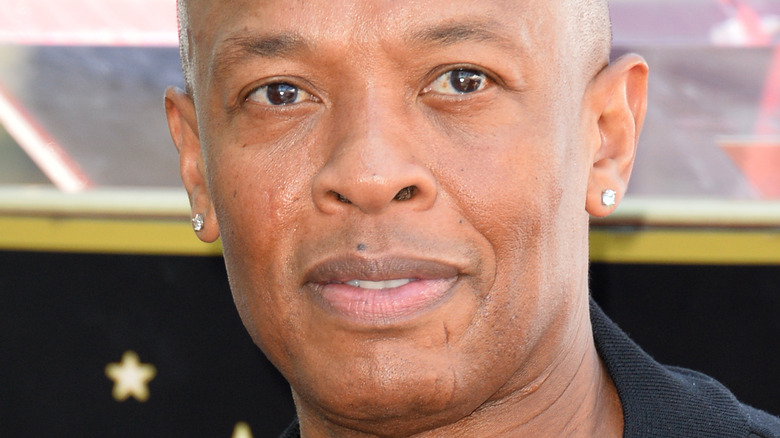 Shutterstock
Dr. Dre is worth a serious amount of cash. A whopping $780 million, according to Celebrity Net Worth. The star is one of the richest rappers in the world, having made millions from his musical offerings as well as his hugely successful business venture, Beats By Dre, which was bought by Apple in 2014 for $3 billion. Yes, billion. The star lives quite the lavish lifestyle to reflect that too, including living in a $40 million mansion in Pacific Palisades, Los Angeles, which he purchased from Gisele Bundchen and Tom Brady (per Los Angeles Times). But life for his eldest daughter is quite different.
LaTanya Young is Dr. Dre's eldest daughter, who he shares with his former girlfriend, Lisa Johnson. Dre and Johnson split when Young was 5 years old, and the now 54-year-old has claimed she hasn't seen her dad since she was 36 and is only able to get in touch with the music mogul via his lawyer (via Daily Mail).
She's also sharing her tragic story with the world.
Dr. Dre's daughter LaTanya Young is homeless
Dr. Dre's eldest daughter, LaTanya Young, has claimed she's homeless and living out of her car. Young, who works for DoorDash and as an Uber Eats delivery driver, shared in an August interview with Daily Mail that her three children, 16-year-old Tatiyana, 13-year-old Rhiana, and 8-year-old D'Andre, none of whom have met their grandfather, are all living with friends while she takes "odd jobs" to try and make ends meets.
"I'm trying to keep my head above water. I've been in debt for a while," she said, admitting that she thinks her car is close to being repossessed after she moved from Nevada to California to try to find work. "I have friends and family that will let us come back and forth but the majority of the time I'm living out of my car," she added.
"People label me as a millionaire's daughter so they don't understand why I'm working. It makes me want to crawl under a rock," Young, who claimed Dre once offered to pay for her and her mother's health insurance and put her through college, continued. She added that she's been reaching out to Dre's lawyer in an attempt to get help from her dad — who is a father of seven – but said she hasn't heard back.
Has Dr. Dre ever helped LaTanya Young?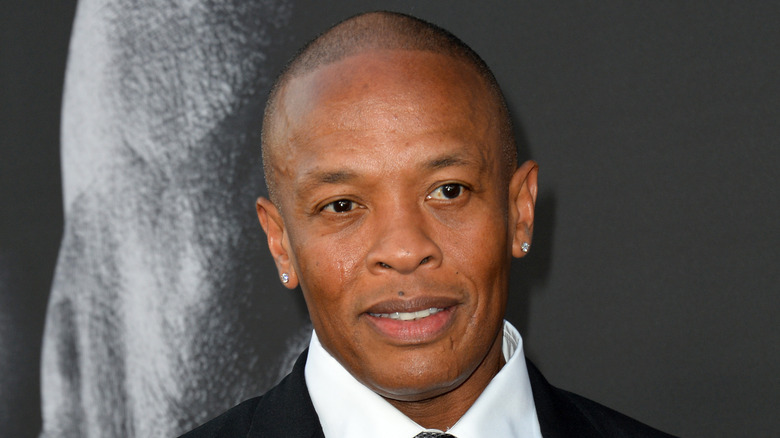 Shutterstock
LaTanya Young revealed to Daily Mail that her dad has helped her financially before, but claimed that stopped in January 2020. Young shared the multi-millionaire had been paying for her rent and "giving her an allowance," but it wasn't revealed how much that was or how regularly Dr. Dre would offer help.
As for why Dr. Dre reportedly stopped helping Young? Well, the star doesn't appear to have spoken publicly directly about his daughter and her financial difficulties, but she suggested Dre is no longer willing to help her because she's spoken out to the press in the past. "I feel like I'm damned if I do, I'm damned if I don't. I'm just trying to communicate with him and see if he wants to talk to his grandkids," she claimed. "My kids are old enough to know who he is. They are in shock that he doesn't want anything to do with them."
Dr. Dre is currently in the process of divorcing his estranged wife Nicole Young and was ordered in July to pay $300,000 per month to her in spousal support (per Vulture), something his eldest daughter is well aware of. "It's embarrassing because people are looking at me wondering: why? What Nicole has got is what my mom should have got," she said.
We're just hoping Dr. Dre's daughter can find her way back on her feet.