Donald Trump Just Asked His Supporters To Do This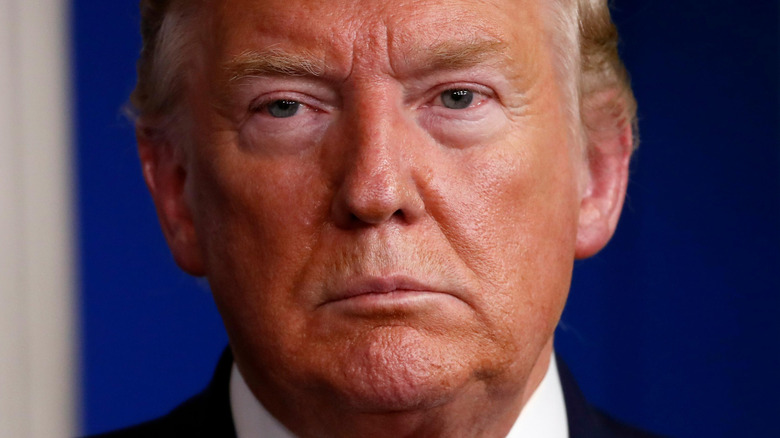 Shutterstock
For Donald Trump and his supporters, this hasn't been the best year. After a contentious presidential election, Trump left office on January 20. He made the interesting (some would say petty) decision to forgo attending his successor's inauguration, making him one of the only presidents in history to do so, per TIME.
A few short weeks later, Trump was impeached — though he was not found guilty. Trump was acquitted in his second impeachment trial but has remained the subject of an intense investigation into misuse of funds by the Trump Organization. Yet, despite the growing turmoil surrounding the former president, rumors persist that Trump is planning a comeback. And one step in Trump's rumored comeback, or at the very least an attempt to keep momentum, appears to be convincing his supporters to, well, rep his merch.
Two August 4 emails from Trump's Save America PAC instructed loyal supporters to show their love for the former president by picking between one of several Trump carrying cards. Yes, you read that correctly; the former president is playing the Trump card, literally. And, umm, the cards are definitely raising some eyebrows. Here they are.
The former president wants fans to get ... Trump cards
Two August 4 emails from Donald Trump asked his mailing list to step up and support his Trump Save America PAC by selecting one of several Trump cards. "The card you select will be carried by Patriots all around the Country," one email reportedly read, per Business Insider. "They will be a sign of your dedicated support to our movement to SAVE AMERICA, and I'm putting my full trust in you." According to BI, "the red-and-gold cards ... look like credit cards and bear the former president's signature."
Yep, the cards in question are a little odd. One option includes a gold eagle with the words "Official Trump Card" underneath. The second simply reads "Official Trump Card," as does the third, but in a different font. All the cards contain an identification number. The most bizarre option is perhaps a card upon which "Official" appears to be misspelled to read "Offical." It may be a typo, or an embrace of personal freedom, an important cause to the Trump committee. 
One of the two emails regarding the cards instructed supporters that, per BI, "Originally we were planning on releasing just one design, but when President Trump saw the cards on his desk, he said, 'These are BEAUTIFUL. We should let the American People decide – they ALWAYS know best!'" Supporting the president doesn't come free, though. To get your hands on one of these interesting cards, you'll have to donate.