Donald Trump Said He Has Made A Decision About 2024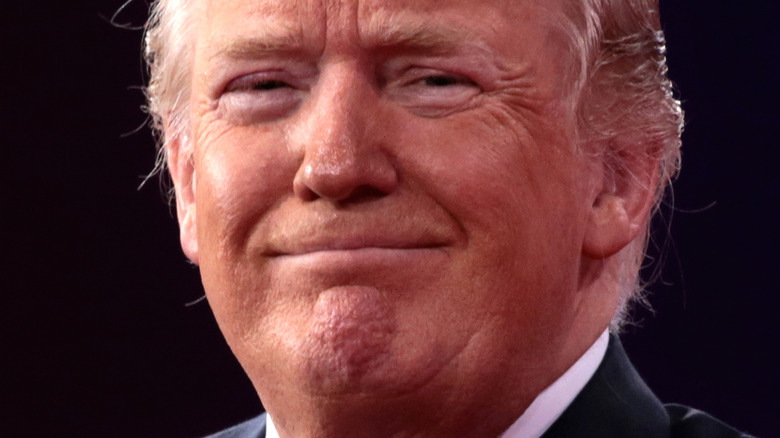 Shutterstock
Here we go again! Donald Trump has spoken out about potentially running for President of the United States again in 2024 — and he's made a decision regarding his political future.
Donald has repeatedly hinted his time in the White House may not be over after being succeeded by President Joe Biden, who was sworn in in January. The following month, Donald made his first public appearance since Biden took office and made it clear he wasn't finished yet. 
"We will be victorious and America will be stronger and greater than ever before," Donald said at the Conservative Political Action Conference (via CNN). "Who knows, I may even decide to beat them for a third time," he continued, again suggesting the 2020 election was rigged, despite multiple fact checking reports to the contrary.
Donald hinted again at another political run in March when his own daughter-in-law, Lara Trump asked if he'd be running again on her "The Right Wing" podcast. "I know you're not ready to answer it yet, but do we have hope that there's a possibility to see Donald Trump run again in 2024?" she asked. 
Donald didn't give a concrete answer, but responded, "You do have hope, that I can tell you. You do have hope. We love our country, this country. We all owe a lot to our country but now we have to help our country."
Well, it seems likes Donald is now ready to answer that question. Read on for what he's saying.
Donald Trump had one word about his 2024 political plans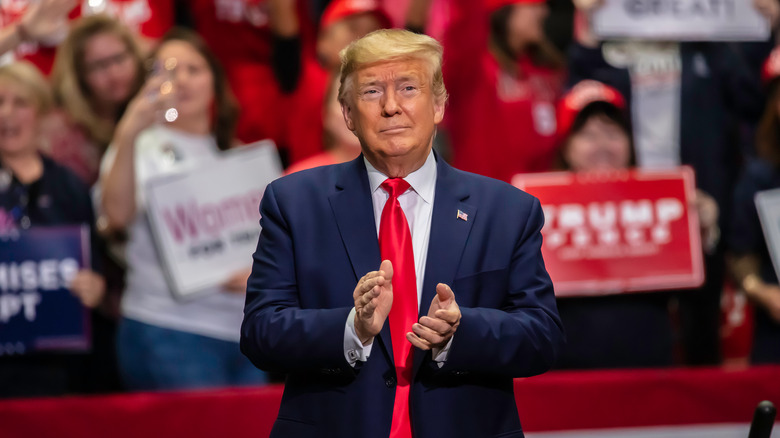 Shutterstock
It was longtime Donald Trump supporter Sean Hannity who got the scoop on whether or not he's made a decision regarding a 2024 political run. The news anchor questioned Donald during a town hall event in Texas on June 30, which was broadcast on "Hannity." "Let's talk about your future plans," Hannity said to Donald, before turning to the crowd to ask, "Would you like to see the president run again in 2024?"
"You're not going to answer, but I have to ask. Where are you in the process, or — let me ask you this — without giving the answer... have you made up your mind?" he then asked the former President. Donald played a little coy but simply responded, "Yes." The crowd began to cheer, assuming the former president's response was a suggestion he will be running again, to which Hannity commented, "I think you got it right."
Tiffany Trump's father previously hinted at his political plans to Hannity in April with the two spoke on his Fox News show. "I am looking at it very seriously, beyond seriously," Donald said, adding, "From a legal standpoint, I don't want to really talk about it yet, it's a little too soon." Hannity responded, "It sounds like you're running. It sounds like you haven't lost any engagement."
It seems like we'll just have to wait and see if Donald Trump announces anything more official when it comes to the 2024 election.